Ian Melton wrote for Bleeding Cool from ECCC,
Legendary is a name that most people know simply from movies, we've all seen the logo at some point in the beginning before the movie starts. Most of us have seen it so many times we'd recognize the logo easily if we saw it away from a movie, and most of us I believe would associate it with talent and popular concepts. That perception holds up for their comic book branch too.
With such books like the Tower Chronicles from Matt Wagner and Simon Bisley (a fantastic read) and Annihilator from Grant Morrison and Frazer Irving (again another fantastic read) the bar is set pretty high when it comes to seeing what Legendary puts out in their comics. In getting a chance to talk with some of the people at Legendary and the creators on some of their upcoming books that popular concept and talent angle really was there.
I got to speak with Steven Grant first, a fantastic writer who is well known for writing "morally ambiguous characters" (such as the Punisher, X, Robocop…) and this is where he really feels he thrives in his upcoming work for Legendary: Cops for Criminals.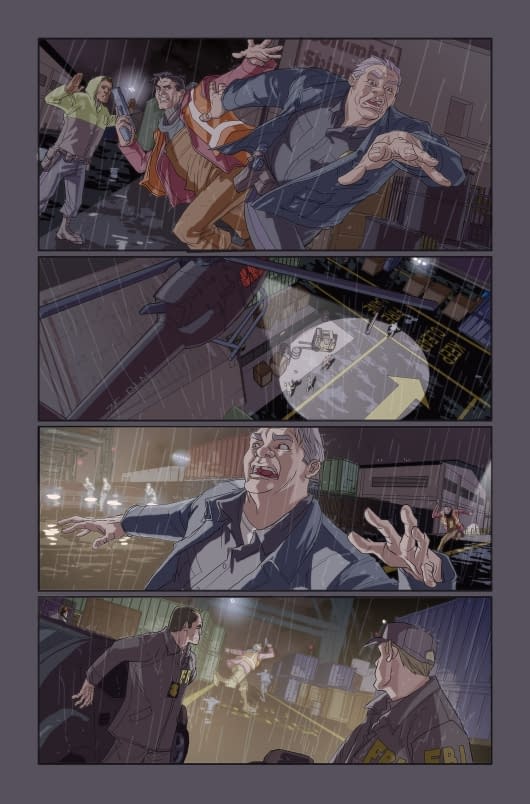 Grant told me "Agent Woods, which is just a coincidence that Pete Woods is drawing this, is a former good guy who has ended up working for the mafia as an enforcer, basically a mafia cop. And he ends up in a situation where since everyone believes him, everyone trusts him and his word; he has gotten involved in circumstances that getting out of control. I'm also looking forward to showing the mafia and the fact it is a government unto itself, a shadow government that needs its own cops and that is what Woods is."
"I really love writing characters that exist in a gray area, like the Punisher, though when I wrote the Punisher I always thought of him as the antagonist not the protagonist, because writing just straight on good guys is not something I find interesting. Cops for Criminals is really in that vein, Agent Woods is not good or bad. He works for the mafia because he can't do what he used to do, but he's viewed as such a trustworthy person that when he lies people believe him still because they can't believe he would lie."
The series will be 5 issues drawn by Pete Woods and be out in the fall and Grant comments it is really a series that lends itself to being read monthly. "The issues will have gaps of time between them and pick up at key points in the story that I think benefits being read monthly."
I spoke next with Chris Roberson, the co-creator of I, Zombie and writer of some great comics such as Memorial and Cinderella: From Fabletown With Love, who is working with Legendary on Black Bag. "It's a real simple concept, a bored suburban housewife as a super spy. It's just great and simple and was just so much fun that I was very happy to do it." When asked what issue he was currently working for Black Bag, Roberson had a very simple answer. "I've already finished writing the whole thing for a simple reason, I wanted to get paid." After a good laugh, Roberson followed up by adding he was very happy to writing Legendary's first female lead in a series. "I have no problem being known writing kickass, strong women. It's something I think everyone agrees comics need more of and it's good to see readers responding to it. I really think people will enjoy reading her (Renear) do things that most times we see male super spies doing."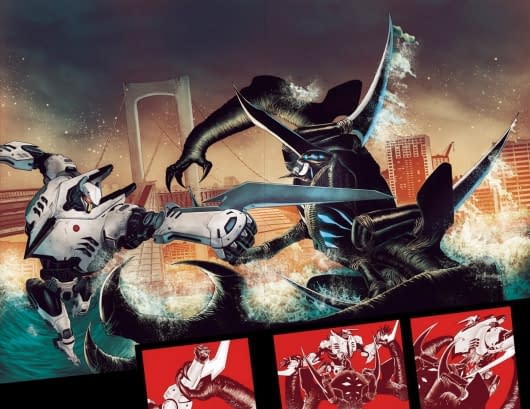 The last Legendary creator I spoke with was Joshua Hale Fialkov who will be writing Pacific Rim: Tales from the Drift. "The series will be very much a prequel but will matter since we'll be seeing new Kaiju and new Jaegars and reference to a key battle that was mentioned in the movie but not seen. Plus Guillermo del Toro and Travis Beacham are with the story every step of the way to make sure it will fit with everything that we've seen so far, and will see in the sequel."
There is great appeal for Fialkov to write this series as he's a huge fan of the film. "I really think it's the first new concept movie we've seen in a while where we are getting a new world to explore and enjoy. It isn't a continuation of a concept introduced decades ago but it still uses, I think, story touchstones that we love while creating something totally new."
"Right now in my career I'm really wanting to focus on my creator owned books but Pacific Rim … I told them I'd write it for free, and I wasn't joking. I really am excited to explore this world and get to see what is coming and the idea of Guillermo reading all my scripts is exciting."
Enjoyed this article? Share it!