In Donny Cates and Geoff Shaw's Thanos series, Thanos died. The future Thanos, that is, at the hands of the present day Thanos. And yes, that also just happened in Extermination with Cable, but the Looper trope does at least help Marvel dispose of one or two of its doppelgängers right now.
But now in Infinity Wars Prime, Thanos also died, decapitated at the hands of his daughter, Gamora, now going by the name of Requiem while wielding Infinity Stones.
And in Thanos Legacy, Donny Cates, Brian Level, and Jordan Boyd try to weave these all together, as well as a recent Thor plot with Thanos in hell. It's been a notable part of Cates's work at Marvel that he is using continuity as clay to mould something new. Rather than Brian Michael Bendis's approach, taking what he wanted, ignoring whatever he found tiresome, this is more like Alan Davis's work on Excalibur, taking everything no matter how bad and finding an artful way to make it fit. Oh, and then throwing in a Cosmic Ghost Rider version of Frank Castle.
Oh and we get to see his reaction to the death of Thanos as well. And for whatever else this issue will be known for, adding a complexity to Thanos' death that may go back to the Thanosi from Jim Starlin and Al Milgrom's Infinity Abyss, it gives us one moment that will likely live on beyond the series.
That's right, folks, Frank Castle, the Cosmic Ghost Rider, pissing cosmic fire onto the dead decapitated body of Thanos.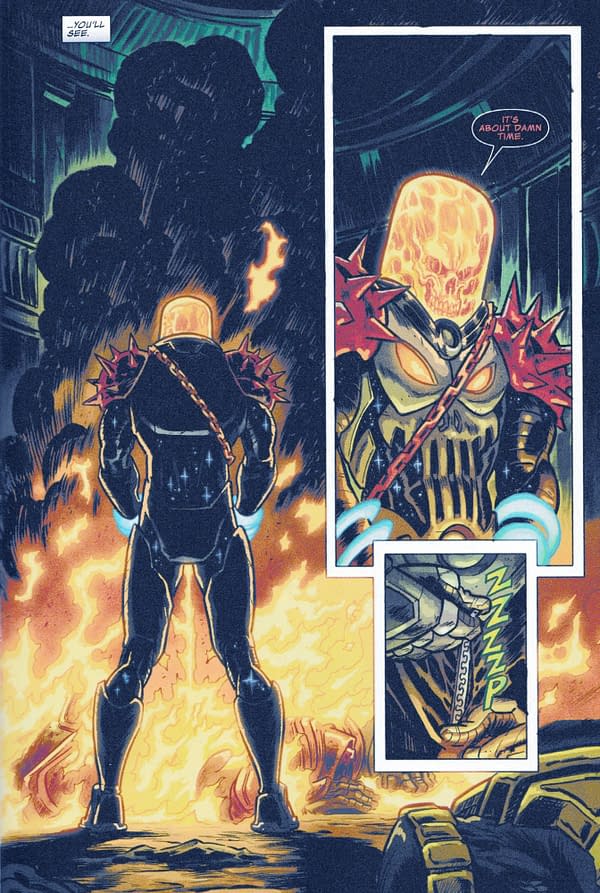 So, yes, Cosmic Ghost Rider quite literally pisses over Thanos's Legacy.
Don't let the baby Thanos see.
And that's where this comic really comes alive, there's a lot of ponderousness from Thanos's perspective, from his brother Eros, from everyone around, and it takes a pissing Frank Castle to give this comic a little more of the flavour we've been used to…
Otherwise it's a more serious story with Thanos seemingly planning to do what John Constantine would have done in the unpublished Twilight of the Superheroes by Alan Moore, defeat his own future out of spite, whatever the cost to his present.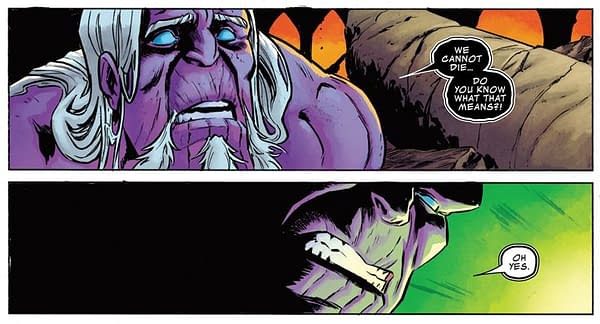 There's also a wordless story by Infinity Wars writer Gerry Duggan, Cory Smith and Ruth Redmond that demonstrates the inhumanity of the relationship between Thanos and Gamora, which lies behind the current Infinity Wars series as well. But is it something we didn't already know? It's garnish rather than meat.
As is, frankly, the teaser for Donny Cates and Geoff Shaw's Guardians Of The Galaxy.
Maybe they can get Cosmic Ghost Rider to piss all over that too? Still, this has already gone to a second printing. They'll use the final image for the cover but I really think they should have gone with the cosmic piss.
[rwp_box id="0"]
[rwp_box_form id="0"]
Enjoyed this article? Share it!