Welcome to the pretty-much-mostly-daily Lying In The Gutters. A run around the day before and the day ahead. You can sign up to receive it as an e-mail here. If you are getting over your New York Comic Con hangover…
The 11 most-read stories yesterday
And one year ago…
Happening today…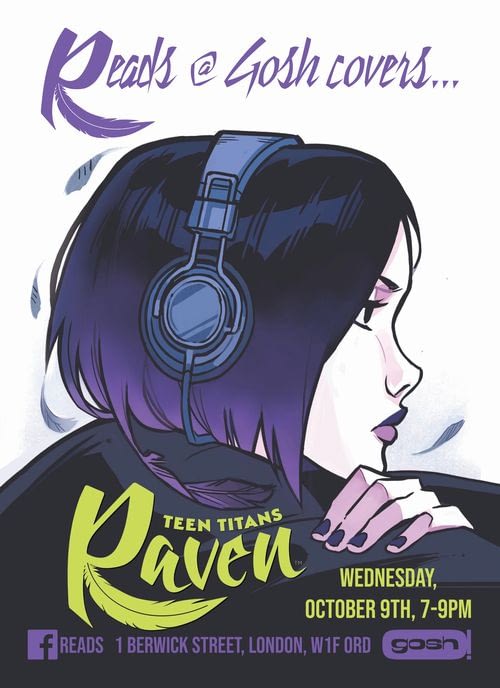 Reads: Teen Titans: Ravens , Gosh Comics, London 7-9pm.
Private View: Comic Tendencies at the Eve Leibe Gallery. A group featuring for the first time in London, Samantha Rosenwald, Oda Iselin Sønderland and Maurizio Bongiovanni. The works in the exhibition challenge the social expectations of masculine behaviours, defying rigid gender categories in an amusing light. Eve Leibe Galler, 30 Elizabeth Street London, Belgravia. 5-8pm.
Inktober. Our latest collaboration with Sketchy B*tches. More details coming soon! 6:3-9:30pm, Cartoon Museum, Wells St, London
Delilah Dawson and Kevin Hearne signing The Princess Beard at Park Road Books, Charlotte, North Carolina 7pm.
The Goon 20th Anniversary signing with Eric Powell, Aw Yeah Comics, Harrison, New York 5-8pm.
Shannon Hale, LeUyen Pham, & Raina Telgemeier at Provo Library, Provo, Utah, 7-9pm.
Kieron Gillen signing, Newbury Comics – Faneuil Hall, Boston, Massachusetts 5-8pm.
Panel: First Second's Science Comics, Porter Square Books25 White St, Cambridge, Massachusetts 7-8pm,
Copra #1 Launch Signing with Michel Fiffe, Third Eye Comics, Annapolis, Maryland, 6-8pm.
ARIA Vol 1 Signing at The Comic Bug, Manhattan Beach, California, 5-9pm.
And a happy birthday to… Comic book creator of Grendel, Matt Wagner
Uncharted comics publisher Martin A Stephenson
Comic book retailer at Ssalesfish, Bret Parks
Comic book creator of Thanos, Jim Starlin.
Comic book creator Michael Netzer
Subscribe to our LitG Daily Mailing List
Enjoyed this article? Share it!