Yesterday, Bleeding Cool went balls to the wall, with the X-Men Gold #30 spoilers, including the big twist, and how that affects the X-Classified series spinning out of the title – details of which we had run last week.
Today, the New York Times has run a pre-planned big X-Men Gold #30 spoiler though, in an unusual move, they have not run the spoiler in the headline, Not entirely anyway.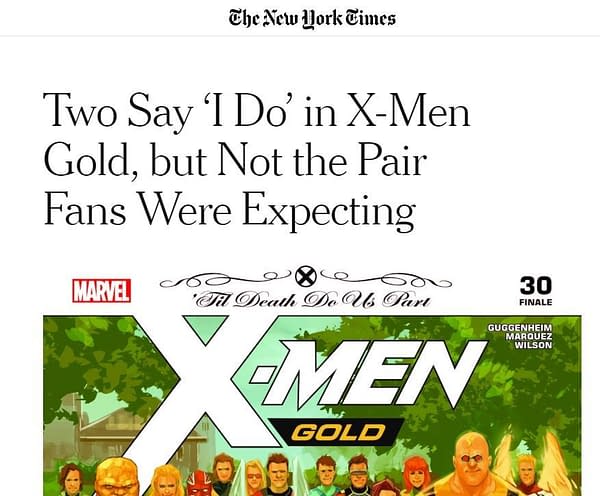 But while the New York Times is reticent when it comes to spoilers, other sites are not. The front page image for Comic Book's 'Marvel Announced Mr & Mrs X' lets you know just who the mister and missus are.

Some readers noted a double wedding in the TV show Arrow, for which writer Marc Guggenheim is showrunner. But whatever his propensities, the marriage of Gambit and Rogue was not Guggenheim's idea. It was an editorial move after a writers' meeting last year… a bit like the one happening at DC Comics today. He told the NYT,
"Comics, like TV and film, is a very collaborative medium. These are not my characters, they are Marvel's. Part of writing other people's characters in a shared universe are other ideas are going to end up supplanting yours. My job as a writer is to take those marching orders and write the best issue I can."
But it wasn't Kelly Thompson's idea either, writer of the Rogue & Gambit series and the upcoming Mr & Mrs X spin-off series told them "Marvel likes to keep things interesting and throwing the wrench into things. I think I was resistant to it initially, but that's my mistake. It creates all this great conflict and intrigue."
An editorially arranged marriage? But one that plenty of people have been overjoyed to discover…
@XavierFiles Have you seen the Bleeding Cool article yet?!? OMG Freaking out right now.

— AppleJ (@JackiEv87585672) June 19, 2018
Bleeding Cool made my century https://t.co/nG06tEItQZ

— The Goblin Paladin 🍄🏰🐺 (@Slydanthis_Gack) June 19, 2018
@79SemiFinalist just read the amazing news on bleeding cool, it made my century, thank you @Marvel, for this, no spoilers all indicated parties, I hope, know of which I speak

— The Goblin Paladin 🍄🏰🐺 (@Slydanthis_Gack) June 19, 2018
I read the thing! The bleeding cool spoiler post. I am sooooo excited omg. I can't stop shrieking, holy freaking balls. I did NOT see this coming!

— Kelly Berry (@loonymoony818) June 19, 2018
Enjoyed this article? Share it!