The U.S.Avengers Will Include A Gay Couple As Members
The replacement title for New Avengers, USAvengers, appears to no longer have Hulking and Wiccan as members. Have they really lost Marvel's premier gay couple from the roster? Seems so. But let's back up a few issues. Where Dr Tony Ho is getting a better look at Pod.
Pod, or Aikku Jokinen, was a Norwegian girl in the proximity of an alien attack who became bonded to armour, creating a new individual, as a protector of Earth and one of the New Avengers. But she got taken down by Ultimate Mr Fantastic…
Which necessitated a rescue from Ho, the daughter of the Dr Ho who helped Tony Stark make his first armour, in captivity. She was working for AIM when it was bought out by the Bobby Castro and has been involved with the New Avengers, creating her own Stark-like Rescue armour.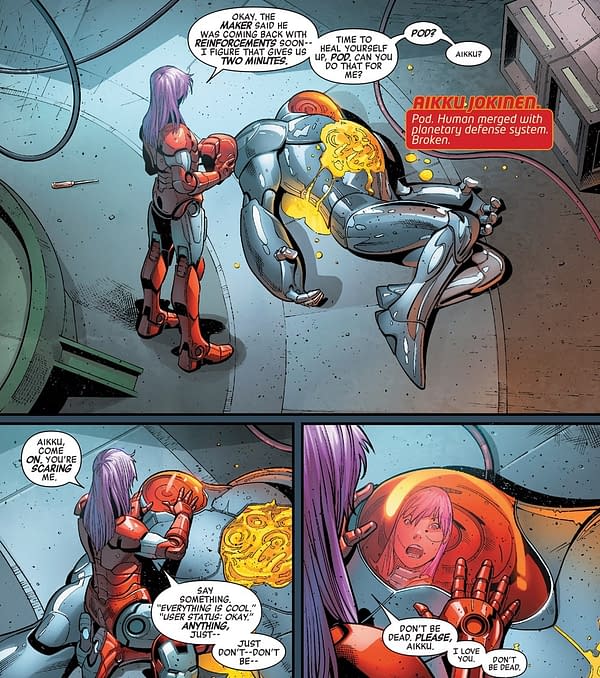 And rescue is just what she did. But out of the remains of Pod came… Aikku Jokinen again.
An Aikku without Pod. Someone deserving and in need of tenderness. And in today's issue, they are fighting side-by side against a newly capitalised AIM. But the remains of Pod are not so easily put together. And what may have been blossoming may be in threat? Or is it just lost in translation? Pod had previously been established as a LGBTQ character in the Marvel universe. That number appears to have been increased by one…
So as Wiccan and Hulking move in together and move on, the new iteration of New Avengers, USAvengers appears to have its new gay couple after all. Tony and Aikku… Pod and Patriot.
New Avengers #18 by Al Ewing and Carlo Barberi is published today.