So Wally West re-entered the timeline. And everyone remembered him again. Including the Titans, the team he was a member of, all their shared history flooded back.
He died in Heroes In Crisis #1, alongside Roy Harper.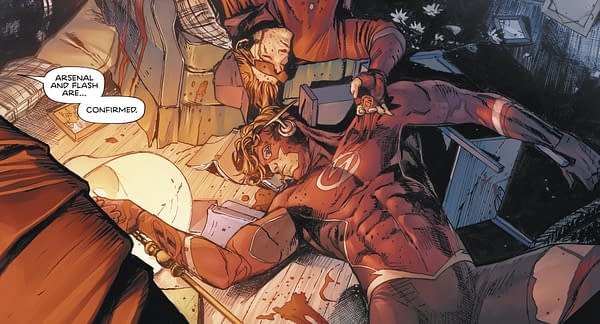 But no one seems to have noticed. Previous issues of Green Arrow and Titans, dealing with the death of Roy Harper haven't even given Wally West a mention. Even the amnesia of Nightwing gets more of a nod. And so it is with Titans #28 today.
They know about Roy Harper… well, some of them.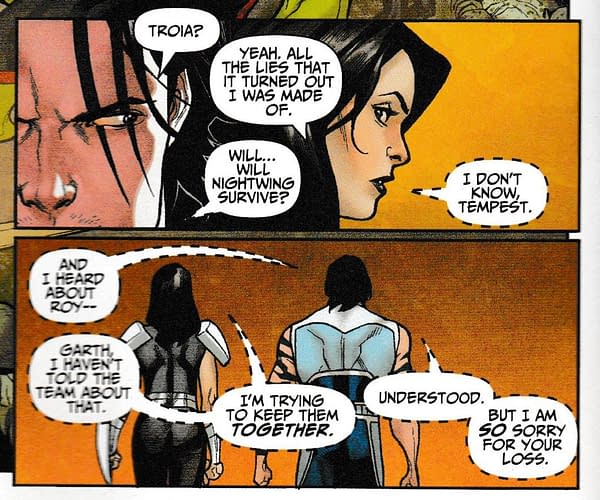 And go on about Nightwing…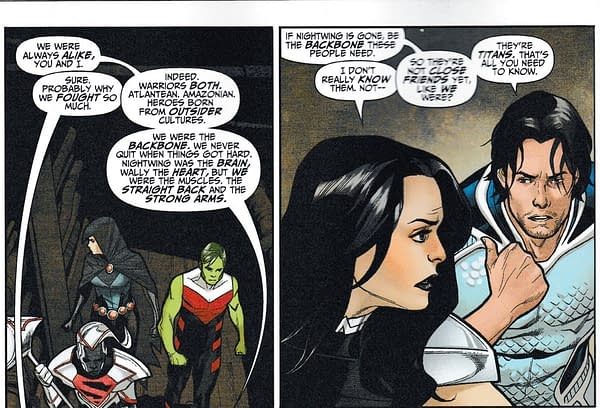 But Wally West? Still not a peep. What's going on? The fastest man alive to forget?
The Flash comic book series is only meant to catch up with this story in Flash Annual #3 in January. Looks like he's pretty slow on the uptake as well…
TITANS #28 (DROWNED EARTH)
(W) Dan Abnett (A) Clayton Henry (CA) Leonardo Manco
Then, in a tie-in to the road to "Drowned Earth," the Titans get a visit from an old teammate when Atlantean mage Tempest guest-stars in the ish. What's got Garth's fishnets in a twist? He's there to help the new Titans lineup take on a major oceanic threat, whose attack comes straight out of the pages of Justice League and Aquaman. Guess you could say that prelude "spills over" into TITANS this month .In Shops: Oct 24, 2018 SRP: $3.99
Enjoyed this article? Share it!