Congratulations to DC Comics Publisher Dan DiDio and Leilani DiDio, who got married on the fourth of July in Puerto Rico. And who shared the happy day on social media.
With a little help from family and friends.
With a wedding cake for a certain New York Mets fan…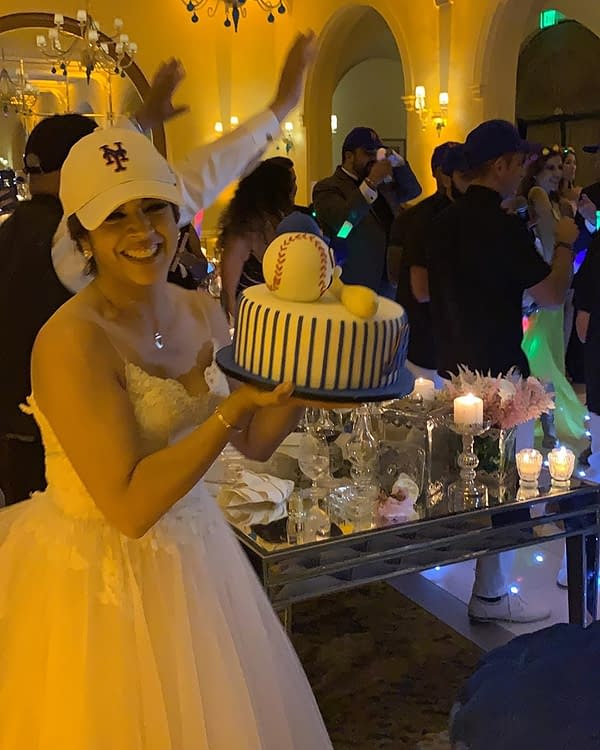 And who followed it up with a little fishing expedition, catching a barracuda (though a white marlin escaped his grasp).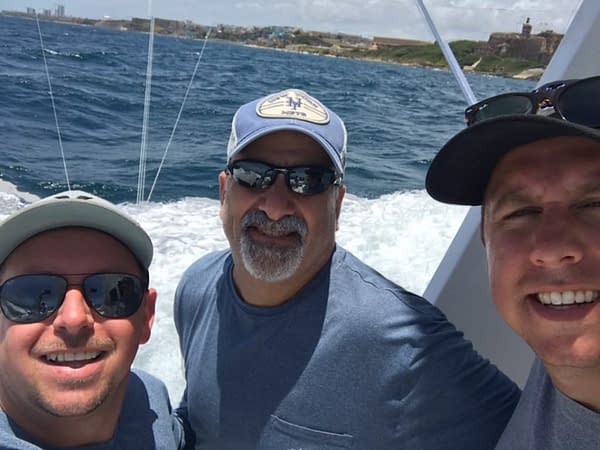 Talking about the Batman/Catwoman story that never happened, 'we never want to tell the last story, And the wedding felt like the last story.' And talking about why DC characters can't get married.
Heroes shouldn't have happy personal lives. They are committed to being that person and committed to defending others at the sacrifice of their own personal interests.

That's very important and something we reinforced. People in the Bat family their personal lives basically suck. Dick Grayson, rest in peace—oops shouldn't have said that,—Bruce Wayne, Tim Drake, Barbara Gordon and Kathy Kane. It's wonderful that they try to establish personal lives, but it's equally important that they set them aside. That is our mandate, that is our edict and that is our stand.
But DC Comics publishers can have happy personal lives… and this was all pre-DC Rebirth when it turned out that Clark Kent can be married to Lois Lane and have a kid – even if that means people think Lois is cheating on Clark with Superman. And Aquaman and Mera can be married too. As long as Aquaman loses his memory and gets sent to a demi-god pocket reality just as soon as Mera is pregnant. And Hawwoman and Martian Manhunter can also be married – but only in the future. And Wally West will kill many superheroes when he can't get his wife and kids back.
So mixed messages so far. But in real life, congratulations to Dan and Leilani from all at Bleeding Cool.
Say, I wonder if there may be a speculator rush for the first appearance of Female Furies character Sweet Leilani created by Dan Didio and Keith Giffen in O.M.A.C. #5?
Enjoyed this article? Share it!