Welcome to the War of the Realms, New Agents of Atlas… Hope You Survive the Experience (Preview)
This Wednesday, Marvel will launch the latest War of the Realms tie-in, New Agents of Atlas, featuring Marvel's Chinese superheroes Aero and Sword-Master, and new Filipino character Wave. It's a project they want to work so much, they're overshipping it to make sure retailers have enough copies to sell to interested readers. What will readers find inside?
A story taking place at the Pan-Asian School for the Unusually Gifted, it seems, one of the Marvel Universe's less-explored superbeing academies, first appearing during the Infinity tie-in, The Hunt.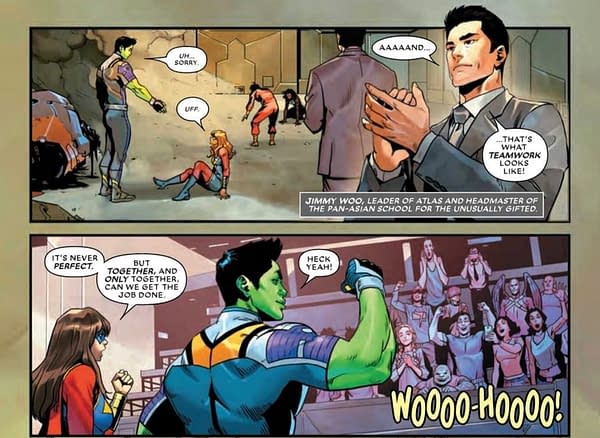 And like modern superbeing schools like the Xavier instituted, some students are learning to use their powers for superheroing while others are just learning to live with their powers and use them in an ethical way. Not everyone can be a child soldier, after all.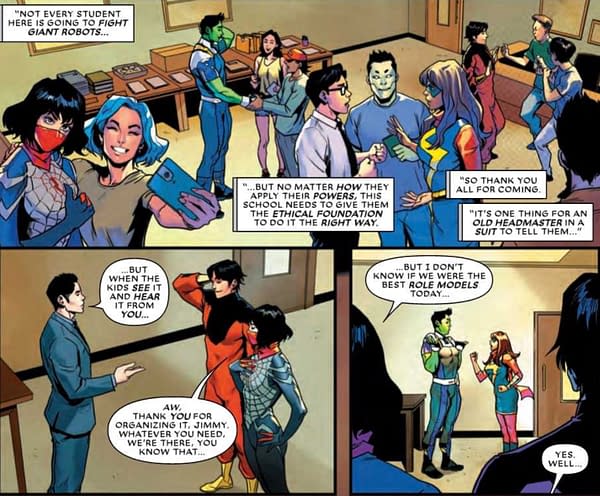 Though the tie-in nature of the book may have something to say about that. Will all of the characters survive the experience when the War of the Realms comes calling? School can be a dangerous place in the Marvel Universe.
War of the Realms: New Agents of Atlas #1 hits stores on Wednesday.
War of the Realms: New Agents of Atlas #1
(W) Greg Pak (A) Lim, Gang Hyuk (CA) Billy Tan
FEATURING MARVEL'S NEWEST HEROES WAVE, AERO & SWORD MASTER!
A "War of the Realms" tie-in series! As Sindr, Immortal Queen of Muspelheim, and her legions of Fire Demons march on Asia, it's time for a new band of heroes to unite to protect the Pacific Rim. Having brought together a ragtag team of heroes to defend the Earth from an alien invasion in the past, can Amadeus Cho reassemble his "protectors" — Shang-Chi, Silk and Jimmy Woo to save the world from incineration? And where is Kamala Khan? And just who are Crescent, Io and Luna Snow??? Featuring Marvel's newest heroes from China, Aero and Sword Master, and a mysterious new Filipino heroine named WAVE!
Rated T+
In Shops: May 08, 2019
SRP: $3.99