Normally, comic books stick to rewriting the origins of the superheroes only from their own universes, but Deadpool has never been one to follow rules. So in the current ongoing Deadpool series, Deadpool recreates the origin of Batman by killing the parents of a young child in an alleyway, but this time, with a twist. Deadpool says that Goodnight's parents deserved to die in this preview of Deadpool #12!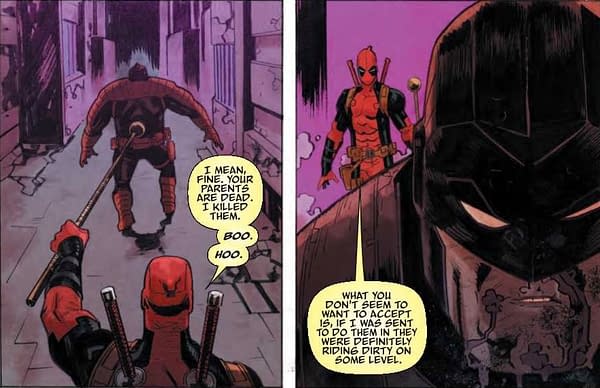 Deadpool seems to be taking a Bernie Sanders approach to things, accusing Goodnight's family of being wealthy elites!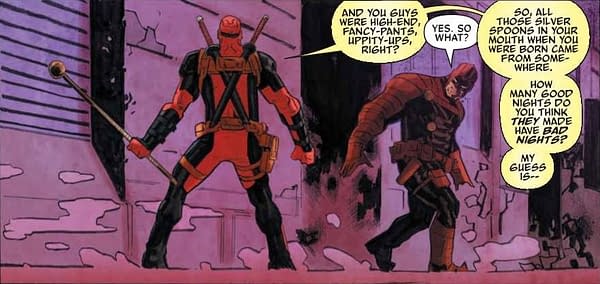 Of course, Goodnight doesn't take kindly to this…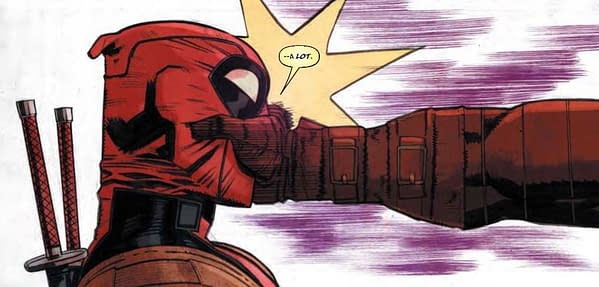 So is Deadpool right? And if so, what does it say about Batman's actual origin, which isn't that far off. It's clear that the Wayne family has more money than anyone needs, putting them in the top 1% of the top 1%. Could they really have come across that money in entirely moral ways? And just what were they doing walking down Crime Alley anyway?
Deadpool #12 hits stores on Wednesday.
Deadpool #12
(W) Skottie Young (A/CA) Scott Hepburn
GOOD NIGHT AND GOOD LUCK!
• The brutal, bloody final battle between Deadpool and Good Night!
• Even if Deadpool survives, will this blood ever come off his hands?
• I dunno, y'all. I want to write a joke or something here, but this mess is INTENSE!
Parental Advisory
In Shops: May 01, 2019
SRP: $3.99
Enjoyed this article? Share it!