Combine our professional obsession with uber-creative genius Ryan Murphy (Glee, Pose, 9-1-1, Feud, and a billion more) with our love for 80's horror/slasher film, and it's easy to understand why we're excited for FX's American Horror Story: 1984. In fact, executive producer Tim Minear only confirmed our excitement when he said this about the upcoming season of Murphy and Brad Falchuk's horror anthology series American Horror Story:
"I think it's awesome. I think it's gonna be really scary but a lot of fun, like it always is. And that if you have a taste for '80s horror, you're in for a treat."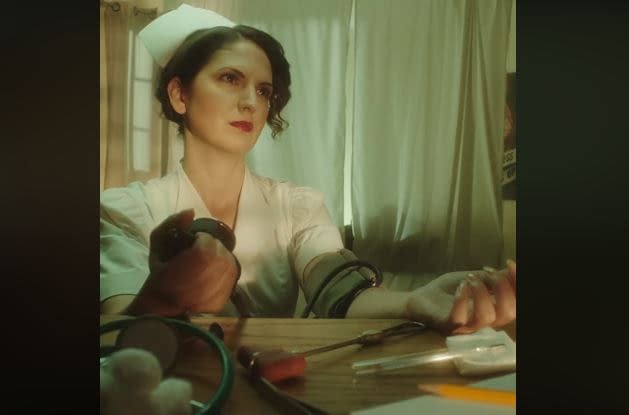 Murphy official cast for the upcoming ninth season looks to be a totally rad line-up – including Emma Roberts (Brooke Thompson), Billie Lourd (Montana Duke), Cody Fern (Xavier Plympton), Angelica Ross (Nurse Rita), Leslie Grossman (Margaret Booth), John Carroll Lynch (Benjamin Richter), Gus Kenworthy (Chet Clancy), Glee's Matthew Morrison (Trevor Kirchner, with the large… "friend"), DeRon Horton (Ray Powell), Zach Villa (Richard Ramirez), Alhan Bilal (Jamie), Tara Karsian (Chef Bertie), Ashlyn Mackenzie (Debrah), Kaleina Cordova, and more… and possibly Sarah Paulson (???) if her teases turn out to be true.
And now the wait is almost over… down to only a matter of hours by the time you read this (or it already aired if you're getting to this late) – and if the following preview is any indication? It's going to be a real "heart-stopper"…
It all began with the sound of John Cafferty & The Beaver Brown Band's "On the Dark Side" and The Motels' "Suddenly, Last Summer" – ominously played in the background, as our resident maniac-in-the-woods Mr. Jingles planned to make this summer at "Camp Redwood" a very deadly one.
What follows is a compilation of the first 386 teasers that were released (just kidding), followed by a few newer ones that didn't make the compilation cut deadline. Collectively, we're unofficially referring to this as "American Horror Story: 1984 – The Beginning":
Less than a week before the season premiere, Murphy posted the season's opening credits and threw some major love at series collaborator Kyle Cooper as well as Corey Vega for their work. Vega originally posted a "fan video" that caught Murphy's attention, so he was brought aboard to work on this project – and a damn fine job Cooper and Vega did, too:
Here's a look at the offcial trailer for American Horror Story: 1984 – along with the titles of the first five episodes and the episode synopsis for the season premiere:
https://youtu.be/9wcEiFIM3mM
Season 9, Episode 1: "Camp Redwood": In the summer of 1984, five friends leave Los Angeles to work as counselors at Redwood Camp. As they adapt to their new jobs, they quickly find that the only thing scarier than the stories told at thecampfire is the past that haunts them.

Season 9, Episode 2: "Mr. Jingles"

Season 9, Episode 3: "Slash Dance"

Season 9, Episode 4: "True Killers"

Season 9, Episode 5: "Red Dawn"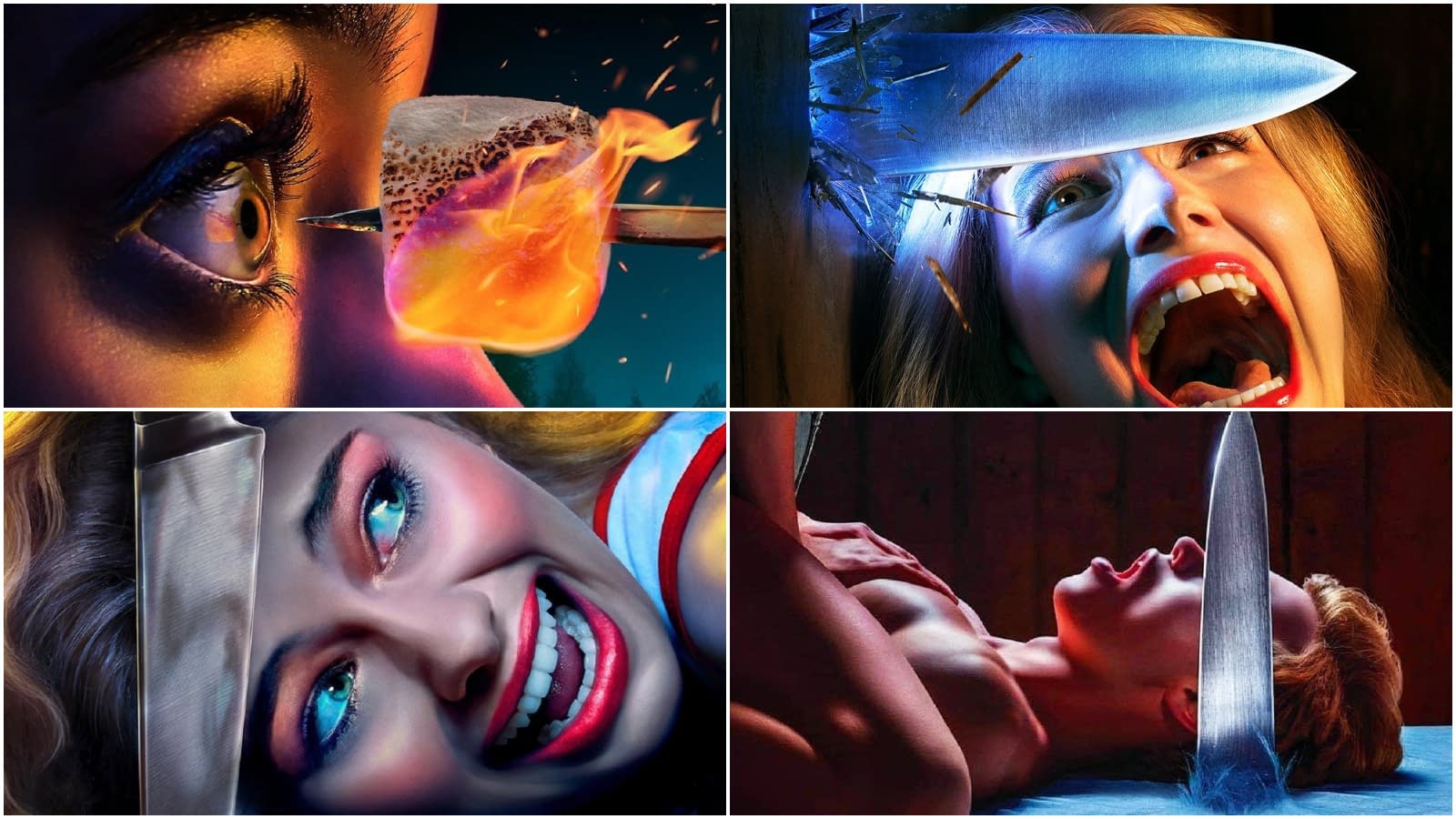 In case you're like us and you need to see it for the 97th time, here's a chance to see the cast in all their '80's slasher film glory (though it feels like something else is going on there), followed by reactions from the cast:
FX's American Horror Story: 1984 slashes its way onto our screens beginning Wednesday, September 18th.
Enjoyed this article? Share it!