Crossing Swords Trailer Introduces Robot Chicken Duo's Squire Patrick
Robot Chicken executive producers John Harvatine IV and Tom Root are set to apply their twisted comedic charm to the fantasy genre with Hulu's Crossing Swords, premiering on the streaming service this Friday, June 12. In the animated series, Patrick is a good-hearted peasant who lands a coveted squire position at the royal castle however his dream job quickly turns into a nightmare when he learns his beloved kingdom is run by a hornet's nest of horny monarchs, crooks, and charlatans.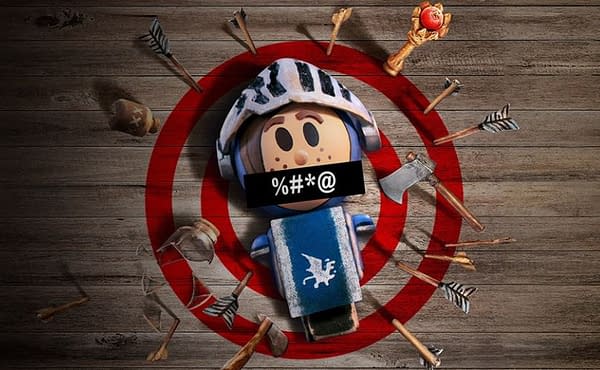 Even worse, Patrick's valor made him the black sheep in his family, and now his criminal siblings have returned to make his life hell. Written by Harvatine IV and Root, the animated series stars Nicholas Hoult, Adam Ray, Tara Strong, Tony Hale, Luke Evans, Seth Green, Alanna Ubach, Adam Pally, Yvette Nicole Brown, Maya Erskine, Breckin Meyer, and Wendi McClendon-Covey. Here's a look at the final trailer, with all episodes set to drop this Friday:
Crossing Swords season 1, episode 1 "Pilot": Young Patrick dreams of earning his knighthood and dispensing justice to evildoers. He's driven by his goodhearted, earnest nature, but also by guilt: his own siblings are some of the land's most notorious crooks. However, when Patrick finally lands a coveted squire position at the royal castle, his dream job quickly turns into a nightmare. In this kingdom, corruption starts at the top, and staying true to his lofty goals will be a thornier proposition than Patrick anticipated.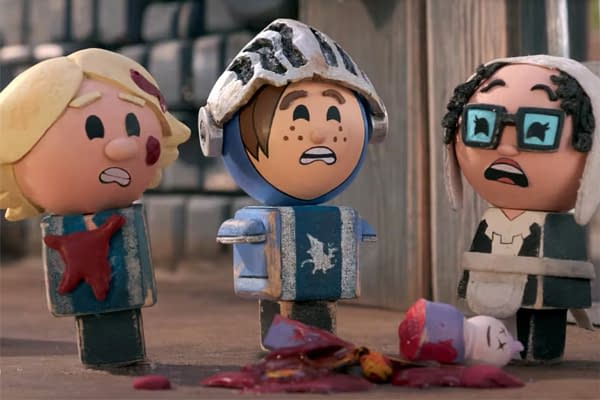 Series co-creator Root was asked recently what it was like going from a more "open sandbox" series like Robot Chicken to a more single-genre series like Crossed Swords: "We don't necessarily think of Crossing Swords as a show where our marching order is telling a fantasy story; we think of it like we're telling a story about these particular people and what we find funny about them are their characteristics rather than the genre in which they reside. As an example, the pilot features an orc who sells glow-in-the-dark, velvet paintings, and we don't really make a joke about him being an orc. It's a funny visual, that there's an orc wearing a big mustache per disguise—which isn't a good disguise, at least not for an orc—but what we find funny about him is his sales pitch to Patrick, our protagonist, trying to get him to buy a painting."
Root continued, "He's giving away his entire backstory about how he thought he was a good artist but then moved to the big city and found out he really wasn't that great and now he's struggling to sell paintings to pay his rent, and it's all falling apart, and Patrick is just like, "I don't want to buy a painting; I want to get out of this conversation." And none of this has anything to do with fantasy; it's a tragic-to-the-point-of-being-funny conversation that you could set in any time period—and that's what we do throughout the show: telling the story from a human perspective rather than a genre one."