Dave Chappelle: How Comedy "Lost" Its Way – And Can Find Its Way Back [OPINION]
When it comes to confronting serious issues, comedians like Dave Chappelle will always be among the misunderstood. Comedians have a variety of ways to discuss the silly happenings of life, but they also provide an open forum for issues many aren't comfortable about. The feelings of being ostracized is an empathetic feeling. No one wants to be corralled into a corner, to be reminded of the stereotypes their people are often saddled with – and Chappelle's taken flack for comments he's made on his latest Netflix special, Sticks and Stones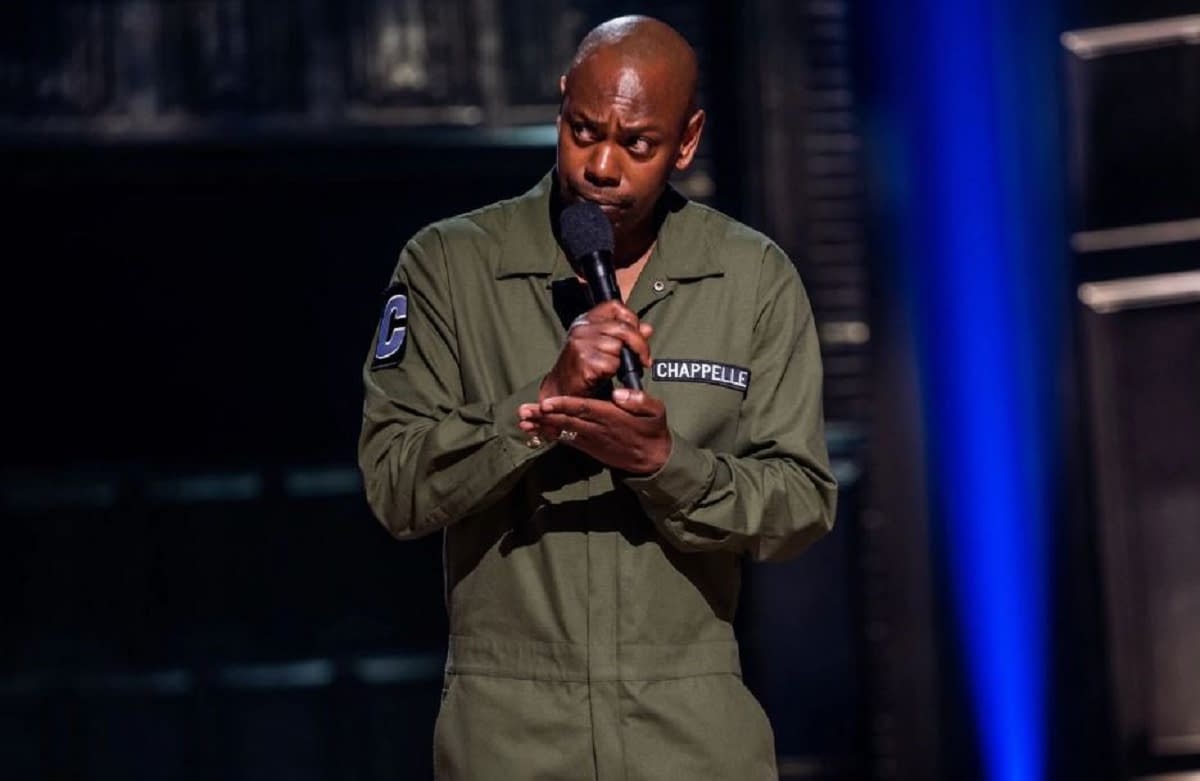 If we can't talk about it, when can we ever confront it? It seems easier today in the social media age to stay in our echo chambers and act as our own filter. Is doing that creating any dialogue or talk about serious issues when you're just a simple "ignore/block" button away from doing away with the "inconveniences"? If we didn't expose ourselves to the wide spectrum of ideas – including the unpopular ones – how can we challenge ourselves?
Chappelle's comedy is reflective of other counte-rculture comedians like George Carlin, Lenny Bruce, and Richard Pryor. They forced us to confront our stereotypes and while at times crude, they became part of the modern philosophers of the 20th century. Once of the most iconic shorts/sketches is Eddie Murphy's "White Like Me" on NBC's Saturday Night Live. During his rise to stardom, Murphy also did stand-up and did his part to maintain provocative, socially-relevant comedy.
In the short, Murphy disguised himself in as a white man to discover what it's like to live Caucasian and what do they do when there are no other non-Whites. Throughout the segment as Mr. White, Murphy learns he gets things for free and whatever he wants – no matter how preposterous much to a comedic effect. At the conclusion, the message was a teachable moment about prejudice, because of how diverse genealogy is, it makes no sense to discriminate no matter how they look. They could be you.
Now could a sketch like that be made in 2019? Likely not. Could a film like Mel Brooks' 1974 western comedy spoof Blazing Saddles be made today? Certainly not. The messages then were far cruder and loose, but the messages remained the same. We've tempered speech to near complete sanitation – because as a society, we've overreached what's acceptable in a politically correct culture.
Jokes about stereotypes are still made today, but it's somehow made worse if there's no one on staff who reflects on that group. Personally, it's disingenuous and naïve to think if one person from that group is okay with it, everyone from that same group would be, too.
Let's face human nature: people are drawn to the provocative. The most "shocking" comedians tend to be the most popular by challenging the status quo. Chappelle, Joan Rivers, Chris Rock, Anthony Jeselnik, Denis Leary, Kat Williams, Lisa Lampanelli, and Robin Williams are just a few examples of those who rode to fame on their societal abrasiveness. People of all groups get hurt and offended all the time – but it's also through that shared struggle that we can thrive. Many find we have much more in common than just differences. It's through these shows and discussions we find this out.
Today, a number of comedians stay clear of mainstream venues like colleges, because of how they have to sanitize their material:
We're living a culture of ultra-convenience and it's eroding our ability for empathy. We need more people like Sacha Baron Cohen, who confront prejudice head-on; or Morgan Spurlock, who takes the "gonzo" approach to his work by looking to live as much as possible the topic he's addressing.
It's easy to complain about the charlatans in office, but we need to get back to basics and confront our own prejudices and find a way to venture away from the bubbles we've grown so accustomed to. If Americans can learn to confront both our grace and our sins, we can find a way to live up to that sense of "greatness" as as a society that we're looking to achieve.