'Designated Survivor' Season 3: President Kirkman's Campaign Begins [TRAILER]
Kiefer Sutherland's President Tom Kirkman has faced some pretty deadly challenges over the past two seasons of political drama-thriller Designated Survivor. But as the series marks its third season return on June 7th – now at new home Netflix – and as we can see from the official trailer and poster below, the POTUS might be going up against the one "big bad" even he can't beat: campaigning.
In season 3 President Kirkman (Sutherland) faces a political reality…campaigning. What does it take to make a leader? What price will he be willing to pay? This season will explore today's world of campaigning, smear tactics, debates, campaign finance and "fake news." Democracy, as we know it, will hang in the balance.
Netflix's Designated Survivor also stars Adan Canto as Aaron Shore, Italia Ricci as Emily Rhodes, Kal Penn as Seth Wright, and Maggie Q as Hannah Wells. Joining the cast this season are Anthony Edwards as Mars Harper, Lorraine Zimmer as Julie White, Dontae Evans as Ben Watson, and Isabel Pardo as Elena Tovar.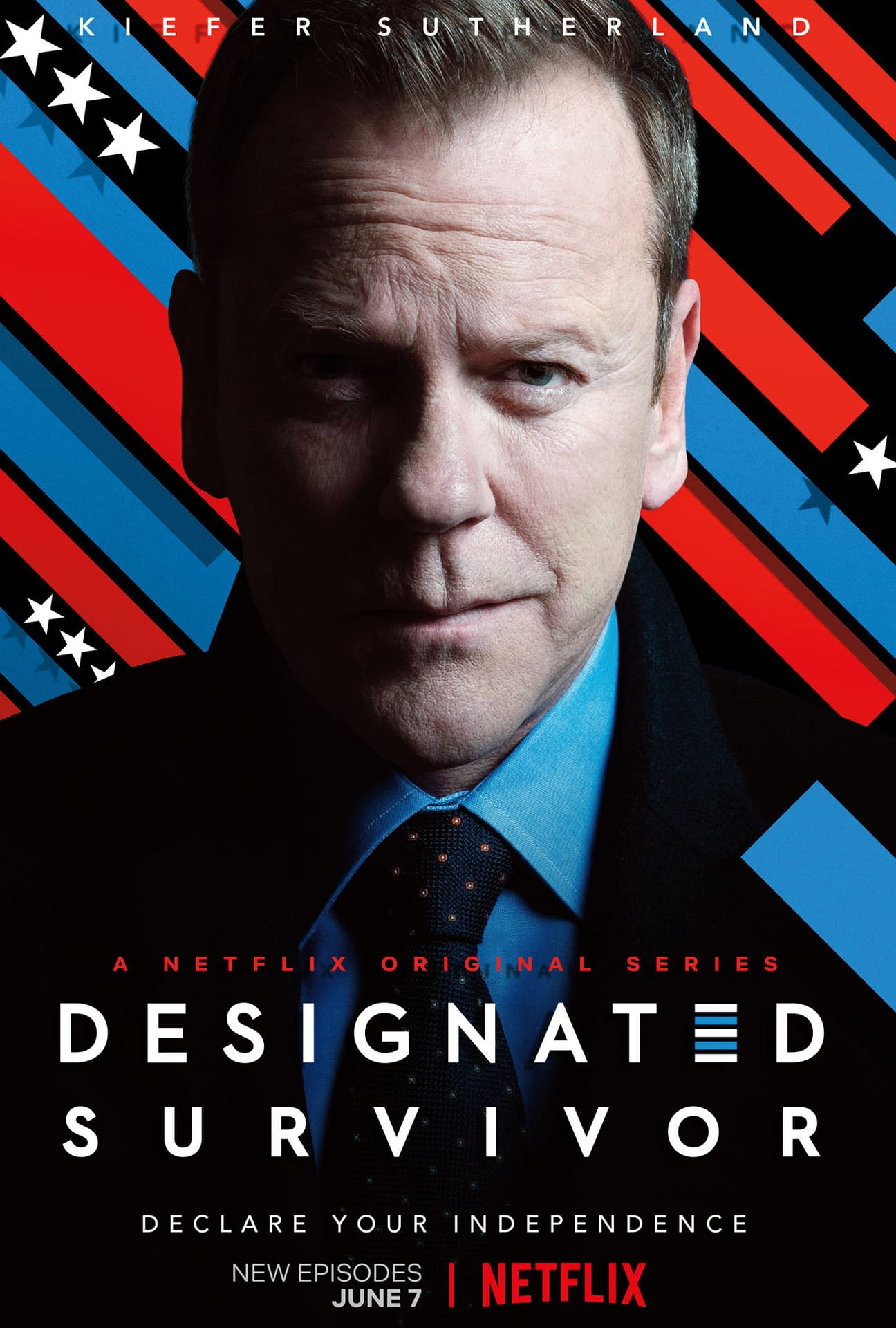 To get caught up on the first two seasons before Sutherland and Designated Survivor return for a third season on Netflix on June 7th, here's a recap to help you fill in the blanks:
Kiefer Sutherland stars as Tom Kirkman, a lower-level cabinet member who is suddenly appointed President of the United States after a catastrophic attack on the US Capitol during the State of the Union, on the highly anticipated ABC series Designated Survivor. In this dramatic thriller, Kirkman will struggle to keep the country and his own family from falling apart, while navigating the highly-volatile political arena and while leading the search to find who is responsible for the attack.
From Entertainment One (eOne), Designated Survivor stems from David Guggenheim, who serves as executive producer along with Sutherland, Mark Gordan, Suzan Bymel, Simon Kinberg, Aditya Sood, Peter Noah, and showrunner/executive producer Neal Baer. Materials for White House artwork/sets furnished by the White House Historical Association.