Emily Bett Rickards Calls [Spoiler]'s Arrow Series Exit "Tragic"
We are very close to tonight's season finale of Arrow, and a lot of folks are talking about it. Not just fans, but we've covered comment from executive producer Marc Guggenheim, actress Emily Bett Rickards, actor Stephen Amell, and others. And while the bulk of the episode is about Oliver Queen taking back Star City from Ricardo Diaz (Kirk Acevedo), there is also going to be an original cast member leaving the show… and in case you don't know who yet and don't want to know, spoilers ahead.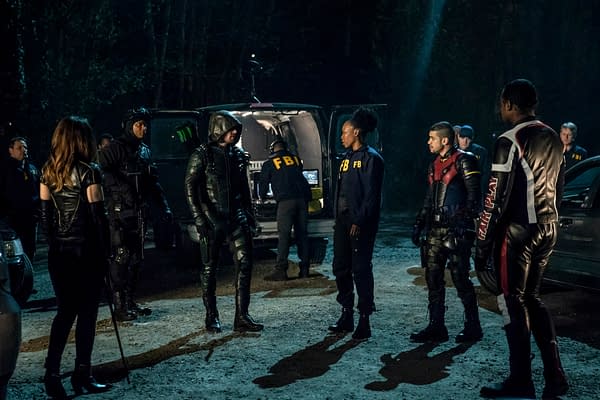 It was announced a week or so back that actor Paul Blackthorne would be leaving the series. He's played Quentin Lance since the pilot, and his character has been through hell multiple times. The fact that he is holding it together and not drinking while trying to help his dead daughter's evil doppelgänger get away from a murderous sociopath shows how strong the character really is. And while I'd like to think that he's going to end the season deciding to move to a small, rural town where he can be sheriff and get away form the insanity of Star City… what Rickards told EW.com about Blackthorne's exit makes that ending seem very unlikely.
When anybody exits our show, everyone is sad. As actors and characters, everyone is sad because we've been together for so long. He doesn't go out in an impersonal way and I think the show will always miss him. He's a phenomenal actor and he's a phenomenal character, and he's been root in our show. But, I mean I'd say tragic, and then I'll leave it at that.
Yeah… "tragic" doesn't sound like a happy ending. And that guy has gone through a tone of tragedies. I guess my dream of writing a Quentin Lance/Joe West team-up episode is over.
The Arrow season finale airs tonight at 9 p.m. ET on The CW.