Hey, Kid! Wanna Be the Real "Daredevil?" Here's Your Chance!
All those Marvel shows that ran on Netflix might be over, but a lot of the costumes and props are still around, and you just might be able to pick some of that swag up for yourself. Hell, you could even bid on an authentic Daredevil costume, worn by Charlie Cox (or his stunt double) himself. The Prop Store will be running the upcoming Marvel Live auction houses, with will have more than 850 lots of goodies from the show. If you have a good sized budget, love collectibles, and have some spare time on August 12th and 13th, you'll want to be right here.
What's up for auction? Here's a sampling: Matt Murdock's business cards from Daredevil, with a starting bid of $50.00. Since the auction allows for early bids, these little cards are already fetching $225.
But, what about Foggy-bear fans? You're in luck, cupcake! You could bid on the first-ever suit worn by Franklin "Foggy" Nelson when he was introduced on Daredevil! The starting bid is $300, but the memories you'll have crushing life in this suit will be priceless. You can even bid on his business cards to finish the illusion.
The illusion of you as Foggy Nelson. Dare to dream.
Other Daredevil offerings include a genuine, bloodied Karen Page costume; Karen's Secretary dress, and her lock-up costume; Matt's cassette recorder; a stunt microwave oven (the hell?); Matt's red glasses; Matt Murdock's Wallet; Wilson Fisk's pajamas; that big white painting; and Fisk's grey suit, to name just a few.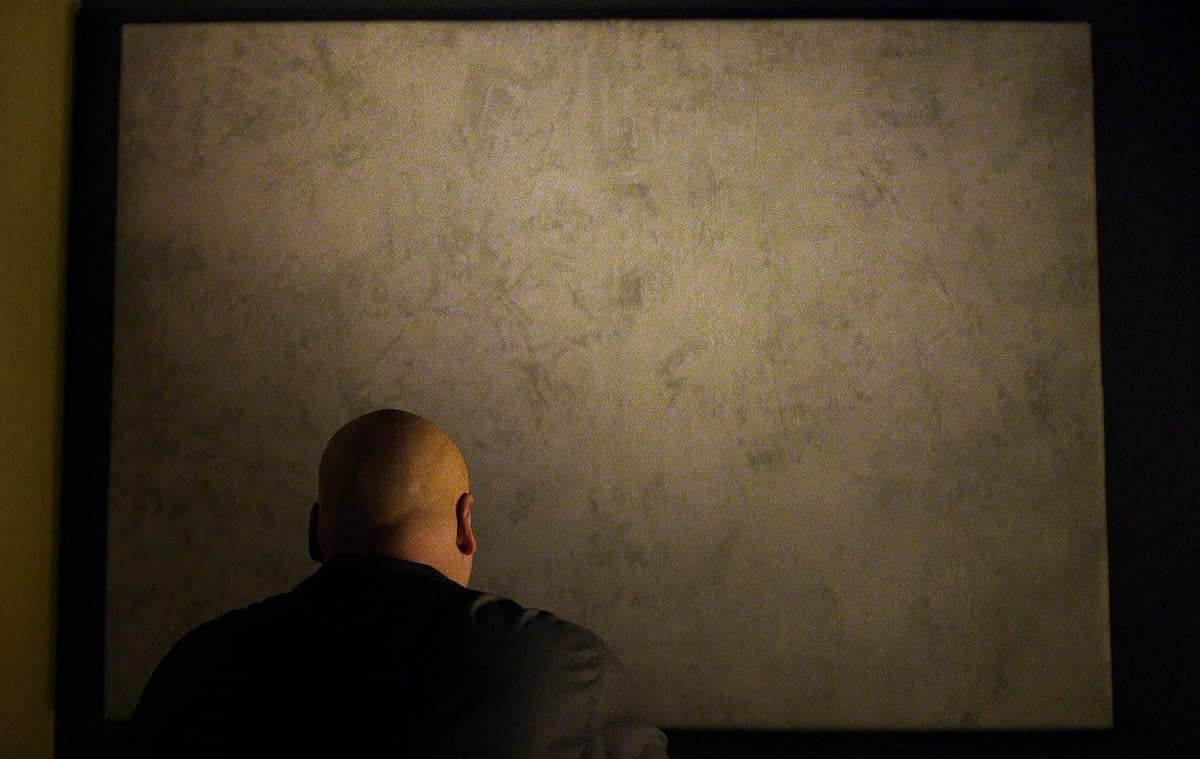 Hell, if you're a tall, husky lad like me with some money to burn, you could cosplay Wilson Fisk for the rest of your freaking life.
Become the Hero— For the Right Price
But the big get at this auction will probably be the first red Daredevil costume, which will not be one-size-fits-all, no matter how hard you try to force it on. Unless you're built exactly like Charlie Cox, this will have to be a display piece for you. But still, bask in the glory:
This is the real deal, too: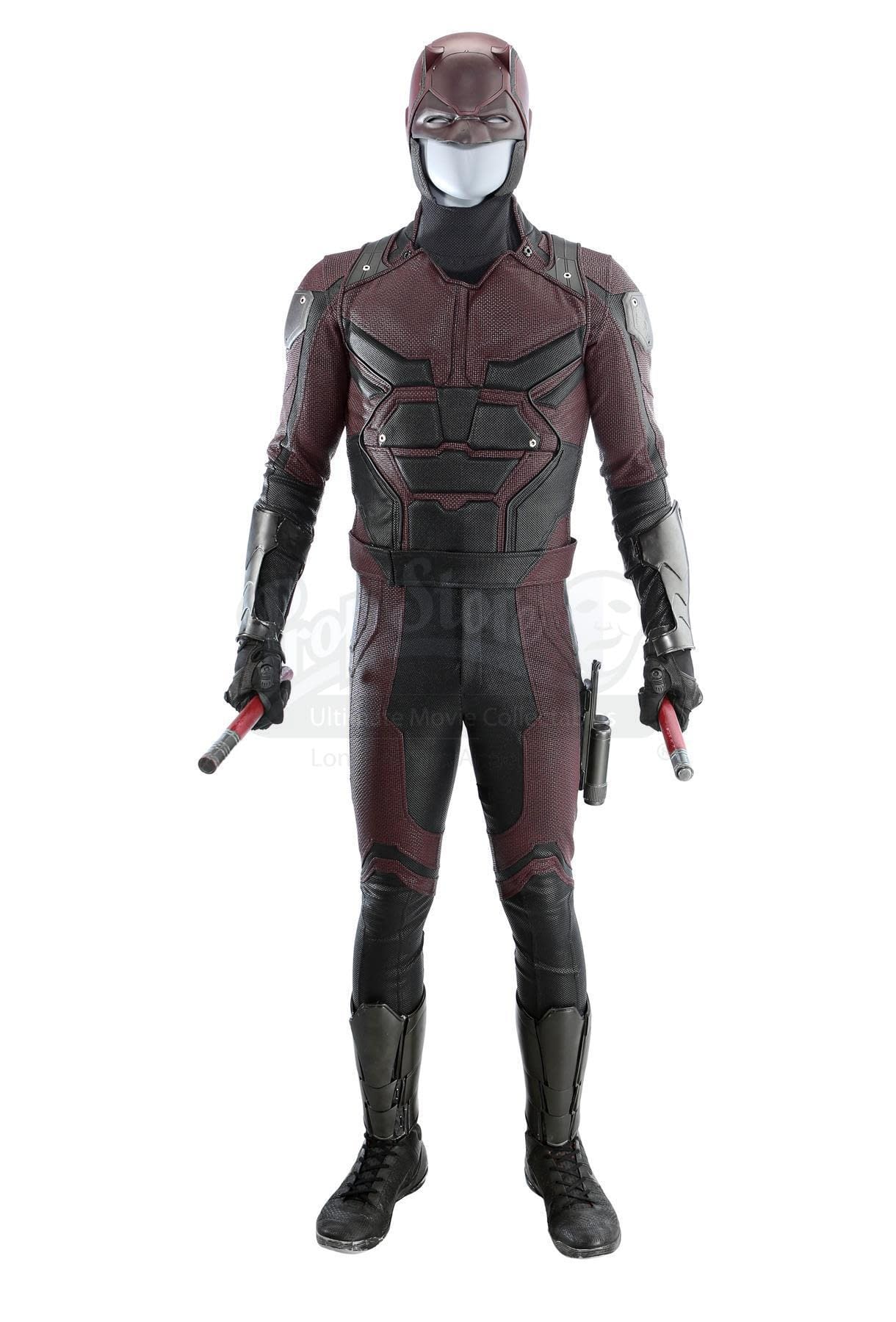 Matt Murdock's red first iteration Daredevil costume from Seasons 1 and 2 of Marvel's Daredevil. Murdock receives his distinctive red and black costume as masked vigilante Daredevil in Season 1 and dons it throughout Season 2. This lot consists of a padded red flexible urethane cowl, a red and black Spandex and polyester blend compression bodysuit with rubber shoulder pads, a matching polyester blend zip-up vest, a black padded zip-up muscle suit, a pair of plated gray hard resin grieves, a pair of plated gray hard resin vambraces, a pair of orange rubber-soled sneakers painted black by production, a pair of black leather and polyester gloves with fastening strip closures, a gray resin billy club, a pair of red and gray foam rubber billy clubs, and a pair of wardrobe tags both marked '#1 D.D.'. The cowl, bodysuit and vest are labeled for the principal actor. This lot is in good overall condition with visible signs of wear from production throughout.
That red suit is expected to go for at least $30,000, so make sure your credit line can handle it!
I only made it through the first six pages of stuff going up for auction, and I still haven't made it out of the Daredevil stuff— but there is so much more. You want Madame Gao's cane from Iron Fist? Yeah, it's there. How about the Rand Family tombstone? Check. Maybe you're in the mood for something more down to earth, like Pop's Swear Jar from Luke Cage? Got it right here
There's even a couple of barber's chairs that you could try and open your own barber shop with.
But it would be pretty hard to get into character, so you better pick up something to help you meditate on your motivations, like this chess board that pops and his buddy Bobby Fish would play on!
"We are very proud to have created these great Marvel shows for the fans and this is a unique opportunity, in association with Prop Store, for fans to become a caretaker of these 'pieces of art' used in their production. We hope that many fans and collectors are able to bring home an authentic piece of the Marvel Universe that excites and inspires them for years to come."

-Senior Vice President of Marvel Marketing and Communications Mike Pasciullo
Seriously, though, you could get your hands on something cool from a pretty neat chapter in live-action Marvel history! Even if you don't plan on bidding, it will be a lot of fun seeing what everything goes for!