"Mayans M.C." Takes Viewers Behind the Scenes of Season 2 First Table Read [VIDEO]
With Kurt Sutter and Elgin James' Sons of Anarchy spinoff Mayans M.C. set to come storming back to FX screens on September 3, the cast and creative behind the hit series are giving fans a look behind the curtain on how one of the most important moments during production: first table read-through.
In the following clip, fans will see just how much of what they see on the screen begins during these read-throughs and then evolves as the actors and writers work off of one another. As they're ready to wrap, Sutter ends the "family get-together" with some lovingly frank advice on how to approach the season:
At the end of the show's freshman season, James spoke about what he wants the focus of the second season to be: getting to the heart and soul (???) of the cast of character that populate the world of Mayans M.C.
"I just want to go deeper and rawer. [The cast] all met and we all fell in love with each other. I think a big part of that is realizing our hearts are all broken in the same places. And so now we have that trust in each other to go deeper."
Mayans M.C. season 2, episode 3 "Camazotz": Mayans seek justice while Galindo's deal takes an unexpected turn south of the border. Written by Elgin James & Jenny Lynn; directed by Guy Ferland.
https://www.youtube.com/watch?v=ECxZm3eCUUM
Set in a post-Jax Teller world, Ezekiel "EZ" Reyes (JD Pardo) is a prospect in the Mayans M.C. charter on the Cali/Mexi border. Once the golden boy with the American Dream in his grasp, EZ is trying to reconcile with his brother "Angel" (Clayton Cardenas) while searching for the truth behind their mother's death. Meanwhile, their father "Felipe" (Edward James Olmos) is struggling to lead his sons down a righteous path.
Sutter made some serious waves before the official season premiere by announcing that hewa stepping down from his executive producer role if the series is picked up for a third season. At the Hollywood screening, Sutter emphasized that a series centered on a Mexican motorcycle gang based on the California-Mexico border should be spear-headed by a person of color: "It's time for the white man to leave the building."
While initial reports were met with a sudden social media panic, fans should take heart in knowing that the helm is still being run within the Mayans M.C. family: James will assume the role of showrunner for any future seasons.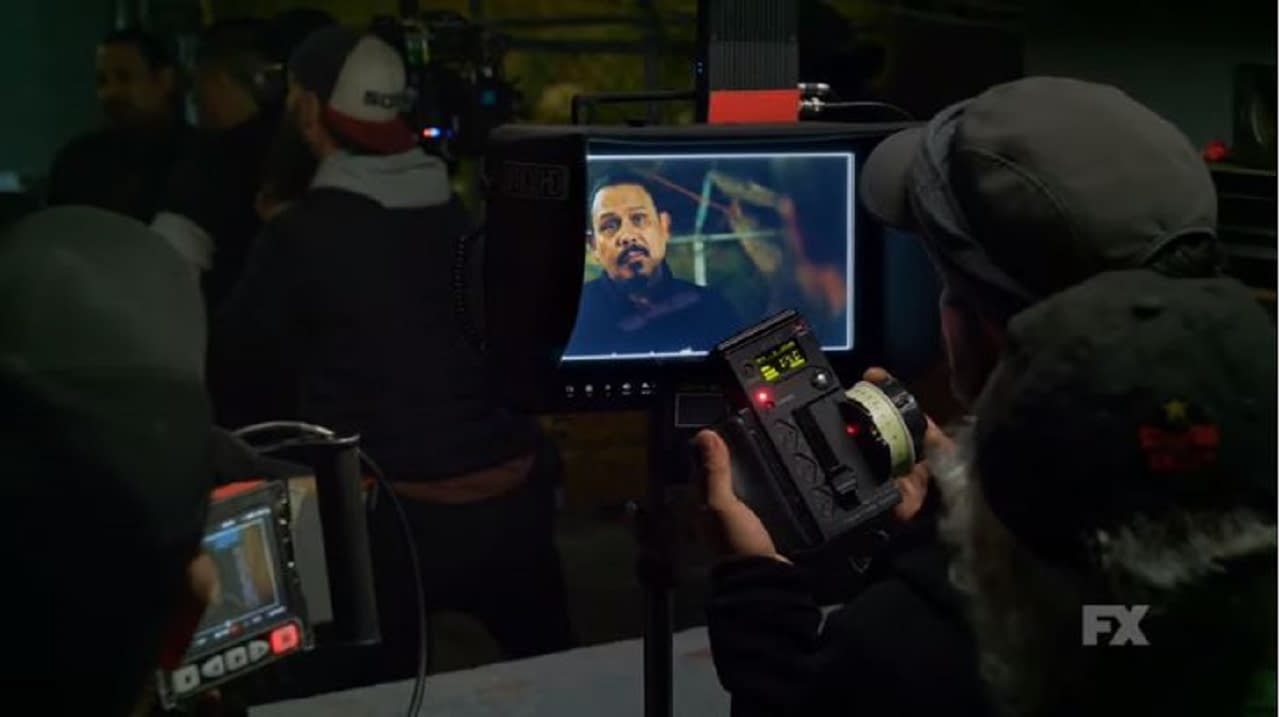 Here's what James had to say about his new role and working with Sutter for the past two seasons:
"Kurt Sutter changed my life. I couldn't get a job in a Walmart or a Costco as a violent ex-felon. He took a shot on me … I don't know what he saw in me … and the last two years I've learned so much from him that it's left me speechless, really. I love everyone on our show so much. We've become a family. I'm so excited about what we get to do."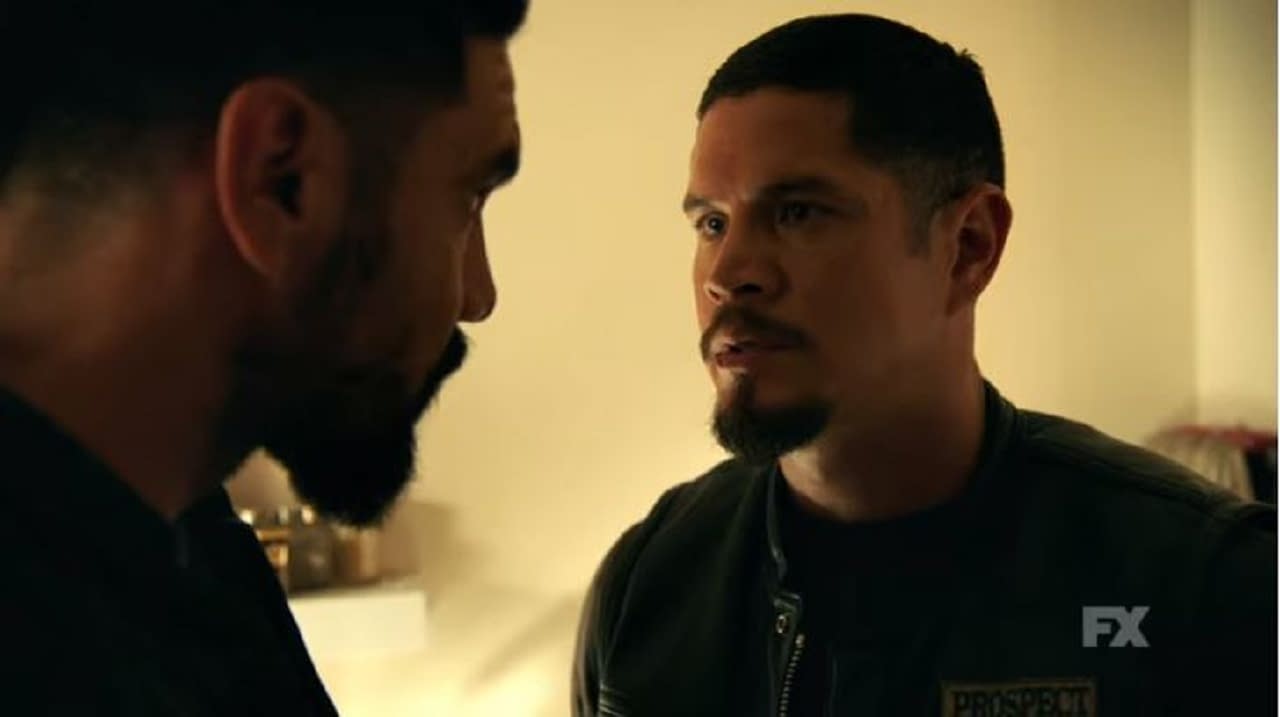 As for Elgin being ready to take on the responsibility? No worries, fans… looks like Elgin already has the right approach:
"F— yeah. I'm wearing a suit! Yeah, I am. Being the boss, all that means is taking the chains off and letting everybody do what they do. Everyone on our crew, our writers' room and in our cast is brilliant. Our job is easy. Just turn the cameras on and let the chemistry happen."

To say that fans were left with a lot to chew on at the end of last season would be an understatement, as the worlds of SoA and Mayans collided hard: EZ (JD Pardo) came face-to-face with his mother's killer – and without giving away too many spoilers? Let's just say that it's probably not going to lead to a "happy" ending for EZ, his father Felipe (Edward James Olmos), his brother Angel (Clayton Cardenas) – or the club.
Co-created by Sutter and James, Mayans M.C. also stars Sarah Bolger, Michael Irby, Carla Baratta, Antonio Jaramillo, Raoul Max Trujillo, Richard Cabral, Danny Pino, and Emilio Rivera. The series is executive produced by Sutter, James, and Kevin Dowling. FX Productions and Fox 21 Television Studios produce.

Now here's a look at the teasers and previews released for the return of Mayans M.C.:
https://www.youtube.com/watch?v=tjvTgOLEt0I
https://www.youtube.com/watch?v=hHQCLcGkk6g
https://www.youtube.com/watch?v=p-vgc8d8eMI
https://youtu.be/gRQVoTHWWGM