NASCAR Bans Confederate Flags from All "Events and Properties"
Another major societal shift took place across the pop culture landscape on Wednesday, with the National Association for Stock Car Auto Racing (NASCAR) announcing via a statement posted to social media that "the display of the confederate flag will be prohibited from all NASCAR events and properties." The move comes in response to protests against the killing of George Floyd by four Minneapolis police officers, as well as bring light to the issue of police brutality against the Black community. For the racing association, it was about staying true to what racing is supposed to be about: "Bringing people together around a love for racing and the community that it creates is what makes our fans and sport special. The display of the confederate flag will be prohibited from all Nascar events and properties." While some still hold onto the flag as a sign of some sense of "history," more and more recognize it for what it represents: oppression, slavery, and treason.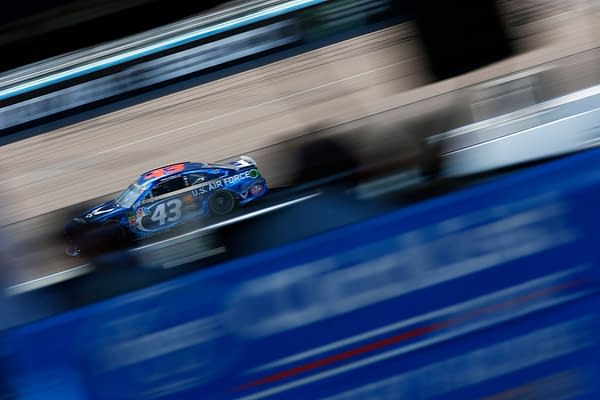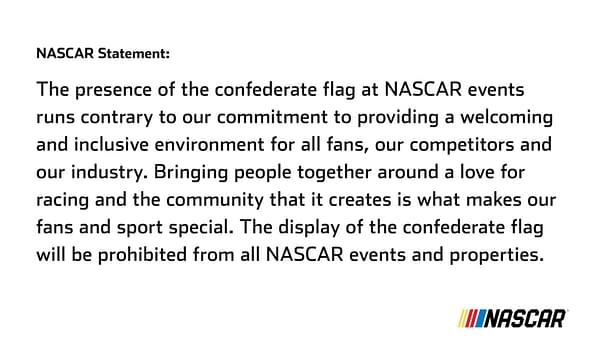 Currently the only African American driver in NASCAR's top series, Darrell "Bubba" Wallace Jr. called on the racing association to ban confederate flags at its events a day earlier. On Sunday, Wallace wore an "I Can't Breathe – Black Lives Matter" T-shirt under his racing suit in solidarity with protesters during the national anthem ahead of the NASCAR Cup Series Folds of Honor QuikTrip 500 at Atlanta Motor Speedway in Georgia. During warm-up laps, the racers paused for a message from NASCAR President Steve Phelps:
"Our country is in pain and people are justifiably angry, demanding to be heard. The black community and all people of color have suffered in our country, and it has taken far too long for us to hear their demands for change. Our sport must do better. Our country must do better. The time is now to listen, to understand, and to stand against racism and racial injustice. We ask our drivers, our competitors, and all our fans to join us in this mission, to take a moment of reflection, to acknowledge that we must do better as a sport, and join us as we now pause and take a moment to listen."