"Preacher" Season 4 Premiere: Julie Ann Emery Offers Exclusive BTS Looks [VIDEO, IMAGES]
After weeks of waiting, Jesse Custer's (Dominic Cooper) final sermon from "The Book of Genesis" has officially begun, with AMC's series adaptation of Garth Ennis and Steve Dillon's Preacher – unleashed upon viewers this past Sunday. By the end of the two-hour opener, we learned that God (Mark Harelik) and Herr Starr (Pip Torrens) "master plan" involves some serious suffering for Jesse. Meanwhile, Tulip (Ruth Negga) and Cassidy (Joseph Gilgun) can't decide if they want to be inside or outside Masada – though we got a cliffhanger ending that finally put them both in the same place (…that's a good thing, right?)
But our personal highlight? Featherstone (Julie Ann Emery), who upped her "badass" level to a solid "11" with some sick fight scenes, serious "auto fu," and one of the best Rocky the Flying Squirrel imitations you'll ever see – and that's not even close to doing her justice. Which is why Bleeding Cool was honored to have Emery "hijack" our Twitter account for season premiere "Masada/Last Supper" to take questions and offer viewers some amazing behind-the-scenes perspectives on the series' production.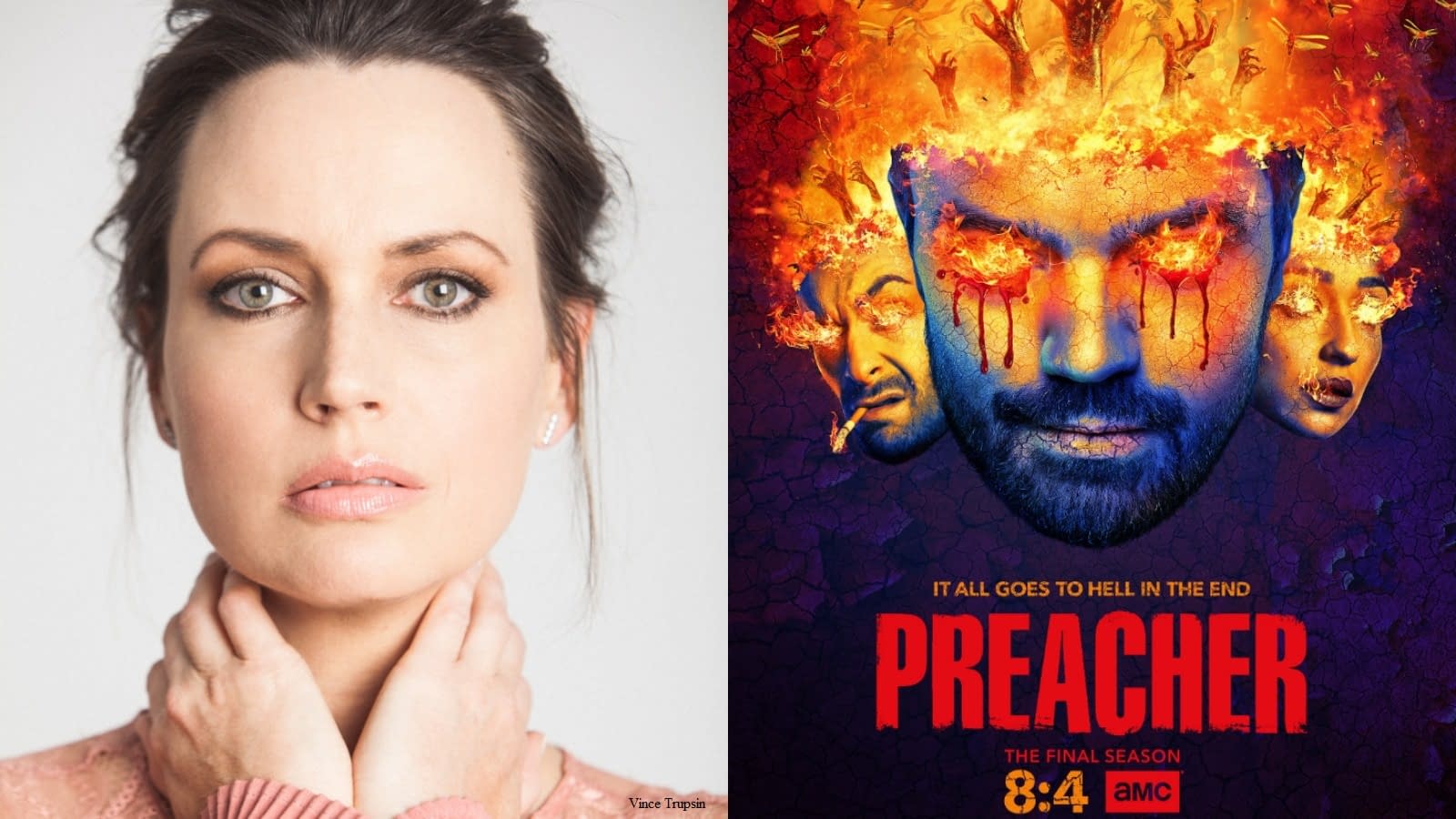 Here's a look at just some of the highlights (trust us: head over to @BleedingCool for a ton more great stuff) from Emery's live-tweet session – and to learn a more about the actress (in particular, the way she crushes the "Geek Guilty Pleasures" question), check out our recent interview here :
● On a personal note, having Emery post a video wgere she mentions "Bleeding Cool"? Never gets old…
● Remember how EP Seth Rogen went off "a little" on HBO's Game of Thrones? Without commentary…
● We're going to limit commentary here, because the fight scenes and flight work in the first two episodes are some of the best stunt work we've seen on the show – and that's no disrespect to the past, but more praise for how the show upped its game for the final season:
● What is it about AMC and putting heads on pikes? The Walking Dead… now Preacher… look out, Lodge 49!
● Well, she did warn us…
● I want something in my life to make me smile the way Gilgun and Cooper smile as they fake-kill Grail soldiers:
● BBQ and white suits? A fashion disaster waiting to happen…
● The Charlie's Angels audition that could've been…
● The official image I'll use to cosplay Jesse Custer at NYCC 2019:
● Yeah, that gear is pretty sweet… especially contrasted with the sand:
● Some more great behind-the-scenes looks:
● We had a blast, too!
Now here's a sneak preview for next week's episode "Deviant":
Preacher season 4, episode 3 "Deviant": In her attempt to rescue Cassidy, Tulip meets an unexpected obstacle; as his hopes of escape fade, Cassidy reflects on decisions he made 100 years ago; the Saint of Killers is closing in on Jesse.

As our story inches closer to the finale, God's endgame for the universe begins to click into place. Trapped between heavenly prophecies, hellish prisons, and all-out nuclear war, Jesse, Tulip, and Cassidy make their bloody way to the Most High. Whether they can reach God in time — or whether all this carnage is part of His divine plan — will soon be revealed as PREACHER barrels towards the end of the world.