"Saved by the Bell": Mario Lopez, Elizabeth Berkley Take It to "The Max" to Mark Sequel Series Filming [VIDEO]
Looks like A.C. Slater and Jessie Spano are back to where things started – back to Bayside High. Mario Lopez and Elizabeth Berkley are reprising their respective roles, and now they've documented their first day of shooting of the Saved by the Bell sequel series for the NBC Universal streamer Peacock.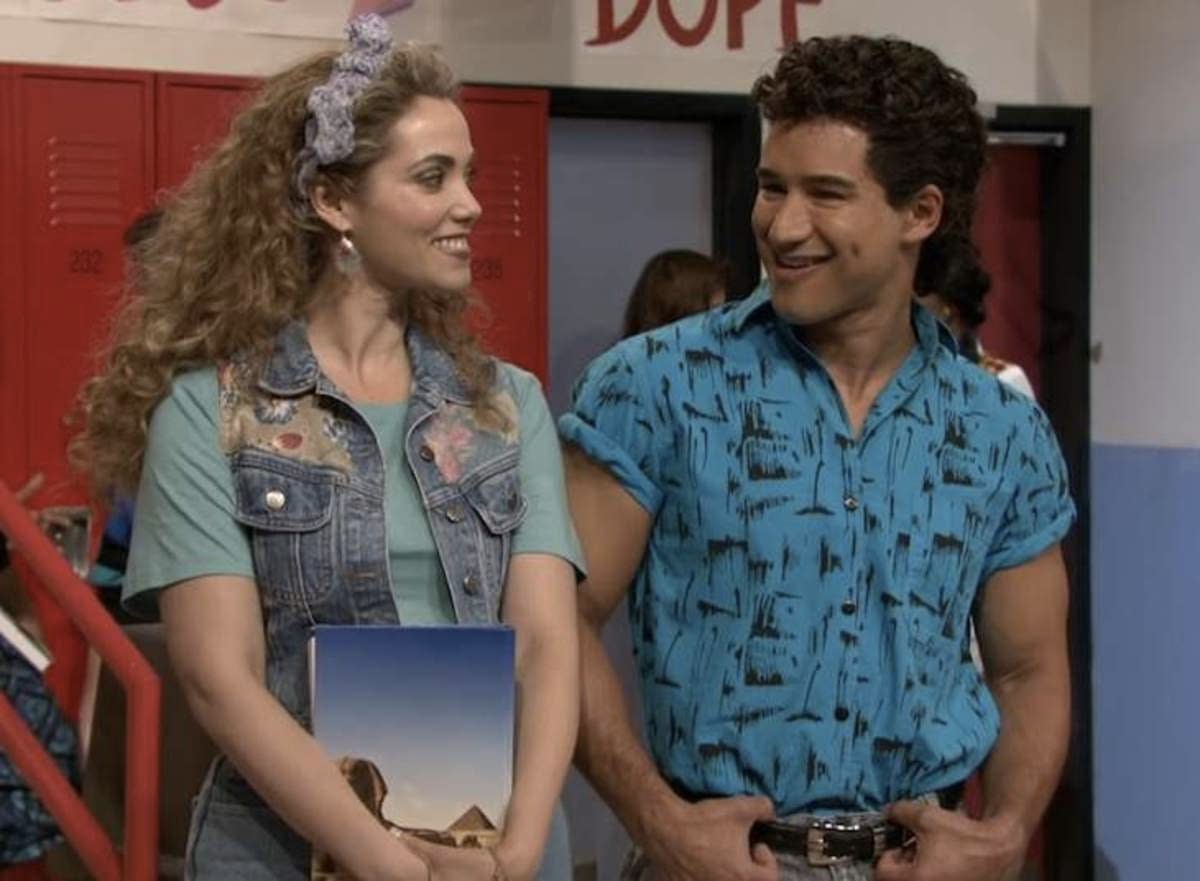 Lopez posted the update via his Instragram, revealing that they were in the process of shooting a promo for the upcoming series. Both appeared on set at the Max, Bayside's popular hangout 50's-themed diner spot in the original series (1989-1992) and during Saved by the Bell: The New Class (1993-2000). During the video, Lopez showed off the busy crew and revealed the returning Ed Alonzo as owner Max. Berkley chimed in saying, "It's like going to a time machine!"
Those who follow Lopez on his hosting stints on Extra and Access Hollywood know he looks nearly identical as he did during his run on the original Saturday morning series – with Alonzo looking the same, it wouldn't be surprising if both are from the same vampire clan. Berkley is opting to keep things current, sticking with her current straight hair look rather than a dive back into the curls from the original series.
"Saved by the Bell" Sequel Production Details
While the premiere is a mere eight months away, we'll likely see more of the cast coming together. Based on the original series by Sam Bobrick, the sequel series comes courtesy of Tracey Wingfield – who serves as showrunner and executive produces alongside Franco Bario and Peter Engel. The series also stars Josie Totah, John Michael Higgins, and Mark-Paul Gosselaar as Gov. Zack Morris (all joining Berkley and Lopez as producers). Tiffani Thiessen is still in talks to reunite with her former classmates.
Will we see anymore cameos like Principal Belding (Dennis Haskins), Lisa (Lark Voorhies), Screech (Dustin Diamond), or the long forgotten Tori (Leanna Creel)? We'll know better when the sequel series to Saved by the Bell premieres this September on NBCU's Peacock streaming service.