Agents Of SHIELD Season 5: the Transformation of Florence Faivre to Sinara
If you've been following along with the fifth season of Marvel's Agents of SHIELD, then you've seen the kick-ass Kree warrior Sinara taking down folks with a trio of metal balls. And if you've wondered why she looks familiar, she spent the previous two years playing Julie Mao, the catalyst for a lot of what happens on the Syfy series The Expanse. By the actress, Florence Faivre, has had an interesting road to get to being a science fiction television series badass.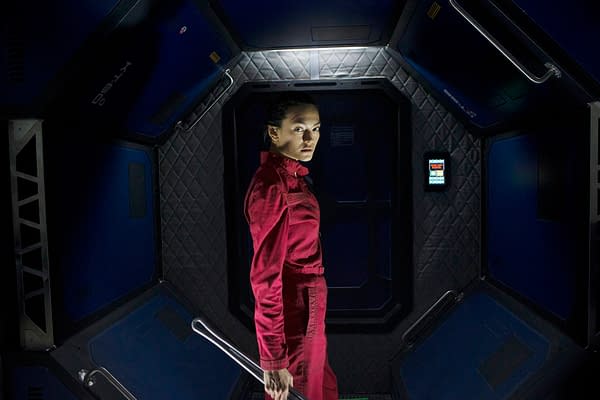 Faivre was born in the South of France, in the town of Aix-en-Provence. She and her family moved to Bangkok, Thailand where she began her acting career at the age of 13. She was a regular host for two different teen television series and guest hosted many others. As she graduated high school, she was chosen to lead the film The Siam Renaissance, the second largest Thai production ever and she received a best actress nomination at the Bangkok international Film Festival. She then moved to New York where she starred in the films Chokdee and the Elephant King. She then began working in television, guesting on The Following and How To Make It In America before getting cast on The Expanse.
She joined in on this season of SHIELD starting in the second episode and has been recurring since. With the show's nature to change a few times a year now and the fact that she is in the future where it's believed he main characters will return to their original time… how much longer we'll see Sinara is unknown. But she will definitely be on the show this evening.
Marvel has recently released a behind the scene look at the makeup involved in transforming Florence into Sinara.
Marvel's Agents of SHIELD airs tonight at 9 p.m. ET on ABC.