South Park S25E06 Preview: Butters Lets His St. Paddy's Day Flag Fly
After a week filled with teen angst, this week seems like the right time to celebrate St. Patrick's Day. Which is a good thing because coincidentally enough, St. Patrick's Day also happens to fall this week. And while Stan, Kyle, Kenny & Cartman appear to be getting into the spirit, one person who is clearly excited for the holiday? It's Butters, as you're about to see in the following preview for this week's new episode of Comedy Central's South Park "Credigree Weed St. Patrick's Day Special." But with a title like that and our Butters so… Ummm… "enthusiastic" about going green, is there any way this isn't going to end at least with an overall feeling of "painful awkwardness"?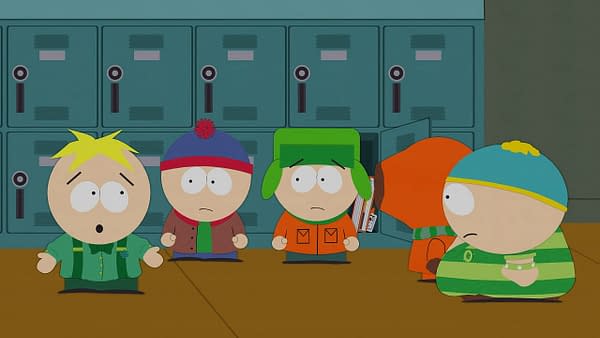 Now here's a look at the official preview for this week's new episode of Trey Parker and Matt Stone's South Park, returning this Wednesday, March 16, at 8 pm ET/PT on Comedy Central:
"To be halfway done with 'South Park' is a great accomplishment — we can't lie," said Stone and Parker in a statement when the premiere date was revealed. "For the past 25 years, multiple generations of fans have grown up enchanted by the outlandishly funny and subversive world that Matt and Trey have created with "South Park"," said Chris McCarthy, president and CEO of ViacomCBS Media Networks and MTV Entertainment Studios. "As part of our expansive new deal, we are thrilled to continue our partnership with them for many more seasons of "South Park" on Comedy Central and many more made-for-streaming South Park exclusive events on Paramount Plus." Parker and Stone executive produce South Park along with Anne Garefino and Frank C. Agnone II. Eric Stough, Adrien Beard, Bruce Howell, and Vernon Chatman serve as producers, with Christopher Brion being the creative director . Now here's a look at the timeline that was announced during the Television Critics Association (TCA) winter press event:
2022: Complete library of 310 episodes to launch on Paramount+ internationally.
2024: Beginning with Season 27, new episodes will have their U.S. and global streaming premieres on Paramount+.
2025: Entire catalog rolls into the U.S., making Paramount+ the global exclusive SVOD home to the groundbreaking franchise.
2022-2027: South Park will run through Season 30 on Comedy Central, while the 12 remaining original made-for-streaming events on Paramount+ will stream two per year.