SPOILER Wins Casino Ladder Match: AEW Double or Nothing Results
Right before the main card started, Excalibur kicked Taz to the back and brought out Tony Schiavone and JR, but the YouTube version of the pre-show cut out right in the middle of Boomer Sooner. On to the main PPV card, kicking off with an FBI warning. Double or Nothing officially started with a video package showing all the AEW talent thanking first responders during the coronavirus crisis. Then we got an AEW Double or Nothing intro.
The show kicked off with a shot of the crowd. Vicki Guererro was in the audience with the other wrestlers. Joey Janella cut a promo to start. He talked about getting a call from "Big Biceps Tony" to invite him to take Rey Fenix's spot in the Casino Ladder Match. Janela said it will be a Cinderella Story if he wins the match. Kip Sabian cut a promo about that leader match as well, teasing involvement from Jimmy Havoc and Penelope Ford who were at his side. Havoc brought up problems with some of the other competitors. Sabian said he's gonna make everyone in the match suffer. Christopher Daniels also cut a promo. He brought up Scorpio Sky and Frankie Kazarian losing their previous shots against Jericho and Jon Moxley, but the says they've learned from their experience. They'll go through hell, high water, and each other for another AEW Championship opportunity. In a promo filmed earlier today, Best Friends explained climbing the ladder to Orange Kassidy, who didn't seem happy with all the steps.
It's Your Casino Ladder Match for AEW Championship Title Shot
Frankie Kazarian came out first, followed by Scorpio Sky. Looks like it will be SCU vs. SCU to start. The rules of the match are that new competitors keep coming out every two minutes, but the match can be won at any time. Kazarian and Sky jumped outside to grab ladders first thing, but agreed to push them back out and square off first. They traded flippy reversals in a lock-up and then more reversals running the ropes. Another lockup and more flippy reversals and rope running until both men collided. Time to sell until the next competitor comes out.
Kip Sabian came out next with Penelope Ford in tow. Jimmy Havoc snuck up from under(?) the ring and took out SCU with a ladder from behind. They hit a Michinoku Driver/Dropkick combo on Sky and then Havoc brought Kazarian to the top rope and tried to slam him on a ladder, but Kazarian reversed and then suplexed him on a ladder.
Outside the AEW ring, Sabian was about to hit a top of the ladder move on Sky but noticed Kaz inside climbing the ladder and ran in to stop him. Both men ended up on the ground Scorpio Sky entered the ring as Darby Allin came out. Allin cleared house and headed outside to set up a ladder between the barricade and ring. He hit Kazarian in the face with a skateboard to lean him on the ladder, then climbed another ladder with his skateboard and went for some Tony Hawk type s***, trying to stomp Kaz with the skateboard, Kazarian moved out of the way and Allin crashed through the ladder and sold a leg injury.
Orange Kassidy came out next. Instead of heading to the ring, he went to the announcers' desk and asked them to explain the rules of the match again. Then he slowly walked to the ring. The countdown was down to a minute and fifteen seconds by the time he made it to the ring. Everyone was still selling on the outside, so Cassidy grabbed a ladder, laid it horizontally on the ground, and climbed on top, but of course he couldn't reach. Cassidy then dodged moves from Sabian, Sky, and Kazarian, who all ended up back outside. Now he tried to set up the ladder without bothering to open it up, so it fell back down. By this time, the clock was up again.
Colt Cabana came out next and tossed Cassidy. Cabana tried to climb for the chip, but Sabian pulled him off. Kazarian and Sky then dumped the ladder on top of Cabana. Orange Cassidy climbed in and hit some devastating kicks and a double dropkick on SCU, following with a suicide dive. He rammed both men's heads onto the apron, but they took control and started a beatdown.
Janella came out and ran down the ramp to dive onto Cassidy, Kazarian, and Sky. Then he took out Sabian outside and Cabana inside, but before he could climb the ladder Kazarian came in and tossed him out of the ring. Janela came back with a steel chair and hit Kazarian. Sky took the chair and kit Janela. Kazarian saw Sky with the chair and teased believing it was him that hit him. Sabian came in and ook out Sky and tried to slowly climb the ladder.
Kazarian made it in and pulled him off, but got tossed out. Luchasaurus came out and took out everyone in the match. Sabian got a powerbomb over the top rope onto a crowd outside. Kaz came in but got a kick to the head and a chokeslam on a ladder propped in the corner, then another on the mat. Darby Allin finally finished selling and climbed in. He and Luchasaurus fought on the ropes and Allin hit a Code Red on him. Allin continued to sell an injury to the left knee as he set up a ladder.
And Your Mystery Participant Is…
Taz came out with Brian Cage, the mystery competitor. It looks like we know who's winning this one. Cage beat on Allin and hit an F5. He tossed Allin and hit a powerbomb on Sabian. Scorpio Sky tried his luck but got tossed into the corner and German duplexes. Janella's turn, taken out with a second rope suplex. Colt Cabana and Frankie Kazarian got beat down next. Cage then climbed the ladder, and Orange Cassidy jumped on his back. Cage climbed anyway, and all the other competitors teamed up to pull them both back down the ladder, but it was an almost even matchup. Everyone (except Allin, who was still selling) teamed up to beat down Cage. Kaz and Sky dumped him out of the ring with a ladder shot. Then everyone piled ladders and ring barriers on top of him outside in hopes of keeping him down. They added one of the giant poker chips, which was carried as if it was extremely heavy.
Inside, Colt Cabana tried to climb the ladder bit Sabian dropkicked it into him. Sky came in and set up the ladder on top of Cabana in the corner. He ran for the ropes but Sabian pulled down the top rope. As Sky tumbled out, Sabian hit a springboard dropkick on the ladder and into Cabana. Kazarian took out Sabian, and Orange Cassidy took out Kazarian. Cassidy and Sabian climbed opposite sides of the ladder and exchanged blows as Penelope Ford came out to the top of the exit ramp. Cassidy dropped Sabian off the ladder, and Ford ran in and climbed up. Cassidy dropped her on top of Sabian. Jimmy Havoc attacked Cassidy from behind and this brought out Best Friends, who put a beatdown on Havoc.
Inside the ring, Luchasaurus faced off with Orange Cassidy. Cassidy escaped a chokeslam and goozled Luchasaurus. Unfortunately, he couldn't lift him. Marko Stunt came out of nowhere with a miniature ladder, climbed it, and choke-slammed Cassidy. Kazaraian lept over the top of a ladder from the top rope in an attempt to hit a hurricanrana on Luchasaurus, but he sort of botched it. Either way, both men rolled out. Janela hit a running Death Valley Driver off the ring apron onto the top of the poker chip pile on top of Brian Cage on Orange Cassidy.
The Finish
Janella tried to climb the ladder but Sky stopped him and hit a TKO. Both members of SCU climbed to the top of the ladder and traded blows, only for Luchasaurus to dump them off the ladder. He stopped an incursion by Colt Cabana with a kick and started to climb, but Brian Cage had unburied himself by now. Cage and Luchasaurus exchanged powerful blows in the ring. Cage reversed a chokeslam and hit a running powerbomb on Luchasaurus into a ladder that was leaning in the corner. Cage set up the ladder and climbed, but Darby Allin slid in with a half-sized ladder.
Cage aborted his climb and grabbed Allin, who slapped him in the face. Cage hit a clothesline and a drill claw on Allin. Taz came out to cheer Cage on. Cage set up a ladder in the corner across the top rope and tried to lay Allin on top, but failed. He adjusted the setup and tried again. Then he picked up the ladder with Allin on top and gorilla press slammed it over the top rope. Cage climbed to the top and grabbed the chip, winning the match.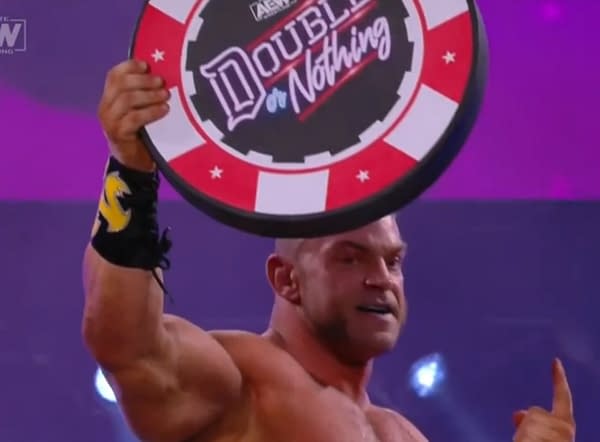 It was a little sloppy in a few parts, but overall had a lot of fun spots. Former Impact Champion Brian Cage was probably the best possible mystery entrant here, and pairing him with Taz is very interesting. He was sold as a monster. The match was very fast-paced and I had to do a double-take when I noticed it took forty minutes. A great way to start the show and everyone looked pretty good. Cage vs. (presumably) Moxley is a fresh and interesting feud as well. I'm gonna hand this off to Jeremy for the next match, which is MJF vs. Jungle Boy, so stay tuned to Bleeding Cool for live AEW Double or Nothing coverage all night.