Star Trek: Rhodes Told She Was "Wrong Physical Type" for Enterprise
Kim Rhodes (Supernatural) recalls her time on Star Trek: Voyager with Kate Mulgrew & why she was passed over to play T'Pol on Enterprise.
---
Kim Rhodes could have played a bigger part in the Star Trek legacy. The Supernatural star made her franchise debut on in a guest role on Voyager as Ensign Lyndsay Ballard, who had been transformed into Jhet'leya, a Kobali in the season six episode "Ashes to Ashes." Upon finding out how green she was, having only done soaps like Another World and sitcoms, star Kate Mulgrew (Kathryn Janeway) took her under her wing, providing her with tips on how to do single-camera shows and helping to resolve an issue with episode director Terry Windell. Rhodes appeared on the Voyager rewatch podcast Delta Flyers and spoke with hosts and series alum Garrett Wang (Harry Kim) and Robert Duncan McNeill (Tom Paris).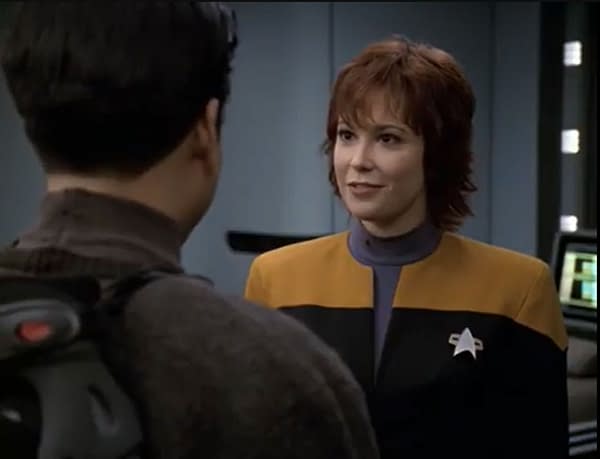 Impressed by Rhodes' performance, Mulgrew hoped to get her back for Voyager's seventh and final season in a recurring role. "Get this girl on our show," Rhodes said (via Trek Movie). Instead, executive producers Rick Berman and Brannon Braga had bigger plans for her, eying the role of the Vulcan science officer T'Pol, the female lead in the Star Trek prequel Enterprise opposite star Scott Bakula (Jonathan Archer). The role ultimately went to model-turned-actress Jolene Blalock.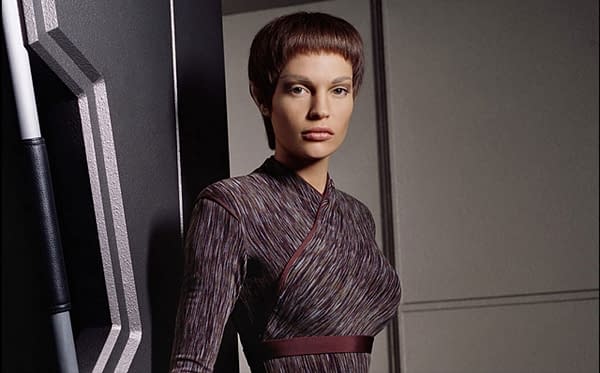 "…What they did was they wrote a role for me in the next Star Trek series," Rhodes recalled. "And so Rick Berman and Brannon Braga met with me and were like, 'Here's why you're gonna play this role.' I have secret insight into what a Vulcan actually is because of their conversations with me, and ultimately, I screen-tested in front of 35 people at Paramount; then I went to my agent, and they called my agent [and] said I did not get it because I was the wrong physical type." When McNeill asked for clarification on the last part, "Yes. I specifically said, 'did they mean I was too fat?' and my agent said, 'yes,'" she replied.
Rhodes went back to the theater with a lesson; "I learned 'what exactly pretty is as pretty does' in Hollywood." While the actress found her way back to "Star Trek," reprising her role in Star Trek Online, she found a home with another franchise in The CW's Supernatural as Sheriff Jody Mills, one of Sam (Jared Padalecki) and Dean's (Jensen Ackles) longest surviving hunter allies throughout the series' 15-season run. There was a planned spinoff from a backdoor pilot called Wayward Sisters that was to star Rhodes but it wasn't picked up. She can be seen in Gravitas Ventures' sports drama Strong Enough and The CW's Kung Fu.