Velma: What Scooby-Doo Gatekeepers, Trolls Don't Get About Prequel
Gatekeepers/trolls have it in for Mindy Kaling & HBO Max's Velma, ignoring two important things about the animated Scooby-Doo prequel series.
---
As animated series go, series star & executive producer Mindy Kaling, Warner Bros. Animation & HBO Max's ten-episode "Scooby-Doo" prequel spinoff Velma was definitely one that was on a lot of folks' radars. Unfortunately, a large chunk of that attention wasn't exactly coming from the most open-minded folks when it comes to the concept of change and trying different things. From Kaling portraying Velma Dinkley as an Asian American young woman to the way Shaggy/Norville (Sam Richardson), Daphne (Constance Wu), and Fred (Glenn Howerton) are portrayed in the adult animated series, a weird mix of "Scooby-Doo" gatekeepers and folks way too obsessed with keeping characters white have had their knives out for the series since the first teaser hint. And spoilers? It hasn't gotten much better since the first two eps hit HBO Max earlier today.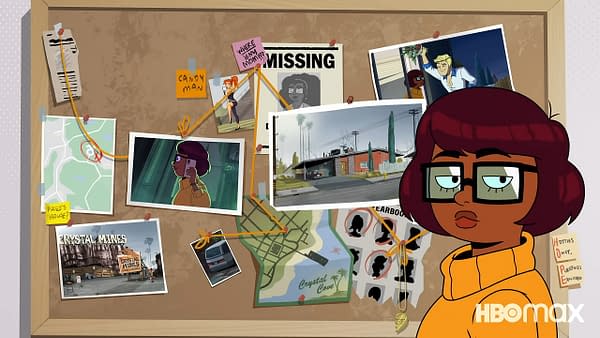 Full disclosure? I'm not sure how I feel about it. A like a lot of what I've seen, but there are some cringy moments (not in good ways), and I'm still not sure how I'm feeling the characters yet. But there's enough there to keep me watching, and I celebrate the way Kaling and the rest of the creative team are looking at a beloved franchise from a different perspective. It's a bold creative swing in an age of social media trolls stumbling over each other to shred the next thing that shows any sense of personality or individuality. But even if I hated it… so what? I would write it off as a "beautiful disaster" and go back to appreciating the older cartoons. It's not the end of my world… but more than that? It doesn't, in any way, shape, or form, impact the older cartoons that I've loved over the years. They're still fun. They're still great. Someone else's vision doesn't take away from that.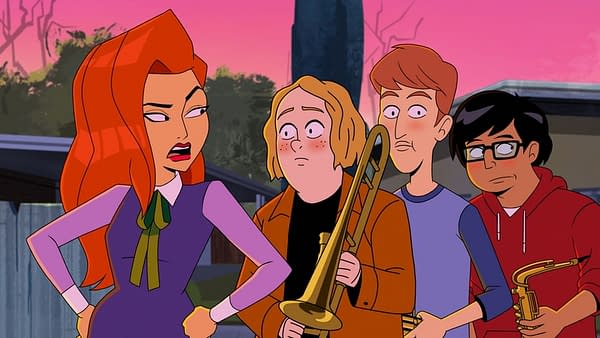 But if that's not enough to sway you and you're still raging at the clouds over how Kaling has committed "blasphemy" against your beloved 'Doo? Well, there's a very good chance that your hate made you gloss over a basic truth that Kaling's Velma Dinkley says at the beginning of the official trailer: "This is my story. Told my way." Do you see what I'm getting at? What we're seeing is Velma Dinkley's version of how "The Mystery Machine" came together. She says it right out of the gate. Just like we're sure that Fred, Daphne & Shaggy/Norville would each have their own take… with each of them being the "hero" in their story. Actually, now that I read that back I'm actually liking the show even more now. So, for the haters out there? Get off social media, go stream a hundred hours of old 'Doo & bask in the "glory days" while the rest of try out some new takes.
Mindy Kaling & Charlie Grandy Discuss HBO Max Animated Series
Kaling and EP Charlie Grandy shared their thoughts on the issues of sexuality and race, as well as other factors that will be in play during the "Scooby-Doo" prequel series- here's a look at some of the highlights:
Kaling Teases More "Velma" Sexual Tension Than Viewers Might Expect: "I don't want to give any spoilers away but a lot of the characters have sexual tension with Velma, which is fun. The journey of self-discovery for her is something that really drew us to this story and this character. So we want to honor other interpretations of what we think feels really modern."
Grandy on Tackling Social Issues "With a Really Light Touch": "We do not tackle big issues of race. We do not tackle big issues of gender identity. I think this was a lot of just us deciding, 'OK, we have this really aggressive mystery, and we want to kind of service this. How can we do all this stuff?'"
Kaling on Seeing Herself in Velma: "I always, growing up, identified with Velma. She was so cute but not traditionally hot – [she was] super-smart [with] super-thick glasses, a questionable haircut. I think most Asian American girls may see this skeptical, hardworking, and underappreciated character, and they can identify with her."
Grandy on Not Being Defined by Canon: "I watched the original and there's some canon, but they've reinvented it. So it's not like you're doing Batman. That gave us a little bit of freedom. And I think everyone has that feeling of 'I'm the one doing all the work. I'm the smart one, but I'm not in the front seat. Fred and Daphne are in the front seat. I'm in the back seat with Shaggy and the dog.' It's not only aspirational. It's relatable."
Grandy on How the "Scooby Gang" & Comedy Combine to Make Velma a "Great Character" to Spotlight: "From a comedy standpoint, it's such a great character. Velma is the smartest person in the room, but no matter what gets no credit. So what would it be like to do an origin story of that person when they were still pretty rough around the edges, before everyone in this gang was getting on… when they could still be wrong from time to time and could be a little bit flawed?"
Jane Lynch, Wanda Sykes, "Weird Al" Yankovic, Russell Peters, Melissa Fumero, Stephen Root, Gary Cole, Ming-Na Wen, Ken Leung, Cherry Jones, Frank Welker, Fortune Feimster, Yvonne Orji, Sarayu Blue, Nicole Byer, Shay Mitchell, Debby Ryan, Kulap Vilaysak, and Karl-Anthony Towns also lend their voices. Kaling and showrunner Charlie Grandy will executive produce alongside Howard Klein and Sam Register.