"Watchmen," "Batwoman" and "Pennyworth" Own the Keys to SDCC [IMAGES]
We'll admit it: which shows make it onto the hotel keycards at San Diego Comic-Con (SDCC) every year is a bit of a guilty pleasure of ours, so you'll have to excuse us for getting excited for this year's selections. To pay tribute to Batman's 80th anniversary this year, Warner Bros. Television Group is offering up two highly-anticipated new series: The CW's Batwoman and EPIX's Pennyworth. In addition (and if you're reading Doomsday Clock, you know this counts), HBO will have an exclusive Watchmen keycard available to SDCC attendees.
Here's a look at the keyart – minus the Watchmen one since it wasn't released (making us think it has some major "spoilerage" to it and that we're getting something "substantial" about it from HBO before SDCC):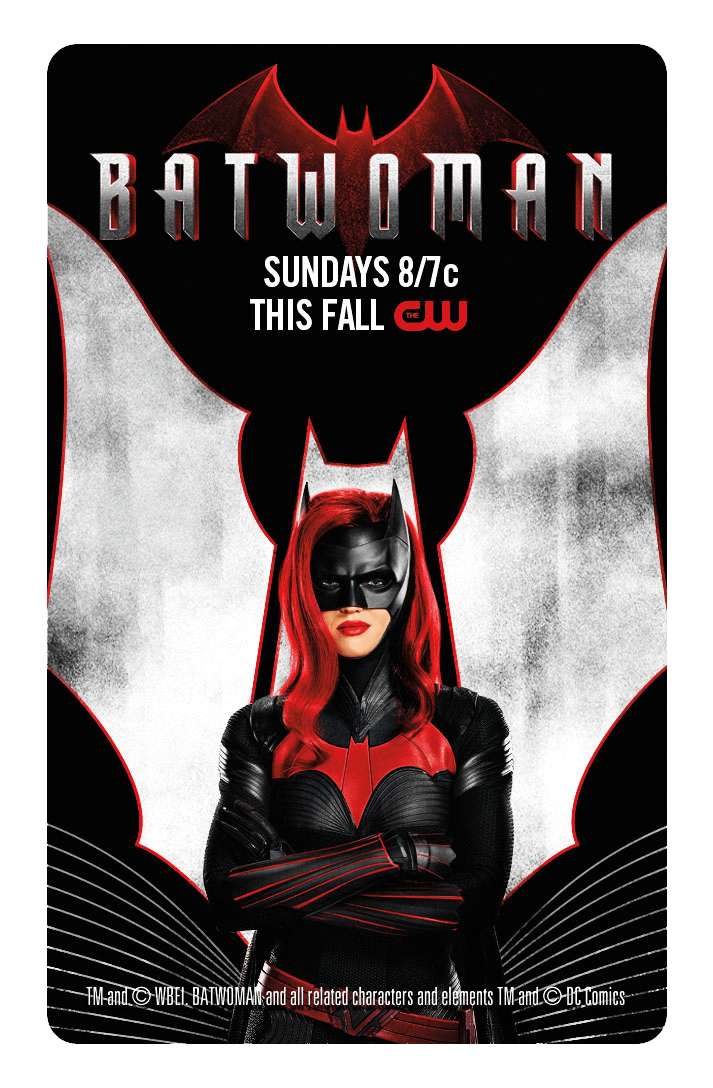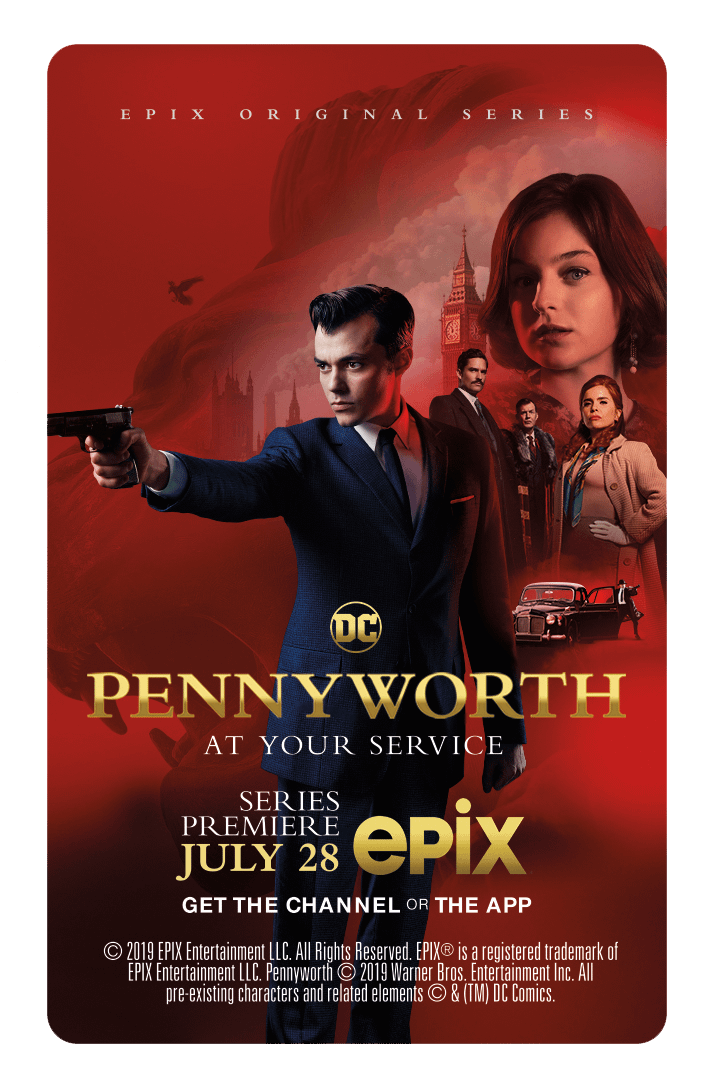 …and just so you feel as frustrated as we do right now: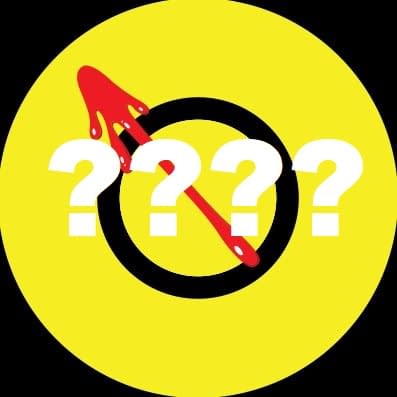 "Pennyworth" (Sunday, July 28, at 9/8c – EPIX)
From Warner Horizon Scripted Television, DC origin story Pennyworth is a ten-episode, one-hour drama series based on DC characters created by Bob Kane with Bill Finger. It follows Bruce Wayne's legendary butler, Alfred Pennyworth (Jack Bannon), a former British SAS soldier who forms a security company and goes to work with Thomas Wayne (Ben Aldridge), Bruce's billionaire father, in 1960's London.

Pennyworth stars Jack Bannon, Paloma Faith, Ben Aldridge, Hainsley Lloyd Bennett, Ryan Fletcher, Jason Flemyng and Polly Walker.

Bruno Heller (Gotham, The Mentalist, Rome) serves as executive producer/writer and Danny Cannon serves as executive producer/director (Gotham, CSI series).
"Batwoman" (Sunday, October 6, at 8/7c – The CW)
https://www.youtube.com/watch?v=vrIiPcv4_iY&t=7s
Kate Kane (Ruby Rose) never planned to be Gotham's new vigilante. Three years after Batman mysteriously disappeared, Gotham is a city in despair. Without the Caped Crusader, the Gotham City Police Department was overrun and outgunned by criminal gangs. Enter Jacob Kane (Dougray Scott) and his military-grade Crows Private Security, which now protects the city with omnipresent firepower and militia. Years before, Jacob's first wife and daughter were killed in the crossfire of Gotham crime. He sent his only surviving daughter, Kate Kane, away from Gotham for her safety. After a dishonorable discharge from military school and years of brutal survival training, Kate returns home when the Alice in Wonderland gang targets her father and his security firm, by kidnapping his best Crow officer Sophie Moore (Meagan Tandy).

Although remarried to wealthy socialite Catherine Hamilton-Kane (Elizabeth Anweis), who bankrolls the Crows, Jacob is still struggling with the family he lost, while keeping Kate –– the daughter he still has –– at a distance. But Kate is a woman who's done asking for permission. In order to help her family and her city, she'll have to become the one thing her father loathes –– a dark knight vigilante. With the help of her compassionate stepsister, Mary (Nicole Kang), and the crafty Luke Fox (Camrus Johnson), the son of Wayne Enterprises' tech guru Lucius Fox, Kate Kane continues the legacy of her missing cousin, Bruce Wayne, as Batwoman.

Still holding a flame for her ex-girlfriend, Sophie, Kate uses everything in her power to combat the dark machinations of the psychotic Alice (Rachel Skarsten), who's always somewhere slipping between sane and insane. Armed with a passion for social justice and a flair for speaking her mind, Kate soars through the shadowed streets of Gotham as Batwoman. But don't call her a hero yet. In a city desperate for a savior, she must first overcome her own demons before embracing the call to be Gotham's symbol of hope.

Based on the characters from DC, BATWOMAN is from Berlanti Productions in association with Warner Bros. Television with executive producers Greg Berlanti ("Arrow," "The Flash," "Supergirl"), Caroline Dries ("The Vampire Diaries," "Smallville"), Geoff Johns ("Arrow," "The Flash," "Titans") and Sarah Schechter ("Arrow," "The Flash," "Supergirl"). David Nutter ("Game of Thrones," "The Flash," "Arrow") and Marcos Siega ("The Vampire Diaries," "You") executive produced the pilot.
"Watchmen" (Fall 2019 – HBO)
Set in an alternate history where "superheroes" are treated as outlaws, this drama series from executive producer Damon Lindelof embraces the nostalgia of the original groundbreaking graphic novel of the same name while attempting to break new ground of its own.

Watchmen is produced for HBO by White Rabbit in association with Warner Bros. Television, with executive producer/writer Damon Lindelof, executive producer/director Nicole Kassell, executive producer Tom Spezialy, executive producer/director Stephen Williams and executive producer Joseph Iberti. The series is based on the graphic novel co-created and illustrated by Dave Gibbons and published by DC.