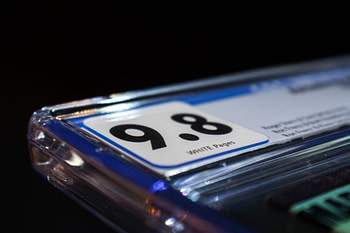 I don't get much of a chance to write these days, but some things are just too good to keep secret for long. I'm the biggest vintage comic book geek you can possibly imagine, so when my friends at CGC offered to let me take a look at their new graded comic holder a while back, I jumped at the chance. Amazingly, I was the first person outside of the company to see it, and I've been dying to tell other collectors about it. I think their full announcement will be rolling out soon, but let me share some of my first-hand thoughts.
The current holder is good, but like everyone, I've always wished they could change a few things about it. That said, as someone who has handled quite a lot of vintage paper in my time, I've also always realized that this is a tall order from a manufacturing standpoint. Essentially, what they are trying to do is to create something that preserves the comic inside perfectly, while still allowing us to handle it, ship it around, show it off, appreciate it. Those two goals are in direct opposition to each other to a great extent.
So, coming into it with some healthy skepticism as to what could be realistically achieved to truly upgrade the current experience, I have to admit that I was blown away when they put the new holder in my hands The clarity of the holder is a world beyond the current options on the market. Even sitting next to the current CGC case, it is hard to believe the new one can be THAT much more clear. It's not a simple upgrade, it re-imagines what is possible and delivers a product that is an evolutionary step up from anything on the market. In the new holder, books look like they are floating inside the case, just suspended in mid-air.
That's the thing that hits you first when you look at a comic in the new case. Captured perfectly mid-flight, you almost expect the comic to crash into one side of the case any moment, physics has to catch up with the book eventually, right? There is no inner well seen, there is no ledge for them to rest on. It is like each comic is resting on invisible hands. The most annoying thing is that it is SUCH an improvement, my first reaction is that I want to send in all my old books to get them re-holdered! The rigidity of the case is improved, the slight creaking you can get on the older holders after they have been handled for a while, no chance with the new ones. Just rock solid.
My silly pet peeve about the old holder has always been that with the labels on the top, they seem to come loose or get dirty quickly. But even that has been totally redesigned, and now those top labels are inside protective plastic. The label itself has been simplified, the legalese filling the back moved to their web site, leaving much more room for useful information about the book as needed. The things that must be instantly seen — the numeric grade, and notes about restoration, conservation, qualifications, and signatures — are all clearly readable with different colored labels as always, nothing hidden in tiny print. CGC has always been far-and-away the most transparent in their labeling, and this makes them all the better. After all, that is what we pay for in a graded comic — to know exactly what is inside the case. With the new holders, that can been SEEN like never before.