NYPD Blue: ABC Revival Pilot Will Kill Off Popular Original Series Character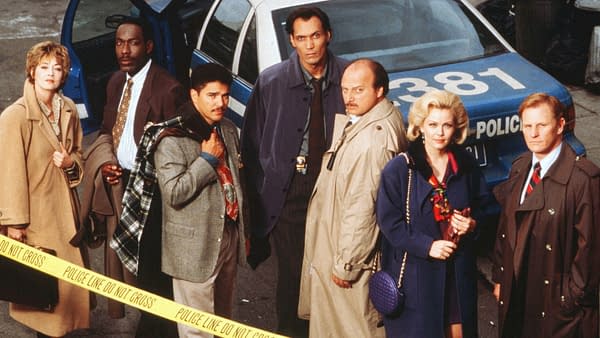 ABC is so confident in a NYPD Blue revival that they're willing to kill off one of television's most memorable crime drama leads. Reports have surfaced that the network has ordered a pilot for an updated, modern version of the award-winning crime drama that would focus on Theo Sipowicz, son of famed series homicide detective Andy Sipowicz (Dennis Franz) and attorney Sylvia Costas-Sipowicz (Sharon Lawrence).
So what about that killing mentioned earlier? Here's the storyline twist reported by TV Line that would directly connect the revival to the original series: this modern take focuses on Theo Sipowicz as he attempts to earn his detective shield and work at the 15th squad – while investigating his father's murder (conflict of interest?). Theo has taken after his father in some all too familiar ways: hard-drinking, hard-headed, and a little too quick-witted. Fans of the original NYPD Blue will remember that Lawrence's Sylvia was gunned down at the end of the sixth season (with her heartbreaking final words to Sipowicz: "Take care of the baby."
While the revivial will leave itself open to appearances from past cast members, one prominant cast member won't be returning to the precinct if the pilot receives a series order:
"I did receive a call, and I'm flattered bot nor interested. NYPD Blue was a high point in my life and career, and I think of it so fondly. I wish them all well and much success."

– Dennis Franz
Matt Olmstead and Nick Wootton are championing the project, with both having worked on the original NYPD Blue. Jesse Bochco – son of late series co-creator Steven Bocho – will direct the pilot; with Bochco's widow Dayna Bochco serving as producer. During its 1993 to 2005 run, the original ABC series was nominated for 84 Emmy Awards, walking away with the award for Outstanding Drama Series in 1995.