Absolute Carnage: Weapon Plus Special to Reveal More Weapon X Secrets
Last month, Marvel returned to the Weapon X mythos to make some pretty big changes to history in Wolverine and Captain America: Weapon Plus. This November, the Weapon Plus crossover will crossover with the Absolute Carnage super-mega-crossover event, as we learn about a highly classified mission from Nick Fury and the ancient symbiote Grendel's origins.
All of that plus a battle between Weapon H, the ex-military vet with the powers of both Hulk and Wolverine (a Hulkverine, if you will), and symbiote god Knull?
That's what we're getting in November's Absolute Carnage: Weapon Plus special. Though the cover provided seems to call it Absolute Carnage: Weapon X. We've included the rest of the Absolute Carnage solicits too. Check out the solicit and cover below, and read the rest of Marvel's full November solicitations here.
ABSOLUTE CARNAGE: WEAPON PLUS #1
JED MACKAY (W) • STEFANO RAFFAELE (A)
COVER BY SKAN
CODEX VARIANT COVER BY TBA
After one of the pilot missions of the sym-soldier program, Rex Strickland was given a highly classified mission by Nick Fury himself. Where exactly did the ancient symbiote know as the Grendel come from?
Decades later, Carnage is on a rampage that will connect him to Knull the symbiote god and only Weapon H can stop him – by picking up where Rex left off!
40 PGS./ONE-SHOT/Rated T+ …$4.99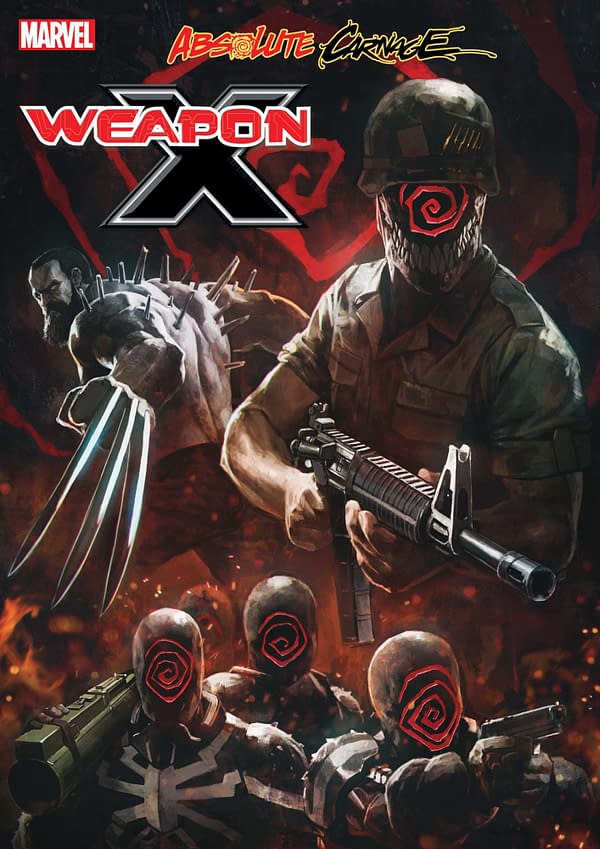 ABSOLUTE CARNAGE #5 (of 5)
DONNY CATES (W) • RYAN STEGMAN (A/C)
CODEX VARIANT COVER BY PAOLO RIVERA
CULT OF CARNAGE VARIANT COVER BY TBA
VARIANT COVER BY GREG LAND
ACTION FIGURE VARIANT COVER BY JOHN TYLER CHRISTOPHER
VARIANT COVER BY RON LIM
VIRGIN VARIANT COVER BY RON LIM
VIRGIN VARIANT COVER BY RYAN STEGMAN
VARIANT COVER BY TBA
CONNECTING VARIANT COVER BY KYLE HOTZ (5 OF 5)
VENOM AND CARNAGE – TO THE DEATH!
40 PGS./Rated T …$4.99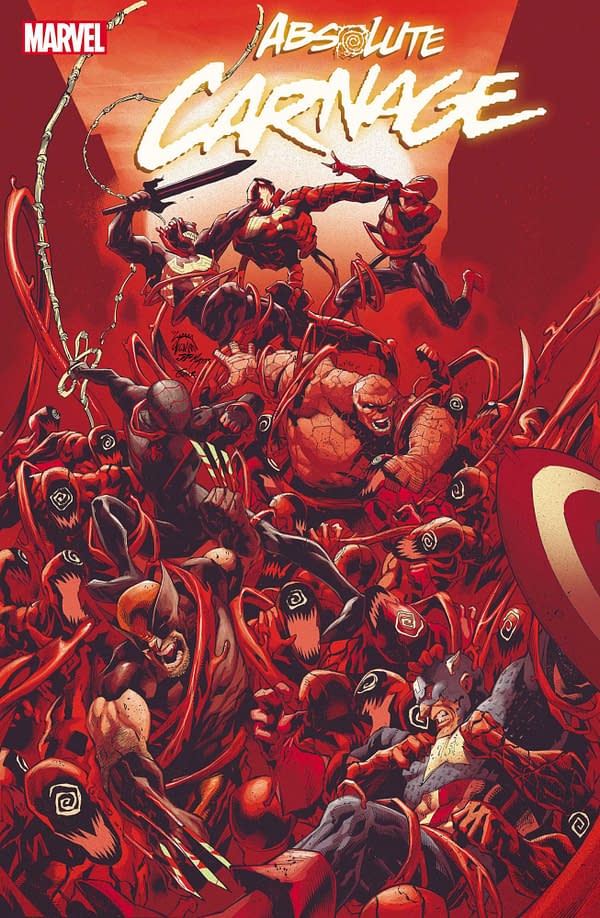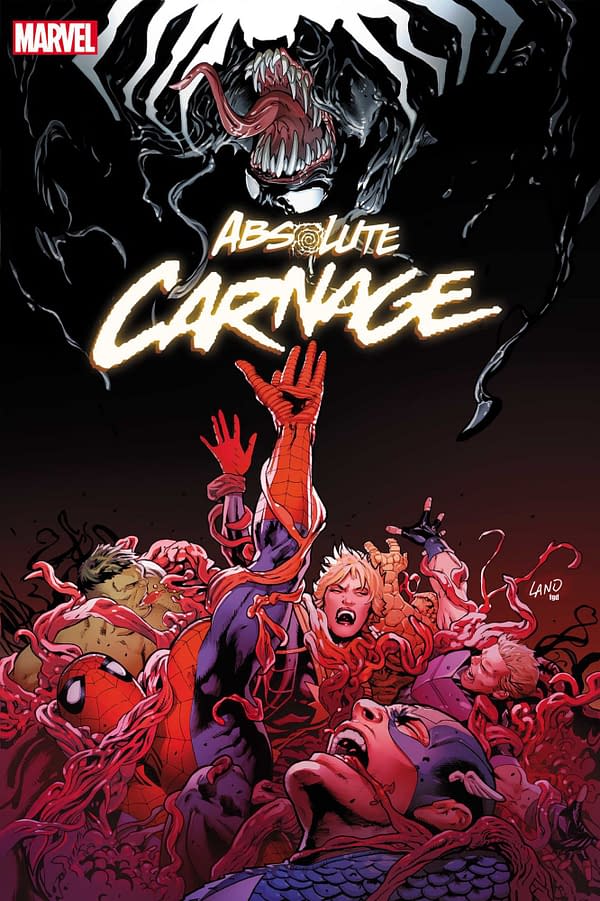 ABSOLUTE CARNAGE: CAPTAIN MARVEL #1
EMILY RYAN LERNER (W) • ANDREA BROCCARDO (A) • Cover by David Nakayama
CODEX VARIANT COVER BY TBA
VARIANT COVER BY TBA
• Chewie's been Carnagized, and Carol ain't happy about it!
• It's Earth's Mightiest Hero against a symbiotic space cat – what more could you need?!
40 PGS./ONE-SHOT/Rated T+ …$4.99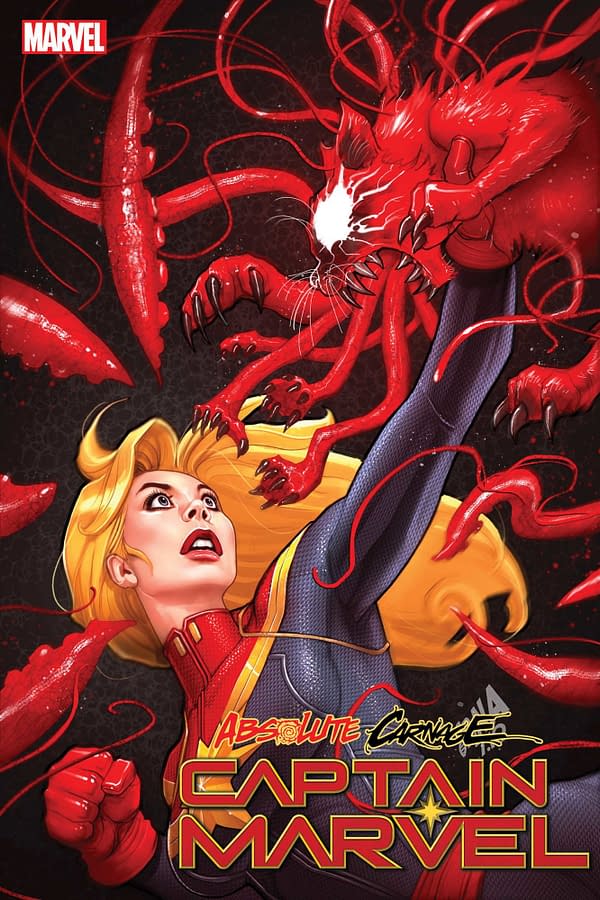 SCREAM: CURSE OF CARNAGE #1
CLAY McCLEOD CHAPMAN (W) • CHRIS MOONEYHAM (A)
Cover by Jim Cheung
VARIANT COVER BY Nick Bradshaw
VARIANT COVER BY SKOTTIE YOUNG
VARIANT COVER BY NICK SULLO
VARIANT COVER BY ARTGERM
VIRGIN VARIANT COVER BY ARTGERM
OUT OF THE ASHES OF ABSOLUTE CARNAGE!
ALL-NEW ONGOING SERIES!
Patricia Robertson, Andi Benton, Donna Diego… it's all been leading to this as one of the original – and possibly strongest – offspring of the Venom symbiote at last stars in her own, self-titled ongoing series set in the Marvel Universe! But after the events of ABSOLUTE CARNAGE, what remains of the Scream symbiote as it was before? Does it even have a host? What are their intentions? And what will a pair of web-slinging wallcrawlers have to say about it's presence in New York?
40 PGS./Rated T+ …$4.99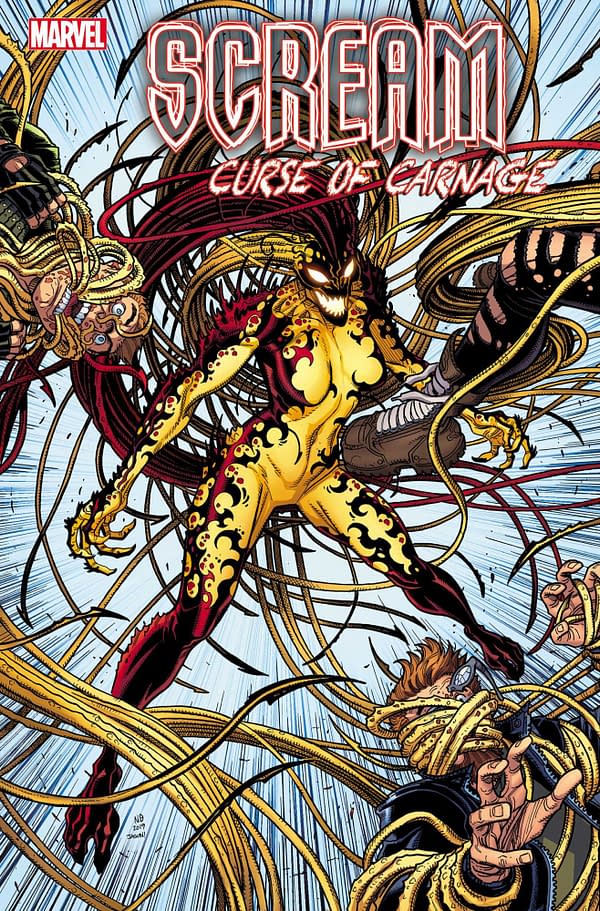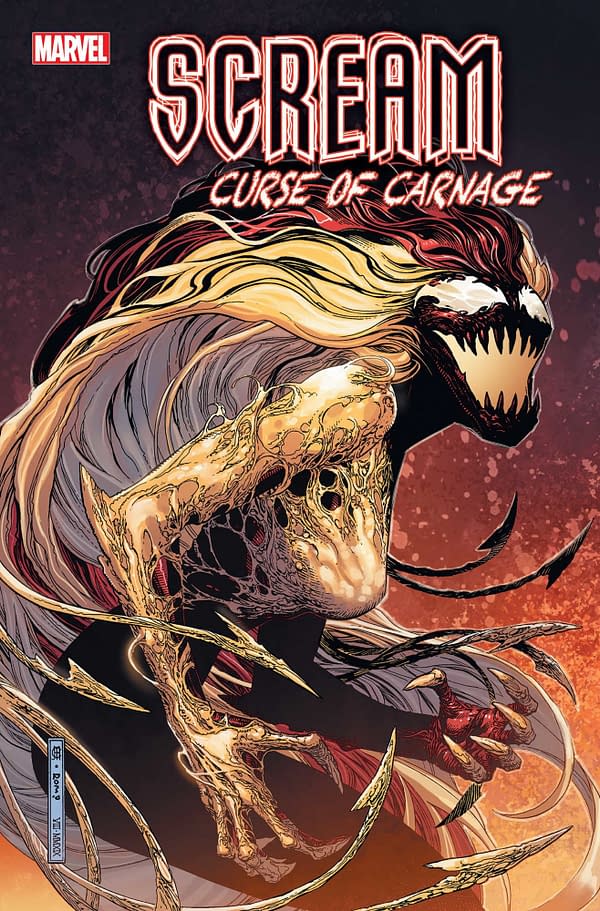 VENOM #20
DONNY CATES (W) • IBAN COELLO (A) • Cover by KYLE HOTZ
CODEX VARIANT BY RYAN BODENHEIM
2099 VARIANT COVER BY KHOI PHAM
• It's the final tie-in to ABSOLUTE CARNAGE, but that doesn't mean superstars Donny Cates and Iban Coello are easing up off the gas!
• You want to know what happens in this one, True Believers? You're going to have to read it!
32 PGS./Rated T+ …$3.99