This is the Top 10 Bleeding Cool Bestseller List, as compiled by a number of comic stores from their sales on Wednesday and Thursday. It measures what are known as the "Wednesday Warriors", those who can't wait till the weekend to get this week's comics. We salute you, and the keenness you bring to your passion. This is the only chart that measures actual sales in comic book stores.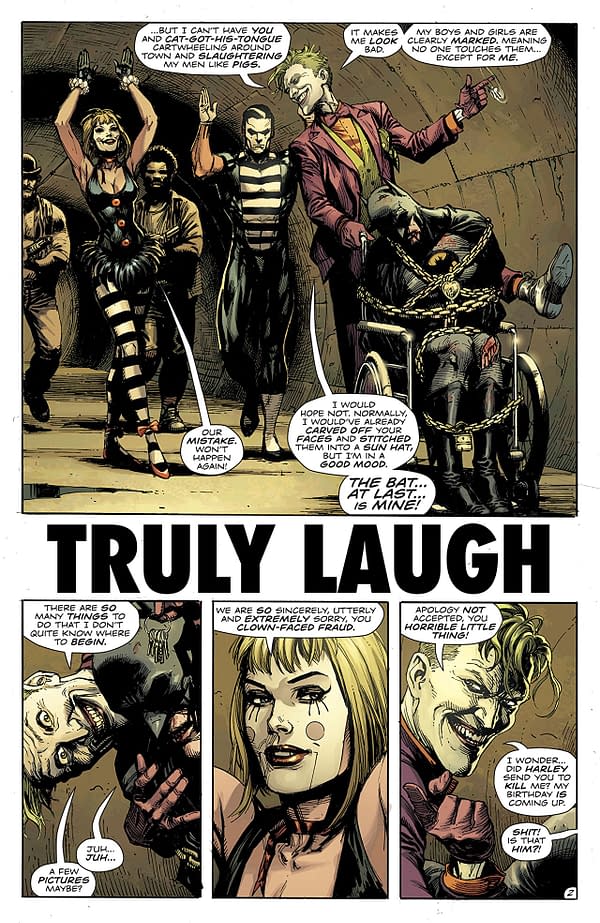 This week Doomsday Clock topped the charts but it was not a universal store experience as it usually is, and both Amazing Spider-Man and Justice League Dark came close…
Doomsday Clock #6
Amazing Spider-Man #2
Justice League Dark #1
Action Comics #1,001
Infinity Wars Prime #1
Detective Comics #985
Venom #4
Flash #51
Saga #54
Teen Titans #20
Thanks to the following retailers
Who had this to say,
Doomsday Clock is back and the three month wait doesn't seem to have deferred anyone as it was #1 on the FFF Top Ten of the Week Bestseller list. Infinity Wars Prime followed closely behind as a certain event had people come in on Day One to pick up a copy (and attempt to grab more). Venom surprisingly didn't quite match it's previous issue's sales number, but it did get some new folks looking through our back issues. Action #1,001 sold solid numbers. Combining Bendis and a Big number was probably the smartest move DC could make. Teen Titans did better than normal as well, but didn't sell as many as I initially thought it would. Speaking of long waits, Saga was #9 which is normal, but it'll definitely be a little odd not seeing it in our weekly bestsellers list for a year and half.
—-
DC ruled the roost in a big way this week. From Doomsday Clock to Bendis' first issue of Action Comics, DC brought the big numbers in. Doomsday Clock's publishing schedule dropping to bi-monthly has done nothing to negatively impact sales and in fact this week's issue had a surge to the point that I felt the need to go ahead and order more so we won't have an empty shelf space for it this coming week. Sonic has gotten stronger now that people are aware the book is back out again. Issue 7 was huge in sales and the back issues of 1-6 have now been selling out. Sonic beats several Marvel and DC books and that's a big deal. It speaks to the quality of all the books involved honestly.
—-
Good luck with Saga's 1 year break, not looking forward to guessing on how many readers will return a year from now. The anxiously awaited DoomsDay Clock #6 flew off the shelves, but the main plot still hasn't moved forward. Halfway there and just lots of backstory/origin – hope it changes direction dramatically with 7-12
—-
Our bestseller list was pretty superhero-heavy this week, with DC and Marvel covering most of the slots, but there were two big exceptions. First, SAGA #54 outsold DOOMSDAY CLOCK #6 by a hair, taking our number one spot. Saga is a perennial favorite, but it's still great to see the 54th issue in any series selling so well. Then, the first issue in Ales Kot and Tradd Moore's high concept, sci-fi/romance mini-series NEW WORLD popped up around the middle of our list, which, I think, has a lot to do with Moore's eye-catching art. Several people have walked into the store in the past couple days not knowing anything about the series, flipped through it, and immediately decided to take a chance.
—-
Taking a month off doesn't seem to have cooled the heat on DOOMSDAY CLOCK much, as issue #6 was our best seller this week. Close on its heels was AMAZING SPIDER-MAN #2.
The all-new, sorta-different JUSTICE LEAGUE DARK #1 performed well this week. Hopefully this version does better in the long-run than the original: having Wonder Woman on the team certainly can't hurt.
The rest of the list was pretty much all The Usual Suspects: DETECTIVE COMICS and VENOM hanging around the top half, with the bottom half populated by staples such as FLASH, ACTION COMICS, and WONDER WOMAN.
Doomsday Clock 6 took the top spot. Oddly enough Amazing Spider-man 2 sold better on Wednesday and Thursday better than when Spider-man 1 came out. Surprise sell outs were Amazing Spiderman 2 , Wonder Woman 51, and Venom 4.
—-
The top four books – Action Comics #1001, Justice League Dark #1, Infinity Wars Prime, and Doomsday Clock #6 – are all close to each other in terms of sales. We had a busy Wednesday, with everyone grabbing these books and their multiple covers. The surprise of the week is New World #1, which sold out from the Tradd Moore art.
Enjoyed this article? Share it!