Brian Azzarello Brings Back Killing Joke For Batman: Damned
Batman: Damned is the new Black Label debut series from DC Comics, an attempt to tell mature readers superhero stories. You know, like they used to do with Arkham Asylum, Killing Joke and the like.
Brian Azzarello has form with the latter. He adapted Alan Moore and Brian Bolland's The Killing Joke as an animated direct-to-video adaptation, adding in extra story for Batgirl to help extend the time – and also having Barbara Gordon shagging Bruce Wayne on a rooftop while a gargoyle looked on. It had a mixed response. As did Brian.
Azzarello was also a key writer for the Before Watchmen project, and worked with Lee Bermejo on the Rorschach series.
And now they are back together for Batman: Damned. Which co-stars John Constantine. Azzarello has previously written the Hellblazer series.
But any conspiracy theory that Brian Azzarello is stalking Alan Moore through his work may be given a little added credo by the opening to issue 1, which has Batman narrating 'Reminds me of an old joke. Something to do with insanity and a beam of light. Not much on the details. The punchline though? It's about a fall.'
That does sound familiar…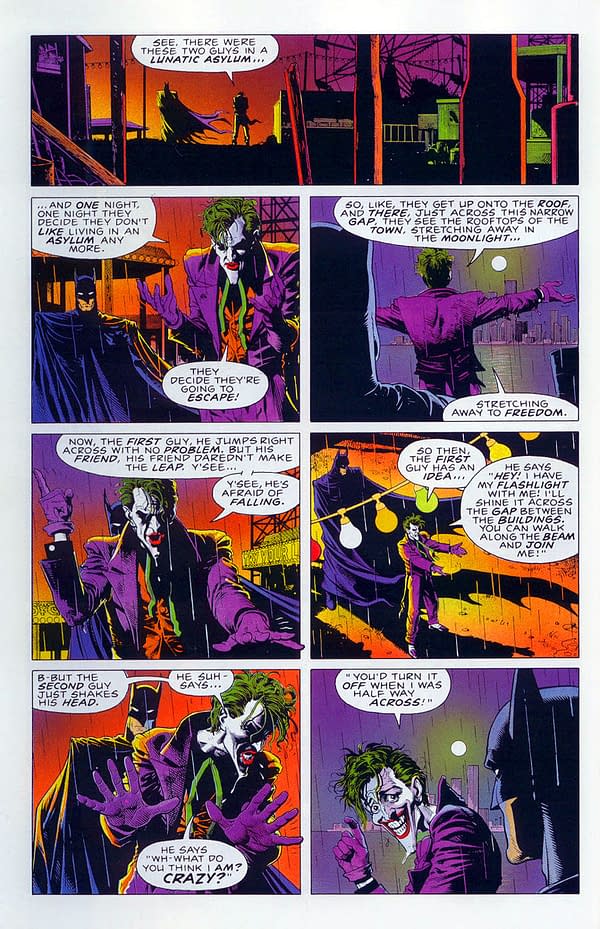 BATMAN DAMNED #1 (OF 3) (MR)
(W) Brian Azzarello (A/CA) Lee Bermejo
DC BLACK LABEL, the highly anticipated new imprint from DC Comics, starts here!
The Joker is dead.
There is no doubt about that. But whether Batman finally snapped his scrawny neck or some other sinister force in Gotham City did the deed is still a mystery.
Problem is, Batman can't remember… and the more he digs into this labyrinthine case, the more his mind starts to doubt everything he's uncovering.
So who better to set him straight than… John Constantine? Problem with that is as much as John loves a good mystery, he loves messing with people's heads even more. So with John's "help," the pair will delve into the sordid underbelly of Gotham as they race toward the mind-blowing truth of who murdered The Joker.
BATMAN: DAMNED is a bimonthly super-natural horror story told by two of comics' greatest modern creators-a visceral thrill-ride that proudly puts the "black" in BLACK LABEL.In Shops: Sep 19, 2018
SRP: $6.99