ComiXology Bestseller List, 10th May, 2019 – DC Utterly Dominates Digital Comics Sales
Matthew Snyder reports for Bleeding Cool – Welcome to the ComiXology Bestseller list, your guide to see how well your favorite titles are selling digitally. Every week I'll post the ranking of every new title, plus a ranking of the best selling volumes & graphic novels. As always, I hope you find it interesting and informative.
Last time I said it was an odd week: while it was crowded at the top of the list, there were very few mid-tier titles. This week it's flipped: Thanks to Superman being delayed and Marvel's paltry output, it's a little light on the top. You can barely tell there's a War of the Realms going on. And with multiple Marvel heavyweights M.I.A., DC doesn't even need Superman to blow Marvel out of the water. The final score this week:
DC: 46
Marvel: 8
Ouch. Feel like making another salty dig at DC, Marvel?
It's probably for the best Superman was delayed. The 3rd week of the month is almost always DC's weakest, so having Supes as backup will make things much more interesting. And besides, this was Batman's week to shine. The Batman Who Laughs and Detective Comics took the top two spots, and his new title Batman & The Outsiders debuted at No. 6. And more good news for DC: DCeased stuck around the Top 10 for another week, a strong indicator of good word of mouth. Once again, DC is killing it with miniseries.
Savage Avengers has also stuck around, dropping only a few spots in its second week. It's situation is similar to Miles Morales: Spider-Man, and that title is now a Top 10 regular. It's going to be an interesting to see SA can copy that. (And if you did buy Savage Avengers late, was it because of word of mouth? And what did you think? Comment below).
And I know it's a soft week, but congratulations must be given for Doctor Aphra for cracking the Top 10 twice now. Darth Vader wrapping up was a blow to Marvel, but Doctor Aphra has been slowly inching up the sales chart ever since. And out of all the Star Wars volumes on sale this week, it's her latest collection that's the bestselling, landing in the Top 25 of all comics. And I don't want to get too sappy, but as someone who is bi, I think it's nice a comic focusing on a LGBT character has made it so high. In fact, I believe she's the most successful LGBT character in comics. Yes, Iceman and Batwoman may be more recognizable, but both of their solo titles have not done as well as Aphra's, and were subsequently cancelled.
And in my opinion, it's a damn good comic. Aphra is one of the best characters to hit the Star Wars canon in recent memory (along with one the most complex). Not to mention her murderous droids are an absolute riot. So I'm making this a rare recommendation, along with previous recommendations of Kaijumax and anything Rick Remender writes.
Hmmm… maybe I'll do more recommendations in the future. It is my article after all…
#bringbackblade
#bringbacksantaclaritadiet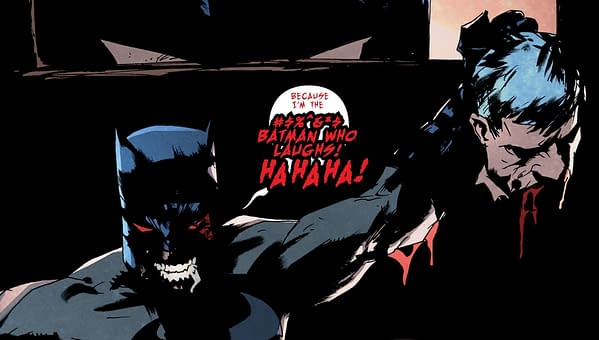 Top 25 Overall:
The Batman Who Laughs #5
Detective Comics #1003
Shazam! #5
The Flash #70
Captain America #10
Batman & The Outsiders #1
DCeased #1
Wonder Woman #70
Star Wars: Doctor Aphra #32
War Of The Realms: Journey Into Mystery #2
Justice League Odyssey #9
Captain Marvel #5
Savage Avengers #1
Friendly Neighborhood Spider-Man #6
Star Wars: Age of Rebellion- Boba Fett #1
Star Wars: Doctor Aphra Vol. 4: The Catastrophe Con (64% off)
Red Hood and the Outlaws #34
Hawkman #12
Conan the Barbarian #6
X-Force #7
The Walking Dead #181
Black Hammer: Age of Doom #10
Invaders #5
War of the Realms: New Agents of Atlas #1
War of the Realms #3
New Issue Rankings:
The Batman Who Laughs #5
Detective Comics #1003
Shazam! #5
The Flash #70
Captain America #10
Batman & The Outsiders #1
Wonder Woman #70
Star Wars: Doctor Aphra #32
War Of The Realms: Journey Into Mystery #2
Justice League Odyssey #9
Captain Marvel #5
Friendly Neighborhood Spider-Man #6
Star Wars: Age of Rebellion- Boba Fett #1
Red Hood and the Outlaws #34
Hawkman #12
Conan the Barbarian #6
X-Force #7
Black Hammer: Age of Doom #10
Invaders #5
War of the Realms: New Agents of Atlas #1
Deadly Class #38
Supergirl #30
Wonder Twins #4
Age of X-Man: Apocalypse & The X-Tracts #3
Unbeatable Squirrel Girl #44
Catwoman #11
Savage Sword of Conan #5
Symbiote Spider-Man #2
Archie #704
The Unstoppable Wasp #7
House of Whispers #9
Spider-Man/Deadpool #50
Hit-Girl Season Two #4
Unnatural #9
Excellence #1
Aliens: Resistance #4
Age Of Conan: Belit, Queen Of The Black Coast #3
Ice Cream Man #12
James Bond: Origin #9
Curse Words #21
Heavy Metal #293
Murder Falcon #8
Red Sonja & Vampirella Meet Betty & Veronica #1
Infinite Dark #6
Section Zero #2
Hillbilly: Red-Eyed Witchery From Beyond #4 (Digital delay)
By Night #11
Ronin Island #3
These Savage Shores #4
Eve Stranger #1
Wyrd #3
Taarna #1 (Digital delay)
League Of Legends: Lux #1
Hack/Slash vs. Chaos #5
Anthem #3
Lodger #5
She Could Fly: The Lost Pilot #2
Ask For Mercy Season Two: Ask for Budgie One-Shot (Comixology Original)
The Last Space Race #4
Teen Titans Go! #68 (99-cent digital original)
The Empty Man #7
Gunning For Hits #5
DC Super Hero Girls: Weird Science #6 (99-cent digital original)
Betty & Veronica #5
Shadow Roads #7
MAD About the Trump Era
Hellchild: Blood Money #2
Jim Henson's The Storyteller: Sirens #2
Gears of War: Hivebusters #1
The World Front #1
Oberon #4
Bettie Page #4
Battlestar Galactica: Twilight Command #3
Grumble #6 (Digital delay)
Dead Mount Death Play #29
Vindication #4
Wasted Space #9
The Long Con #9
Bronze Age Boogie #2
Old Issue Rankings:
DCeased #1
Savage Avengers #1
The Walking Dead #191
War of the Realms #3
Batman #70
Justice League #23
Uncanny X-Men #17
Young Justice #5
The Green Lantern #7
Star Wars: Vader- Dark Vision #1 (80% off)
Star Wars: Doctor Aphra #31 (75% off)
Star Wars: Doctor Aphra #30 (75% off)
Star Wars: Doctor Aphra #29 (75% off)
Amazing Spider-Man #20.HU
Star Wars: Doctor Aphra #28 (75% off)
Best Selling Collections & Graphic Novels:
Star Wars: Doctor Aphra Vol. 4: The Catastrophe Con (64% off)
Star Wars (2015) Vol. 9: Hope Dies (62% off)
Star Wars: Darth Vader (2017) Vol. 3: The Burning Seas (62% off)
Star Wars (2015) Vol. 8: Mutiny at Mon Cala (64% off)
Star Wars: Thrawn (64% off)
Star Wars: Doctor Aphra Vol. 3: Remastered (64% off)
Star Wars: Darth Vader (2017) Vol. 2: Legacy's End (64% off)
Star Wars (2015) Vol. 7: The Ashes of Jedha (64% off)
The Flash (2016) Vol. 9: Reckoning of the Forces (54% off)
Infinity Gauntlet (64% off)
Star Wars: Poe Dameron Vol. 5: The Spark and the Fire (62% off)
Star Wars (2015) Vol. 6: Out Among the Stars (64% off)
Star Wars (2015) Vol. 5: Yoda's Secret War (64% off)
Star Wars: Darth Maul (67% off)
Star Wars: Darth Vader (2017) Vol. 1: Imperial Machine (64% off)
Cosmic Ghost Rider: Baby Thanos Must Die (67% off)
Star Wars: Darth Vader (2015) Vol. 3: The Shu-Torin War (67% off)
Star Wars: Darth Vader (2015) Vol. 4: End of Games (64% off)
Star Wars (2015) Vol. 1: Skywalker Strikes (64% off)
Star Wars (2015) Vol. 4: Last Flight of the Harbinger (64% off)
Star Wars: Doctor Aphra Vol. 2: Doctor Aphra and the Enormous Profit (64% off)
Star Wars: Darth Vader (2015) Vol. 1: Vader (64% off)
Justice League Dark (2018) Vol. 1: The Last Age of Magic (31% off)
Star Wars: Doctor Aphra Vol. 1: Aphra (64% off)
Star Wars: Lando- Double or Nothing (67% off)
Star Wars (2015) Vol. 3: Rebel Jail (64% off)
Star Wars: The Screaming Citadel (67% off)
Star Wars (2015) Vol. 2 Showdown on the Smuggler's Moon (64% off)
Batman vs. Deathstroke (12% off)
Star Wars: Darth Vader (2015) Vol. 2: Shadows and Secrets (64% off)
Umbrella Academy Vol. 1: Apocalypse Suite
The Flash: The Silver Age Vol. 4 (65% off)
Avengers by Jason Aaron Vol. 1: The Final Host (64% off)
Thor (2018) Vol. 1: God of Thunder Reborn (64% off)
Star Wars: The Last Jedi Adaptation (64% off)
Star Wars: Vader Down (64% off)
Star Wars: Poe Dameron Vol. 4: Legend Found (62% off)
Dark Nights: Metal: Dark Knights Rising
Judge Dredd: Under Siege (71% off)
Moon Knight Epic Collection: Final Rest (60% off)
Blackest Night Saga (DC Essential Edition) (12% off)
Star Wars: Princess Leia (67% off)
Infinity (71% off)
Infinity War: Collected Edition (60% off)
Sensational She-Hulk by John Byrne Vol. 1 (71% off)
Star Wars: Age Of Republic – Villains
Marvel Super Heroes: Secret Wars (60% off)
Secret Wars II (65% off)
Star Wars: Poe Dameron Vol. 3: Legend Lost (62% off)
Excalibur Epic Collection: Girls' School From Heck (60% off)