David Avallone's writer's commentary on Elvira: Mistress Of The Dark #4 from Dynamite Entertainment, out now…
As always, if you plan to read the comic…go read the issue and come back. These things are full of spoilers.
Covers: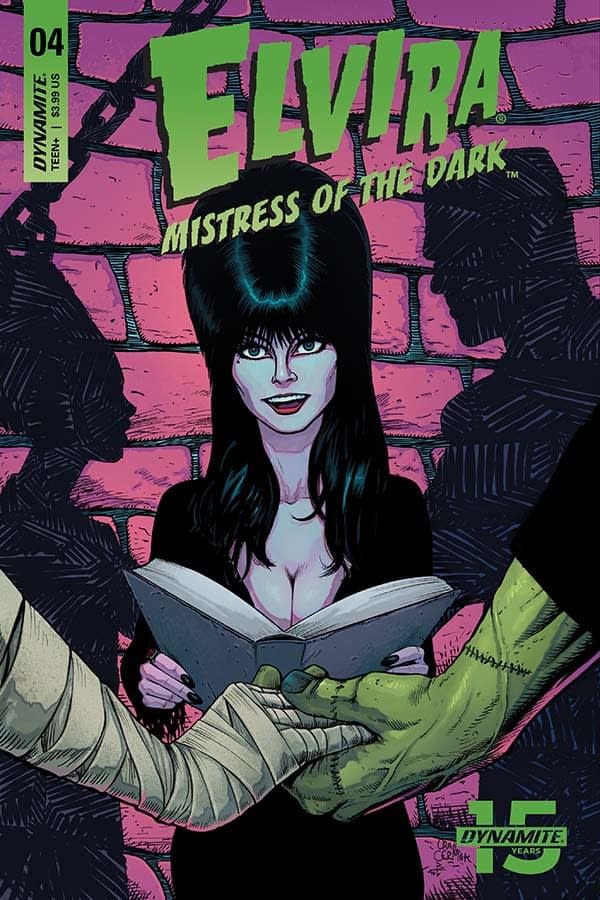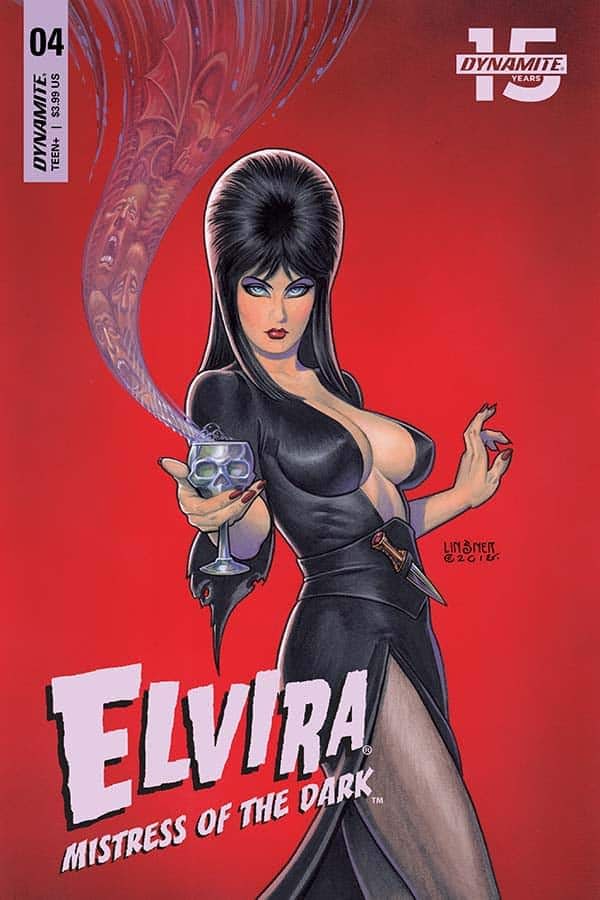 Many fine covers, as usual. I don't know if readers are aware: writers often have no input into cover art… often because they are done long before the issue is actually written. (Is that an industry secret? Sorry, gang…) So while I love all the covers, I do have a soft spot for the artists who reach out and ask me if I have any cover ideas. On this book, Craig Cermak often makes that effort, and he always takes my germ of a concept and runs with it. This is no exception: a fun play on the "Bride of Frankenstein" idea.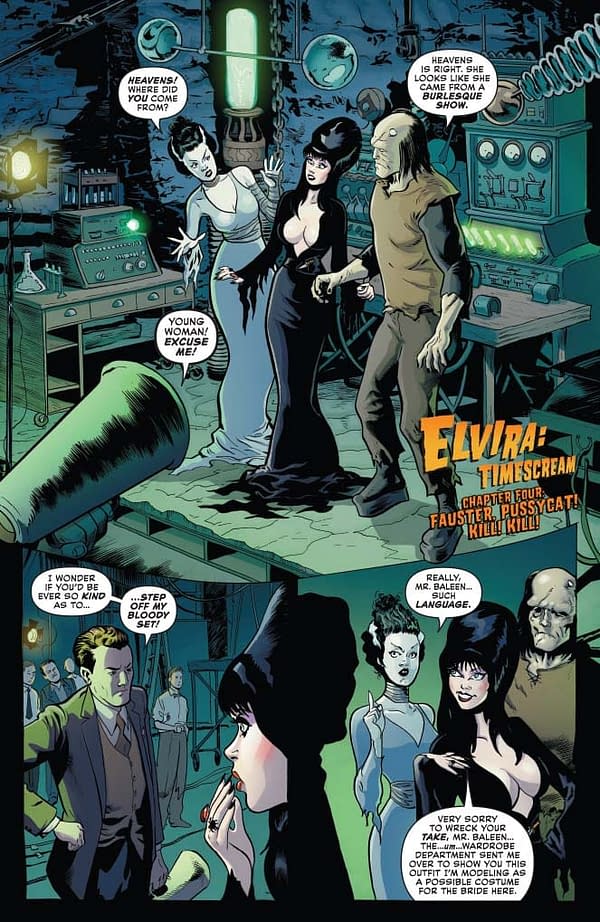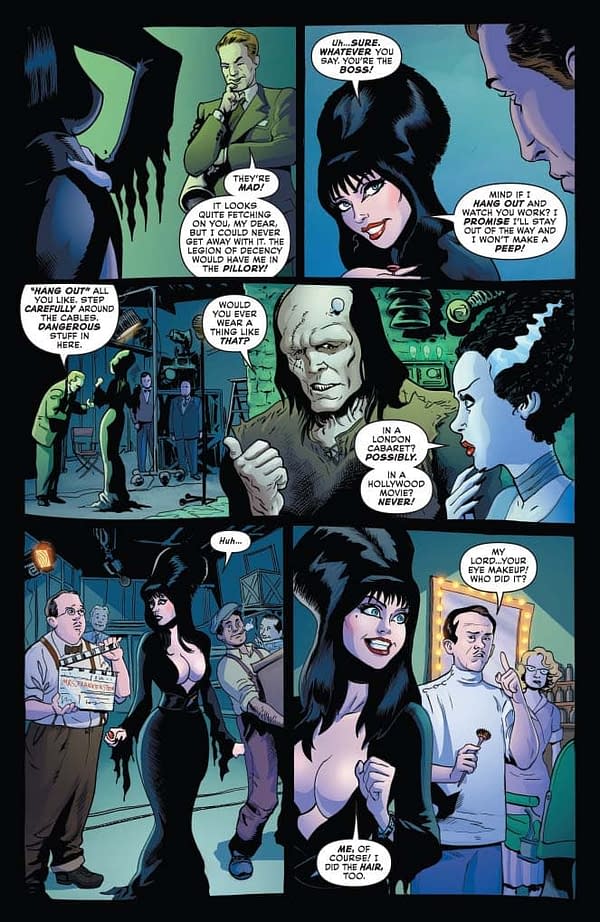 Pages 1 – 2:
So… first off, the title. A reference to the work of the great exploitation filmmaker Russ Meyer, who pioneered the kind of sexy-but-ridiculous-but-funny characters embodied by Elvira. As Elvira will note later, we're now in the 20th century, and I have to be careful about copyright issues while honoring the horror icons of the past – though I could just scream "satire" to the heavens, like Mad Magazine. So the movie is "Mrs. Frankenstein," the director is Baleen (Google it,) etc. The makeup artist we meet at the bottom of the second page is modeled on Jack Pierce, who created Karloff's makeup for Frankenstein.
This issue is 20 pages of tribute to some of my favorite movies and stars of the 1930s…so there's a LOT of references. Artist Dave Acosta, whose work on this issue is gorgeous, calls this issue "the most David Avallone comic ever." He's probably right.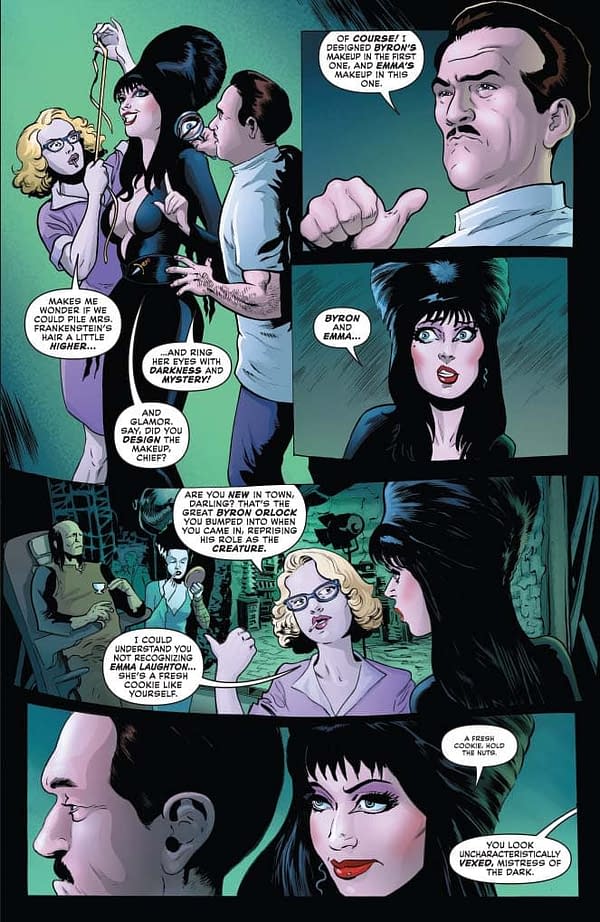 Page 3:
Byron Orlock is an autobiographical character played by Boris Karloff in a great movie called TARGETS. In the movie BRIDE OF FRANKENSTEIN, the Bride was played by Elsa Lanchester… wife of Charles Laughton. So. Emma Laughton.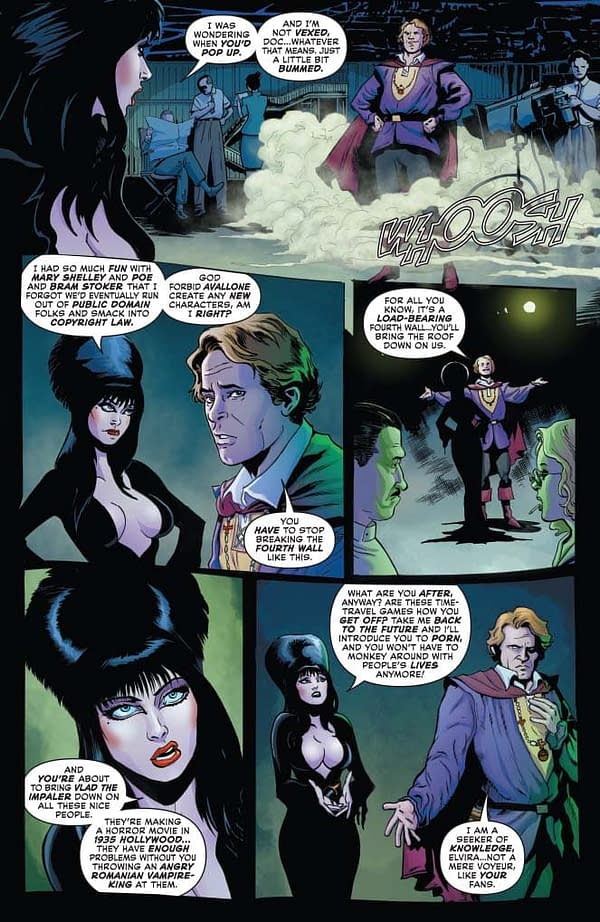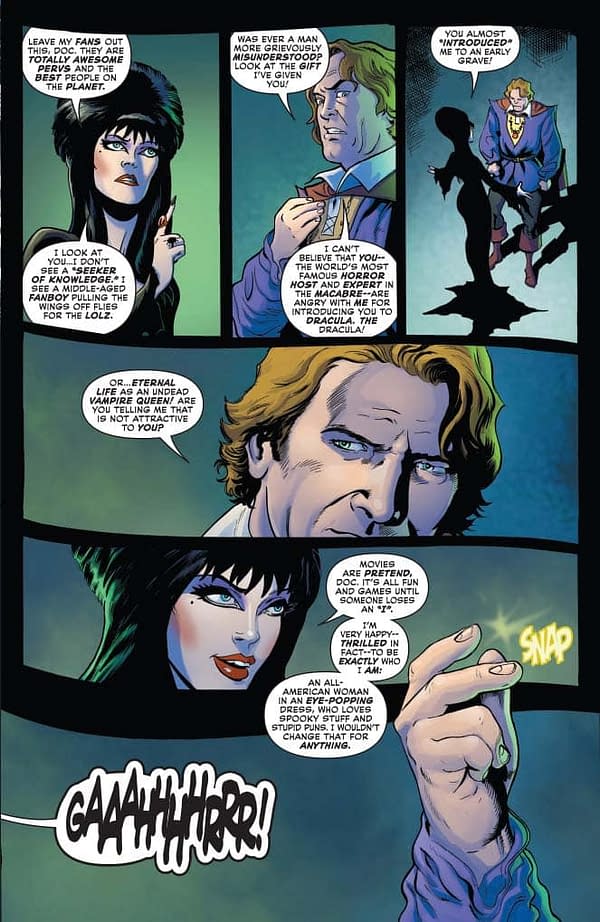 Pages 4 – 5:
Dave Acosta had the idea of Faust appearing in a cloud of smoke that's being created by a special effects technician. I love it. "Whoosh" and "GAAAHHHRRR!" by the very talented Taylor Esposito. Elvira bemoans copyright restrictions and my fondness for characters who are cultural icons. Sorry, Elvira. Faust and Elvira have it out over their conflicting world-views.
Page 6:
Elvira is bored with Vlad's trademark entrance sound effect. Baleen refers to a star of pirate movies named "Neville Sinclair," a name that should be familiar to comic book movie fans. Elvira uses the phrase "wish Vlad into the cornfield," a reference to the great Jerome Bixby-written Twilight Zone episode "It's A Good Life." She's comparing Faust to a bratty telekinetic child, which seems apt.
Pages 7 – 8:
Frankenstein vs. Dracula! For the first time ever, technically. Or chronologically, anyway. Baleen sees the commercial appeal of the idea immediately. This is a good page to point out Andrew Covalt's colors: I like seeing Byron's real skin color when his appliance is knocked off by Vlad.
On the top of page 8, I love Jack Pierce holding the broken appliance, sadly. The bottom of the page is a gag I've wanted to use in this comic for a long time. Elvira's exit is the same as the character Witch Hazel from old Bugs Bunny cartoons, complete with bobby pins hanging in the air after she's gone.
Page 9 – 11:
Elvira runs away, and her first stop is a western called WILD BILL HICKOK. My dad's favorite movie as a kid was THE PLAINSMAN, in which Gary Cooper starred as Wild Bill. Cooper was famous for a few things, including saying "yup." When we meet him and his cigarette break partner (a tall, broad cowboy star who calls people "Pilgrim") they are discussing the secret romance of a couple of colleagues. Gary's right: Cary and Randy WERE good eggs, and what they did was nobody's business.
On the bottom of page 11, Dave apparently couldn't resist putting a couple of pulp characters in the background who represent our first two comic book series together. And Elvira once again points out that vampire movies are highly inaccurate.
Page 12
A crime-fighting couple of rich drunks wrapping up a case, on camera. If Dynamite gets the rights to THE THIN MAN, Dave Acosta and I are more than ready. Asta in particular looks adorable here.
Page 13
This studio is making every kind of movie at once, apparently. My favorite things on this page: how Dave executed panel 5 ("Fred is making 'jazz hands.'") and Ginger's weariness in panel 6. I should point out: I am not a smoker. Hate smoking. It'll kill you. But it's 1935, and everybody smokes in 1935.
Pages 14 — 15
Meet Neville Sinclair! Like "Byron Orlock," I'm using a pre-existing character name which is a reference to a real movie star…and maybe I should have saved this one for my Bettie Page comic. On the top of page 15, Neville refers to the well-known fact that Basil Rathbone was the greatest fencer of all the classic 30s movie stars. Ironically, since he frequently played the villain, he was frequently defeated (on screen) by lesser swordsmen like Errol Flynn and Tyrone Power.
Page 16
All the famous-movie-star inside jokes in this comic came from my ridiculous brain… but when I got to this page I will confess the two security guards were just two security guards. Dave Acosta jumped in with his own idea for those two guys, and I laughed out loud when I saw this page for the first time. Naturally, I changed to dialogue to identify them clearly as "Chick" and "Wilbur," in homage to what I probably would have told you was my favorite movie when I was ten.
Pages 17 — 18
Everybody gets a piece of Vlad. His skeletal middle finger was Dave's idea, which I loved. While researching Faust for this comic, I read some of Goethe's epic… and couldn't believe it when I stumbled over that line. "Let us plunge in the flood of time and chance, into the tide of circumstance." Perfect for what my Faust is up to.
Page 19
Faust fails to perform, and Elvira is (mostly) gentle about it while considering real estate speculation in 1935 Los Angeles.
Page 20
And so… TIMESCREAM comes to an end, and ELVIRA'S INFERNO begins. Come back next time, when the whole series just goes straight to Hell. But in the best possible way…
Enjoyed this article? Share it!