DC Comics Reveals Flash Giant #2 – But Cancels Orders for DC War Giant #1 and Teen Titans Go Giant #2
DC Comics has revealed to comic book retailers Cully Hamner's cover and contents for The Flash Giant #2, up for FOC this week, and on sale for December 11th.
New stories:
Run Like There's No Tomorrow, a 16-page story by Gail Simone and Clayton Henry.

A time-traveling soldier arrives in Central City, and her mission is to kill the Fastest Man Alive! But what is it that the Flash did (or will do) to destroy her world-and is there a way he can prevent it without dying?

Rational Thought, an 8-page story by Jeff Parker and Ramon Villalobos

Barry Allen's world is turned upside down when he learns that everything he knows is wrong-the Earth is flat, animals can talk, and the moon landings were a hoax! Can the Scarlet Speedster prove that science is still true-or have the conspiracy theorists been right all along?
Reprint st0ries:
Gorilla Warfare part two, from The Flash #14
The End, from Green Arrow #1
Can't Go Home Again, from Blue Beetle #2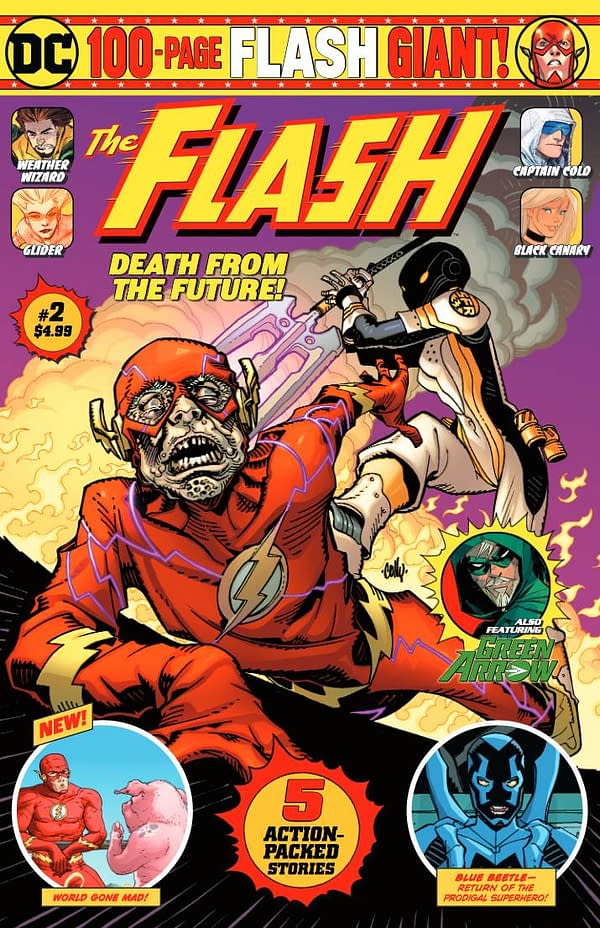 However, they have cancelled retailer orders for Teen Titans Go! Giant #2, which had already been resolicited once, and DC War Giant #1, promising that they will both be resolicited at a future date: