Looks like the $7.99-a-month DC Universe streaming app has opened a few days early.
I haven't tried reading or watching anything yet because I can't use my data. I'm hoping maybe I can access some stuff. When I get home, I'm gonna check. I'm so excited. Pre-ordering it possibly today and if not today, then tomorrow.

— Matt 🇳🇴 (@thcfastestman) September 12, 2018
At least if you are on Android or Roku….
Hey uh Apple. That phone is cool and all, but can u get the dc universe app up and running please? Android users got a one up on us. Let's go. Thanks pic.twitter.com/FAJEtQya7J

— J. Moore (@JMoorArt715) September 13, 2018
And live in America of course. I wouldn't know being in the UK. But some people have sent me a screencap or two…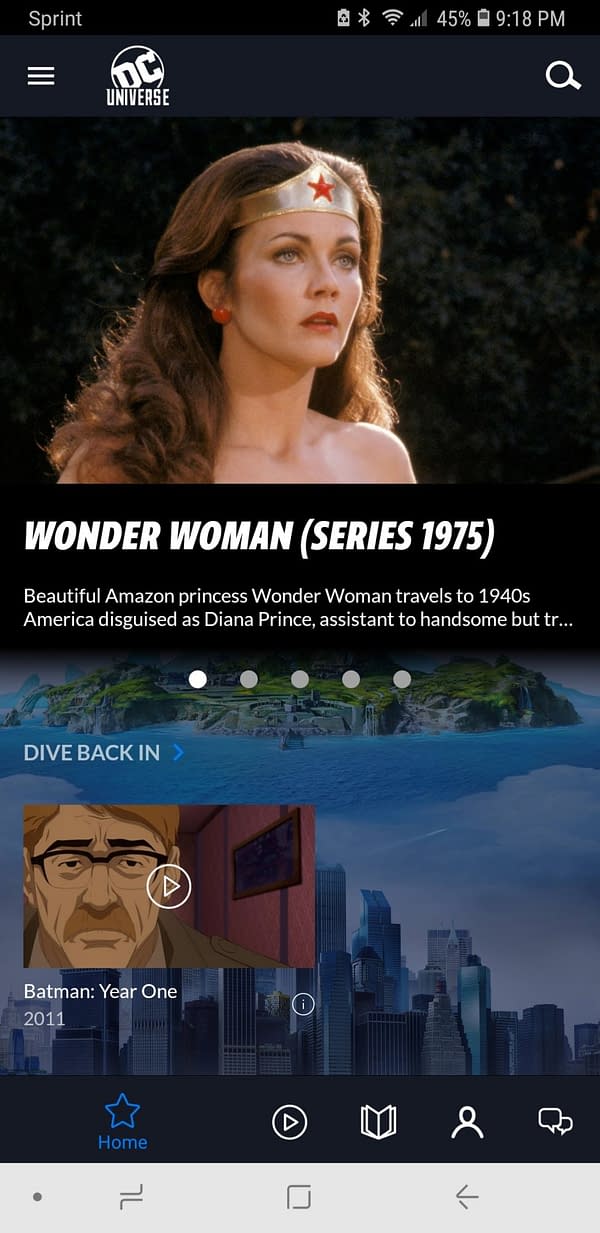 There is video of it working on Smart TVs…
Here's a look at the comic feature on DC Universe app for smart TVs. It works smoothly and it looks fantastic on big screens. pic.twitter.com/xePadj3t83

— Walt (@UberKryptonian) September 13, 2018
But there are some concerns about the sparceness of the comic book content…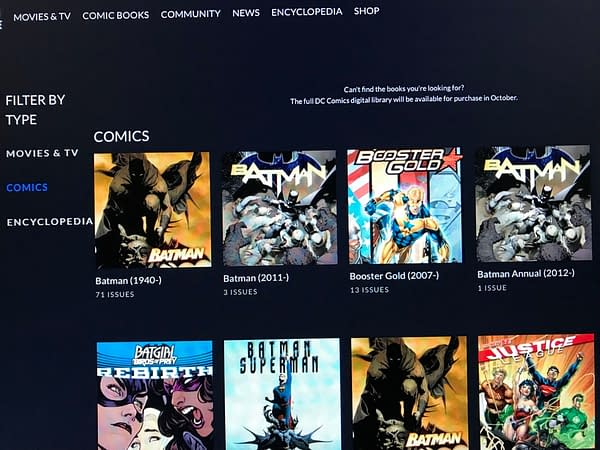 DC Universe app is pretty cool so far, but I really hope they plan to add more to the comics section. Seems to be just a sampler for many somewhat recent- and not so recent -comic series. But in the mean time I'll be watching some animated films and series that I've missed out on

— Uncanny Niño (@Rob_Nino) September 12, 2018
The #DCUniverse app is bad on the comic side. 1-3 issues of a series is terrible. Comic stories last around 6 issues. @DCComics needs to add full story arcs or don't add anything at all.

— Cody (@GhettoBoxMan) September 13, 2018
Got a month of the DC Universe App. Checking it out now. Cool but I'm disappointed in the Comics section.

Why would you only put one issue of Dark Knight Returns up. I'm not saying put every arc known to man up but I'd prefer the full run of an arc then waiting if it's there.

— Travis Snell (@TravisBSnell) September 13, 2018
I would look at this wording closely if this is still an issue.

There may be some teething troubles…
At least they get the idea. they have a lot of issue from nicher series and less of the really popular ones

— Kachiman (@kachimanS) September 13, 2018
@TheDCUniverse Why is the DC Universe app locked in the landscape orientation on my tablet until I start reading a comic?

— Alex (@apbattman) September 13, 2018
So far, the DC Universe app is working smoothly. It has some connection errors, but overall, it's a welcome addition for fans of DC.

— Omar Angel Sanchez (@OmarASanch_13) September 13, 2018
But many people are happy….
For not having officially launched, @TheDCUniverse has a surprising amount of content. Reading Robin Year One right now. The reader works well on a tablet, even without an app. #comics #dccomics #DCUniverse

— Blake Morgan (@btmorgan85) September 13, 2018
In other news, I LOVE the #DCUniverse app. I already added a ton of comics to my to read list. I am seriously impressed by this library

— Jefe (@KhalRyuk) September 13, 2018
||OOC but the DC Universe app is so fucking good pic.twitter.com/WKC3Y6cAma

— Jake Marshall. (@DragonOfGotham) September 13, 2018
Or confused…
I'm confused, I logged into the DC universe app and found the following under my account info: pic.twitter.com/5OHlvCLiCg

— Jacob Cahill (@hot_cinnamon89) September 12, 2018
Or watching Constantine even though they already own it…
Yes, the first thing I've decided to stream via the #DCUniverse App is #Constantine the TV Show!

I own it, but wanted it to be the first thing I watch via the service.

— Justin Drabek (@justin_drabek) September 13, 2018
And making all sorts of discoveries.
Static Shock is on the Dc Universe app!!!!

— Tim Stiefvater #SHALIEVE 🙏 (@TimStiefvater) September 13, 2018
It's all too much for some people.
I'm losing my f***ing mind over the #DCUniverse app I don't know where to start

— Ramone Benefield (@FirstAvenger19) September 13, 2018
So… tell me what you think? If you live in America that is. Canadians, you'll be up next.
Enjoyed this article? Share it!