Fans have been clamoring for Nightwing to get his Dick back ever since he was shot in the head and changed his name to Ric over a year ago, so we were all very excited to learn that will happen sometime in 2020. And Nightwing comics have been laying the groundwork and bringing us closer to Nightwing's Dick recently, so we know that it's only a matter of time before he ditches the stupid "Ric" name and we can all accept Nightwing's Dick inside of us again.
But could it be happening sooner than we thought?
Here's DC's solicit for Nightwing #71, in stores in April, and featuring Nightwing tied up by the Joker and still going by the name Ric.
NIGHTWING #71
written by DAN JURGENS
art by RONAN CLIQUET and TRAVIS MOORE
cover by MIKE PERKINS
variant cover by ALAN QUAH
Having a chat with the Clown Prince of Crime is scary enough…being captured, tied down, and forced to listen to him is something else! Especially when you're Ric Grayson, and The Joker just wants you out of action so he can get to the Dark Knight. With no idea what his history with The Joker might be, Ric doesn't find this situation one bit funny.
ON SALE 04.15.20
$3.99 US | 32 PAGES
FC | DC
This issue will ship with two covers.
Please see the order form for details.
But in Nightwing Annual #3, hitting stores just two weeks later…
NIGHTWING ANNUAL #3
written by DAN JURGENS
art by SCOTT GODLEWSKI
cover by HOWARD PORTER
Dick Grayson has been many things in his life—Robin, agent of Spyral, even Batman…but will he have a choice when the Condors try to recruit him for their cause? And will they take no for an answer? A thrilling, high-octane adventure awaits over the skies of Gotham City!
ON SALE 04.29.20
$4.99 US | 48 PAGES
FC | DC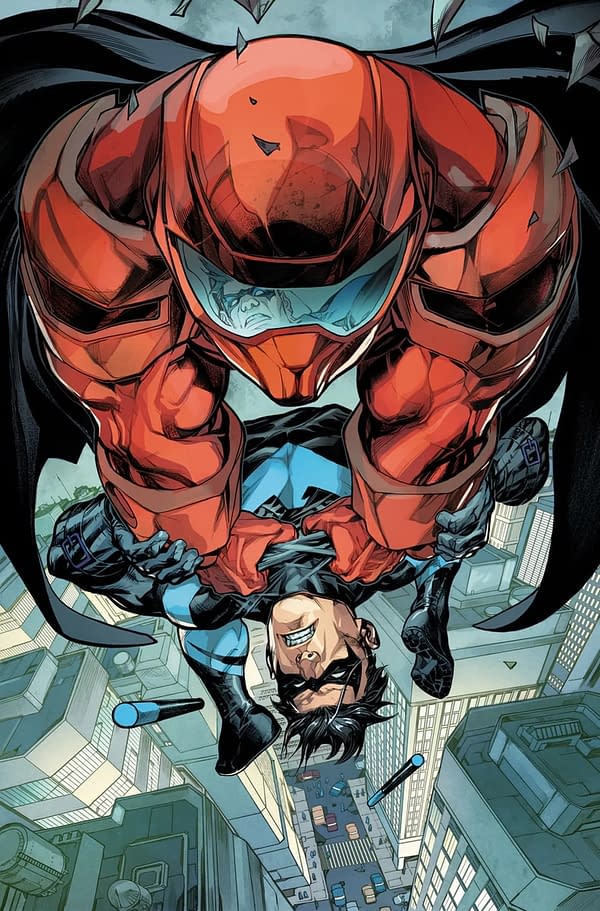 So does Nightwing get his Dick back between Nightwing #71 and Nightwing Annual #3? Or was it a Freudian slip by DC's solicit intern? We'll find out in April, but if it were us, pulling out Nightwing's Dick once again would be done with a lot more fanfare, considering how badly fans have wanted it.
Enjoyed this article? Share it!