Superstar writer Fred Van Lente could be headed to a comic store near you, that is, if you live in the New York area. Van Lente is headed to four New York comic shops next week, accompanied by his entourage (Valiant staff), to promote the debut of Psi-Lords, the new sci-fi comic by Van Lente and artist Renato Guedes. Starting Wednesday, fans can buy autographed copies of Psi-Lords #1 from Van Lente at Bulletproof Comics and Games, Anyone Comics, Comic Book Jones, and October Country Comics. In addition, Midtown Comics will have pre-signed copies of Psi-Lords if you want to get Van Lente's autograph but are afraid to look him in the eye.
Check out the press release below for more info:
New York, NY (June 13, 2019) – Valiant Entertainment is hitting the road with writer Fred Van Lente (Weapon X, ARCHER & ARMSTRONG)! Fred and Valiant staff will visit several New York-area comic book stores to celebrate the release of his new sci-fi adventure comic, PSI-LORDS. Fans will be able to pick up autographed copies from the prolific author from Wednesday, June 19th to Saturday, June 22nd at one of the following shops:

Wednesday, June 19, 6-8pm
Bulletproof Comics and Games
2178 Nostrand Ave.
Brooklyn, NY 11210
(718) 434-1800, https://www.bulletproofcomix.com/

Thursday, June 20, 7-8pm
Anyone Comics
1216 Union St.
Brooklyn, NY 11225
(347) 350-8422, https://anyonecomics.com/

Friday, June 21, 6-9pm
Comic Book Jones
2220 Forest Ave.
Staten Island, NY 10303
(718) 448-1234, http://comicbookjones.com/
Comic Book Jones will also have on hand an exclusive cover variant by artist Soo Lee, who will be there to sign the issue alongside Fred

Saturday, June 22, 2-6pm
October Country Comics
246 Main St # 15
New Paltz, NY 12561
(845) 255-1115, https://www.facebook.com/octobercountrycomics/

Fans will also be able to pick up pre-signed copies at Midtown Comics in Manhattan, 200 W 40th St. [(212) 302-8192, https://www.midtowncomics.com/] starting Wednesday, June 19th.

Written by Van Lente and illustrated by Renato Guedes (SHADOWMAN), PSI-LORDS is the story of four amnesiac spacefarers who awake in an alien prison, setting off a galaxy-bending journey as they work to escape and try to remember who they are.

For additional information, please contact the individual store.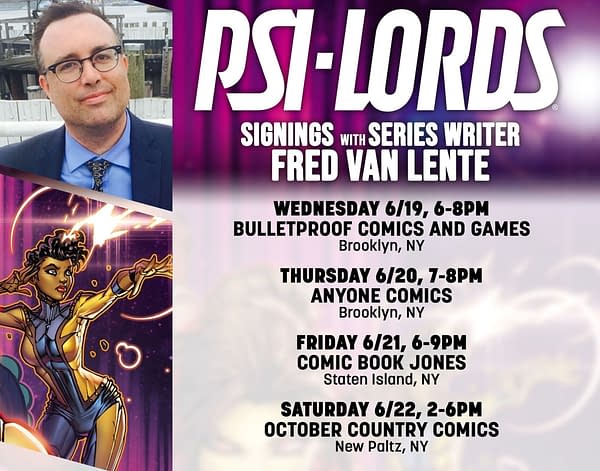 Enjoyed this article? Share it!