Harley Quinn #1 Announced Tomorrow? What's Up With Her Neck?
UPDATE: It's a digital series, Harley Quinn: Black, White and Red. Here's the link. The original article continues below as originally published: DC Nation tweeted out the following image, featuring one Harley Quinn, saying that 'Listen to Harley: somethin' BIG is comin'.'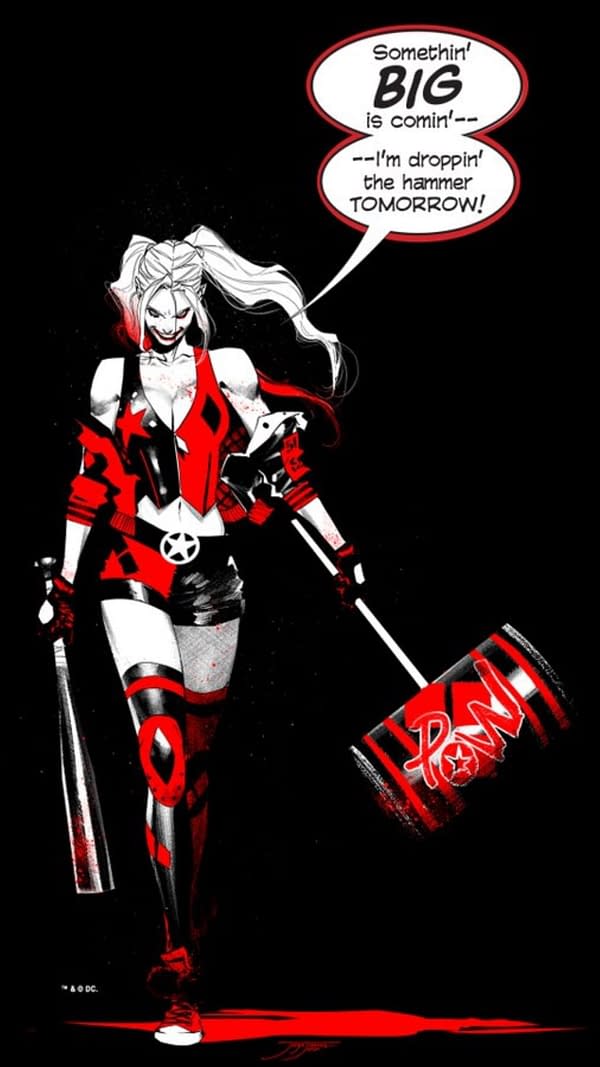 We know that the Harley Quinn comic book is concluding with #75 in August, but also that she is due a new Harley Quinn #1 at some point. Could this be it? In time for October? Or is it something completely different – a cartoon, a game, a graphic novel, whatever? We also note there is still no sign of Poison Ivy, despite the two getting down to it in an unmistakable fashion in the Harley Quinn cartoon. More as it comes out of the pipe tomorrow. Maybe we'll also find out what's up with her neck. Maybe I can mend it with a little cut and pasting?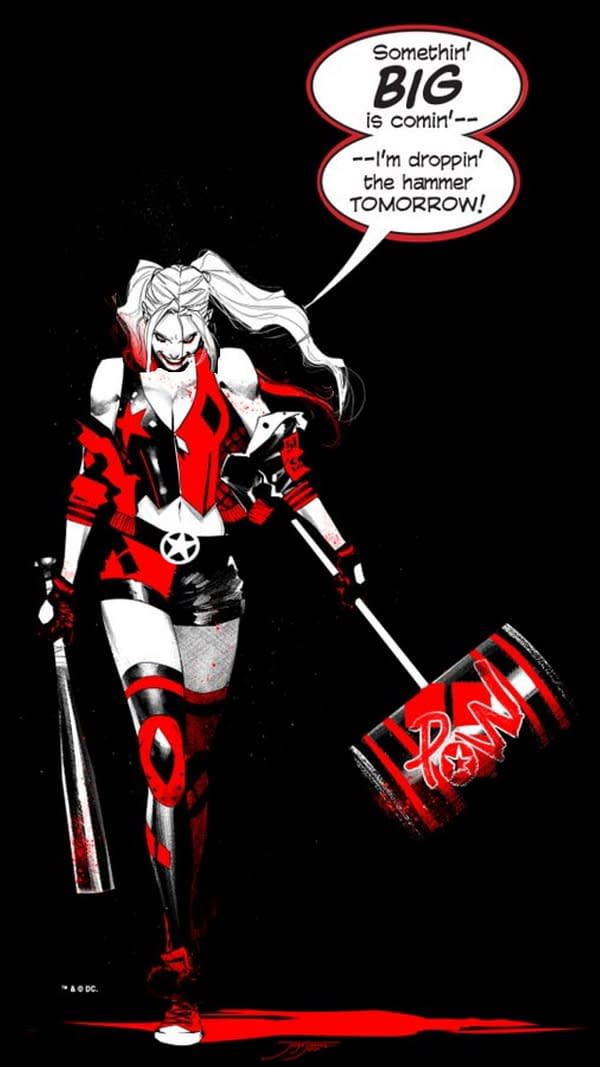 Unless of course it's meant to be punchline cosplaying as Harley Quinn and wearing Harley's decapitated head on top of her own. We did mindlessly speculate that something of this ilk may be coming. Here are the remaining Harley solicits…
UPDATE: Daniel Kibblesmith gave a very bog retweet to the original post… I wonder…
HARLEY QUINN #74
DC COMICS
APR200575
(W) Sam Humphries (A) Sami Basri (CA) Guillem March
Harley Quinn's sojourn in L.A. has been full of tragedy and heartbreak, from the death of her friend to uncovering a deep web of moral compromise that'd make even the most sadistic Batman villain's stomach churn. In the epic finale to our story, Harley will come face to face with the person pulling the strings and learn who's out to see her fail!In Shops: Jul 08, 2020
SRP: $3.99

HARLEY QUINN #75
DC COMICS
JUN200457
(W) Sam Humphries (A) Sami Basri (CA) Guillem March
At last, it's the star-studded roast of Harley Quinn! Nothing is off-limits, no topic is out of bounds, and no one-and we mean no one!-will escape unscathed. Harley may be the funniest person in the DC Universe, but how well can she take a joke?
Plus, in a backup story illustrated by superstar artist Riley Rossmo tying into "The Joker War," Harley Quinn faces off against Punchline!
In Shops: Aug 05, 2020 SRP: $5.99