Mindless Speculation: Will Punchline Kill Harley Quinn in August?
Harley Quinn's final issue of her monthly series will be published in August with #75. An unusual time to cancel such a book which is certainly one of DC Comics' better-selling titles, and featuring a character who just had a movie out. It certainly has come to some as a surprise, such as variant cover artist on the title, Frank Cho, who posted to Facebook.
MY FINAL HARLEY QUINN COVER!!!

Just got word that DC is canceling Harley Quinn after issue #75, where she battles Joker's latest girlfriend, Punchline.

I was hoping to do a hundred Harley Quinn covers, but it wasn't meant to be. Big thanks to Mark Chiarello, Eddy Choi, Dan Didio, Laura Martin and everyone at DC who supported me during my Harley run.

And special thanks to the wonderful and super-talented Sabine Rich, my colorist, for making my art look better than it is. Thanks, Beanie. :-)

This final Harley issue will be in-stores on August 4.
Here's that cover.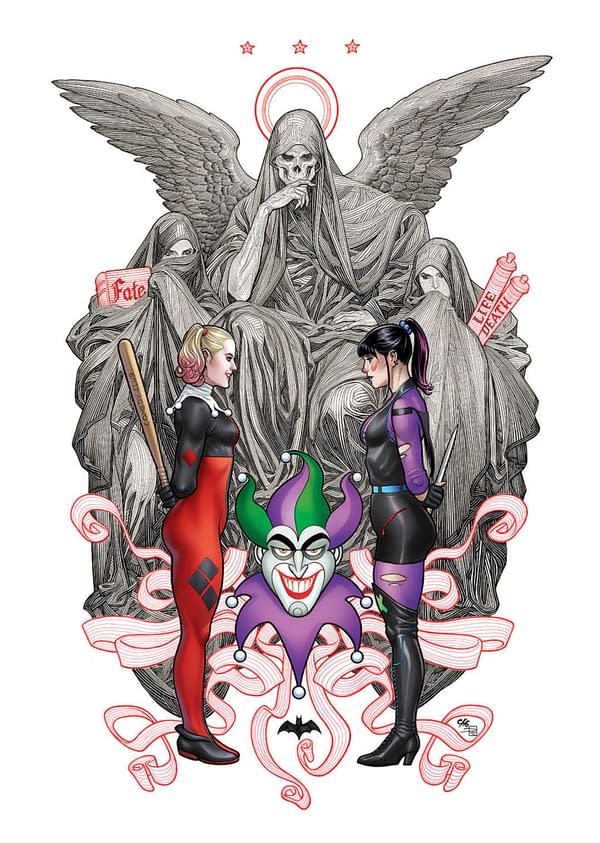 And here's Frank holding it. He writes 'The art measures roughly 34 inches x 24 inches. (About 3 feet by 2 feet) It was done on Strathmore Bristol board, 300 series, vellum surface with Micron Pigma pens, black and red archival ink.'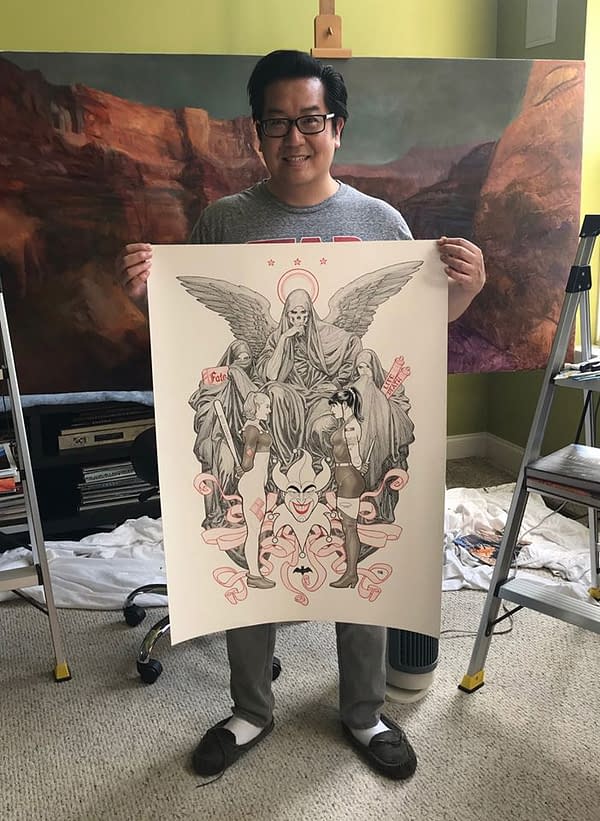 But what's all this about Punchline killing Harley Quinn? This is just mindless speculation on my part right now. But Harley is the Joker's ex-girlfriend – and what a toxic relationship that was. Punchline is his current girlfriend. What better way to show her commitent to the Joker by disposing of his annoying ex? While also establishing herself as the real deal in the DC Universe. We've already established battles and grudges between the two in the upcoming Batman #93. How far will this go?
Also… Harley Quinn #75. The Death Of Superman was in Superman #75. Will DC Comics be trying for something similar coming out of shutdown? The Death Of Superman sold millions… how many would The Death Of Harley Quinn sell?
While getting rid of Harley Quinn permanently is unlikely to be a longterm thing, and a new Harley Quinn #1 will be coming soon, originally this would all have been before the DC 5G relaunch. Which also took Alfred Pennyworth while he was still in the movies, cartoons, TV shows and has his own series. So anything could happen… maybe we were originally to have had a brand new Harley Quinn for 5G and that has now changed. Either way, we will find out in August. Here's the solicitation.
HARLEY QUINN #75
written by SAM HUMPHRIES
art by SAMI BASRI, RILEY ROSSMO, EMANUELA LUPACCHINO, RAMON VILLALOBOS, JOE QUINONES, NICOLA SCOTT, and NGOZI UKAZU
cover by GUILLEM MARCH
variant cover by FRANK CHO
At last, it's the star-studded roast of Harley Quinn! Nothing is off-limits, no topic is out of bounds, and no one—and we mean no one!—will escape unscathed. Harley may be the funniest person in the DC Universe, but how well can she take a joke?
Plus, in a backup story illustrated by superstar artist Riley Rossmo tying into "The Joker War," Harley Quinn faces off against Punchline!
ON SALE 08.04.20
$5.99 US | 48 PAGES
FC | DC
FINAL ISSUE — YES, WE'RE SERIOUS!