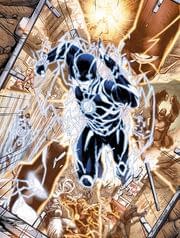 Finally, a definitive answer to one of the biggest lingering questions of the New 52. USA Today's Brian Truitt has the word on many, many things Flash for 2014, including the return of Wally West in Flash Annual #3 In April.
Flash alter ego Barry Allen, who plies his trade in the Central City police crime lab when not in his red costume, gets thrown into more procedural adventures when the new creative team of writers Robert Venditti and Van Jensen and artist Brett Booth debut in The Flash No. 30, out April 23.

A week later, they reintroduce Wally West, another guy who's worn the Flash togs, into the DC Universein The Flash Annual No. 3
Enjoyed this article? Share it!