 James Sabata writes,
Doug Murano and D. Alexander Ward are each authors and editors with strong ties to the small towns where they grew up. Together they have co-edited three horror anthologies, Gutted: Beautiful Horror Stories (coming June 24), and Shadows Over Main Street Volumes 1 and 2 (coming June 17 and later this fall, respectively).
I had the opportunity to sit down and speak with them during the weekend of Phoenix ComiCon about their books, and their ability to consistently draw the biggest names in horror to their tables of contents. In June, you have the relaunch of one horror anthology and the debut of another. Tell me a little about each book.
Shadows Over Main Street is a Lovecraftian horror anthology, looking at what happens when idyllic small-towns and the simple folk who inhabit them collide with inexplicable evil borne of a vast and uncaring cosmos. It's the golden era of American life; attacked by cosmic horror, ripping apart the supposedly safe places where nothing like this is expected.
Shadows was originally released in January of 2015, but was temporarily shelved after the original publisher went under. We worked with our authors to secure the rights to their stories for a re-launch, and we're rereleasing it through Cutting Block Books, an imprint of Farolight Publishing.
Gutted: Beautiful Horror Stories is filled with tales that are emotionally jarring and impactful. It explores the tension between beauty and horror. Awe meets ache. Terror becomes transcendence. Regret gives way to rebirth. Through it all, hope can still exist and beauty can still thrive, even if it comes at a terrible cost. Hope can still exist in horror. That's an interesting angle.
It might sound strange, but we see horror, at its best, as functioning in a similar way as the blues. It's a way to find beauty in sorrow by confronting the pain and creating something that transcends it. There's a great quote about the blues from Ralph Ellison, which informed our approach to putting together Gutted: Beautiful Horror Stories:
The blues is an impulse to keep the painful details and episodes of a brutal experience alive in one's aching consciousness, to finger its jagged grain, and to transcend it, not by the consolation of philosophy but by squeezing from it a near-tragic, near-comic lyricism. As a form, the blues is an autobiographical chronicle of personal catastrophe expressed lyrically."
Setting out to create Gutted, we believed if we could apply this type of thinking to the horror we're publishing (instead of the blues), we'd have something great. That's the kind of horror we are most attracted to. Stories that explore awful feelings, but provide some lift at the end, redemption gravitating toward hope. Even if it's broken, bruised hope or an unexpected type of hope…maybe even unrecognizable to the characters. It's still hope. You have some huge names with stories in your books. Can you give me a rundown of the authors in each of the books so far?
From the very beginning, we've been fortunate to have so many talented, and notable, authors and artists believe in what we're trying to do. We're in constant awe that, increasingly, we have the privilege to work with many of the authors we grew up reading and wanting to emulate. That said, we don't only solicit stories from award-winning best-sellers (we generally try to feature a mix of new and up-and-coming talent) but we certainly don't shy away from doing so. It has been a good formula so far.
The table of contents for Gutted: Beautiful Horror Stories includes Clive Barker, Neil Gaiman, Paul Tremblay, Josh Malerman, Stephanie M. Wytovich, Brian Kirk, Lisa Mannetti, Christopher Coake, Mercedes M. Yardley, Damien Angelica Walters, Richard Thomas, John F.D. Taff, Amanda Gowin, Kevin Lucia, Maria Alexander, and Ramsey Campbell. The foreword was provided by Richard Chizmar of Cemetery Dance publications. Caitlin Hackett created our stunning cover art, while Luke Spooner provided the interior art—and it's just gorgeous. Gutted: Beautiful Horror Stories is set to release through Crystal Lake Publishing.
Shadows Over Main Street features Stephanie M. Wytovich, Nick Mamatas, Kevin Lucia, Chesya Burke, Brian Hodge, Mary SanGiovanni, James Chambers, Tim Curran, Aaron Polson, T. Fox Dunham, Richard Thomas, Gary Braunbeck, Adrian Ludens, Rena Mason, Lucy A. Snyder, Cameron Suey, Lisa Morton, Jay Wilburn, John Sunseri, and Josh Malerman. The Foreword was written by the legendary Ramsey Campbell. Luke Spooner provided an amazing cover and we have interior illustrations from Paul Carrick, Vincent Chong, John Coulthart, Galen Dara and HagCult.
And we don't have a firm date just yet, but Shadows Over Main Street Volume 2 will be released toward the end of the year, so check out our social media pages (links below) for updates on that. We can't give too much away yet, but we will say we have quite the lineup, including Joyce Carol Oates, Willie Miekle, and five-time Bram Stoker Award winner, Lucy A. Snyder. We'll announce more names soon. Shadows Over Main Street was the first anthology the two of you collaborated on, but it took home some pretty impressive accolades including being in Amazon's top ten Horror Anthologies for over six months (#1 on the list for some time), it made it to the preliminary ballot of the Bram Stoker Awards and two stories landed in the table of contents of legendary editor Ellen Datlow's The Best Horror of the Year Volume 8.
Setting out, we wanted to do this at the highest possible level of quality, or not at all. We aimed to bring in the best writers, feature the best stories and appeal to as many people as we could. In the end, our authors and artists came through in a big way for us and we walked away with a best seller, now featuring two pieces that made Ellen Datlow's The Best Horror of the Year series (Stephanie Wytovich's "The 21st Century Shadow" and "This Stagnant Breath of Change" by Brian Hodge). For anyone who doesn't know, there are twenty stories in that book, so another way to look at it is Shadows Over Main Street stories comprise 10% of it. That is something we are extremely grateful for and proud of. And it suggests that we must be doing something right. For a couple of first-time anthologists, that kind of validation means a lot. So your first anthology was a huge success. Your second and third will be released this year. What's next after that for you?
It's really hard to say. With the rerelease of Shadows Over Main Street Volume 1 and the releases of the other two, we're putting out three anthologies in one year, which is a hot pace for a couple of guys with families and day jobs. We're not exactly sure what's next.
We have pitched a few exciting ideas to publishers, but nothing is set in stone yet. We've always said if we're not scaring ourselves with what we're trying to do, there's no point in doing it. So whatever it is, we'll swing for the fences and bring the audience something we ourselves would want to read.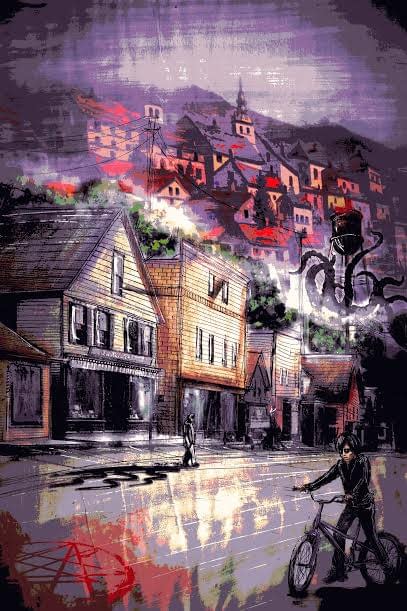 How important has the support of your families been?
Doug Murano: Without my wife's support, I wouldn't be putting these books together. Not only does she give me the time I need to do the work (we have three–soon, four–children under five years old), she carries me through bouts of self-doubt. She is an indispensable part of my process, and I'll often bounce ideas off of her before anyone else hears them. She knows about the joys first, and she knows about the setbacks that nobody else will ever hear about.
D. Alexander Ward: For me, as a writer and editor, family is incredibly important. They're the ones who put up with me going off by myself to write or read something for hours at a time. They don't get upset when, sometimes, they get half my attention on something because my mind is on some project. They're essential. They're the rock that supports the whole thing and when I fall down, I look to them to help me back up. Knowing that I've always got my wife and daughter, my mom and sisters, nieces and nephew backing me up allows me the freedom that I need to get the work done. (I even drag my niece to conventions with me!) What my family does for me… it's very special, and I probably don't thank them enough for it.
Doug Murano: I'd like to add that it's not just our immediate families that have given us the boost we needed. The horror genre is, in many ways, like an extended family and we're fortunate to be a part of it. For example, as a couple of first-timers, it was great to be able to count on genre veterans like Jonathan Maberry and Laird Barron to read and blurb Shadows Over Main Street, which gave the title a nice amount of lift right out of the gate. That's just one example of the types of kindness writers and other professionals in the genre have shown us. It might surprise people, but most horror authors are only scary on the page!
We've also received an amazing amount of support and guidance from the Horror Writers Association (HWA), and its many kind and generous members. Without the HWA, these books would not exist.
Doug Murano is an author and editor who lives somewhere between Mount Rushmore and the mighty Missouri River. A proud South Dakota native, he earned his Master of Arts in English Literature (creative writing track) at The University of South Dakota. An Affiliate Member of the Horror Writers Association, he was the organization's promotions and social media coordinator from 2013-15, served as the communications chair for the 2014 World Horror Convention in Portland, Oregon, and has served as a jurist for the Bram Stoker Awards. He is a recipient of the Horror Writers Association's Richard Laymon President's Award for Service. Follow him on Twitter: @muranofiction.
Alexander Ward is an author and editor of horror and dark fiction and an involved participant in the independent horror community. His novels include Beneath Ash & Bone and Blood Savages from Necro Publications and Bedlam Press. Along with his family and the haints in the woods, he lives near the farm where he grew up in what used to be rural Virginia, where his love for the people, passions and folklore of the South was nurtured.
LINKS:
Gutted on Facebook: www.facebook.com/guttedbook
Shadows Over Main Street on Facebook: www.facebook.com/ShadowsOverMainStreet
Crystal Lake Publishing: www.crystallakepub.com (Gutted publisher)
Farolight Publishing (Cutting Block Books): www.farolightpublishing.com (Shadows series publisher)
Luke Spooner: www.carrionhouse.com (Shadows 1 & 2 covers and the Gutted interior art.)
Caitlin Hackett: www.caitlinhackett.com(Cover for Gutted.)
Enjoyed this article? Share it!