How Charlie Adlard Saved Negan's Life in The Walking Dead
In the back of today's The Walking Dead: Negan Lives published by Image Comics, Robert Kirkman revealed that he planned to kill off Negan in The Walking Dead #174, a couple of years before the series ended. But, after writing the script, artist Charlie Adlard wrote him the letter below, published in The Walking Dead today.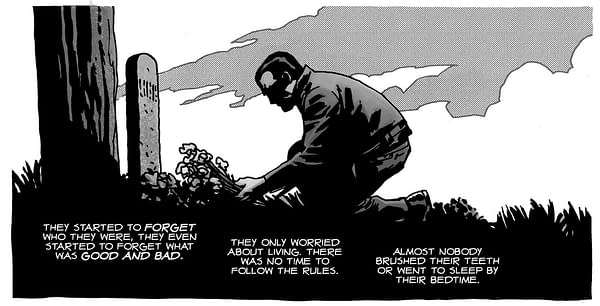 As a result. Kirkman changed his mind, rewrite the comic and kept Negan alive all the way to the end of the comic book – and beyond.
I know Negan wasn't going to last, so this issue came as no surprise, unlike the Andrea saga, but it's still sad to see him go. Nicely done

…except… I'm a bit unconvinced by the way Maggie shoots him. Are you trying to say that this is some sort of "id" thing where deep down inside, that's what she wants to do, even though she's being convinced she doesn't have to shoot him. It just feels a bit forced.

As I said, the more I got to know Negan – especially over these last few years – the more I wished he'd stayed around till the end. I wish redemption would've worked for him. This is absolutely no criticism of you at all, but more a criticism of western [at least] literature/ entertainment, where, because the majority of us find the death penalty – therefore an eye for an eye adage – abhorrent, we carry it out in fantasy. Hardly any western villain gets away With not dying at the end. We, as an audience, always demand the ultimate punishment for our fantasy bad guys. It's a shame we didn't break the mould with Negan… the baddest of bad guys, but very far down the road to redemption and forgiveness, who pays the usual ultimate price – death. Imagine, if he lived, what we could say about our society?

Sorry for my diatribe, it's something I've always felt about our entertainment industry for a while, and here seemed a good place to air it.

Anyway, as you were. Normal service has been resumed!
Robert talks about how that address changed his mind, and how he never wanted to kill off Negan anyway…