Conventional wisdom says that Batman can beat anyone in a fight… as long as he has prep time. But even absent prep time, one would expect that Batman would be able to take his geriatric butler, Alfred Pennyworth, right? Well, maybe not, as this preview of Wednesday's The Batman Who Laughs #4 demonstrates.
In an effort to get some perspective on the Batman Who Laughs, the Batman Who Doesn't Laugh (that's the real Batman) has been smoking Joker PCP or whatever, and it's starting to make him a bit irritable…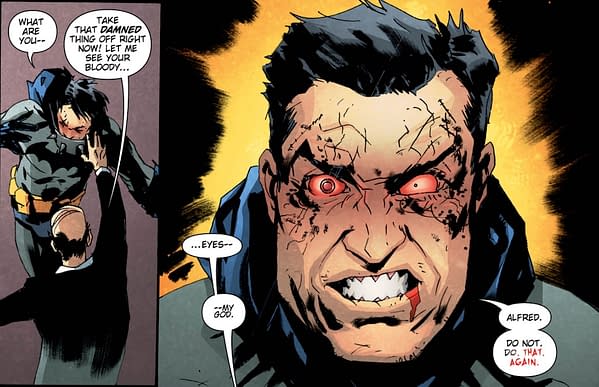 And when Alfred refuses to let Batman have his special visor, instead smacking him in the face with it, Batman fights back…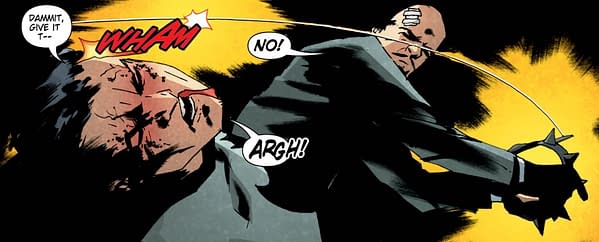 But it turns out he's just no match for Alfred. He doesn't even get a single shot in!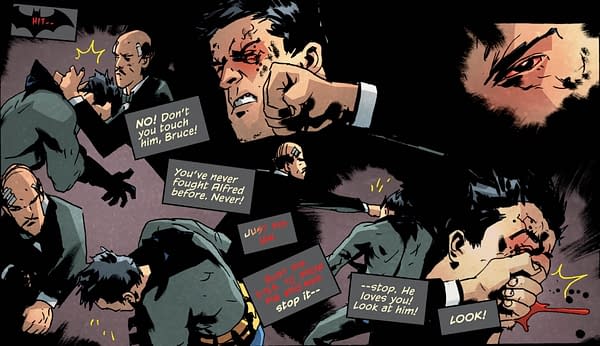 Afterward, Alfred feels so embarrassed about how bad a fighter Bruce is, it brings him to tears.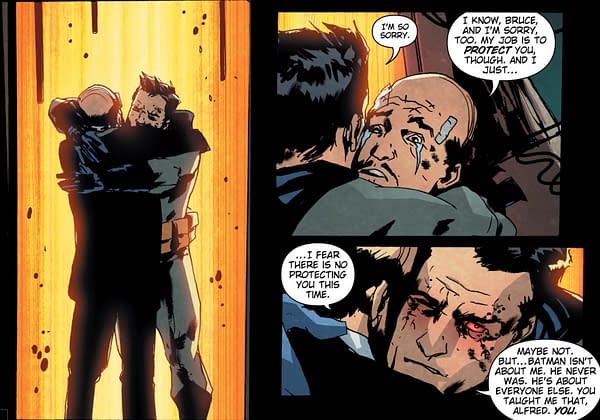 He also taught you how to take a good ass whooping, it would seem.
The Batman Who Laughs #4 hits stores on Wednesday.
The Batman Who Laughs #4
(W) Scott Snyder (A/CA) Jock
Batman is on a desperate hunt through Gotham City, tracking down the dark version of himself known as the Grim Knight. But the serum Batman's been self-administering has started to transform his mind, making him into something much darker…something amoral…something like the Batman Who Laughs-and he's starting to lose his grip on reality. Toeing the line between vengeance and justice, Batman must struggle to keep his moral code as the Grim Knight gains control of the Batcave, sending all of his vehicles and weapons on a collision course with Gotham City. The Grim Knight, the Batman Who Laughs, even allies like Jim Gordon and his son force Batman to pull the trigger…and activate the Last Laugh. Will Batman be the savior of Gotham City once more? Or is he the kill shot?
In Shops: Apr 10, 2019
SRP: $4.99
Enjoyed this article? Share it!