John 'Roc' Upchurch Has Deep Blue, Everglade Angels and Lucy Claire: Redemption in April 2020 Solicits
In October 2014, Rat Queens co-creator John 'Roc' Upchurch was arrested on charges of domestic violence, first reported by Bleeding Cool the following month. Later, Upchurch confirmed to Bleeding Cool that he had assaulted his wife. In August 2015, talking to CBR, he said that the charges were to be wiped off his record after attending counselling for six months. However his wife, subsequently messaged the Mary Sue site and made further allegations against Upchurch.
After that, there was radio silence regarding Upchurch for a few years. But in July last year, he participated in a Kickstarter for a new comic book, written by Blake Northcott and Scott Lobdell, Everglade Angels, which raised $41,874 CAD. And then he had a new ongoing series out last December from Image Comics through Jim Valentino's Shadowline imprint, which also published Rat Queens, titled Lucy Claire- Redemption, about a woman trying to rescue her tarnished reputation as a monster hunter, fighting slander and defamation, to get her kids back. Yeah.
In April 2020 solicitations, there is a new issue of Lucy Claire: Redemption #5 from Image Comics.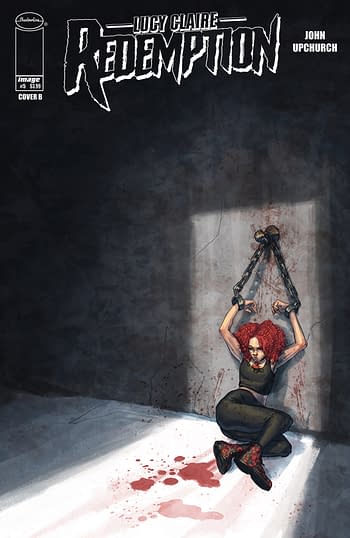 LUCY CLAIRE REDEMPTION #5 CVR A UPCHURCH (MR)
(W) John Upchurch (A/CA) John Upchurch
END OF STORY ARC
The wolf hunter, not yet fully recovered, has been taken prisoner in the night. Her captors have only one thing in mind for Lucy-her death!In Shops: Apr 22, 2020
SRP: $3.99
Scout Comics is also now publishing Everglade Angels as a series from April, with art credited to Roc Upchurch.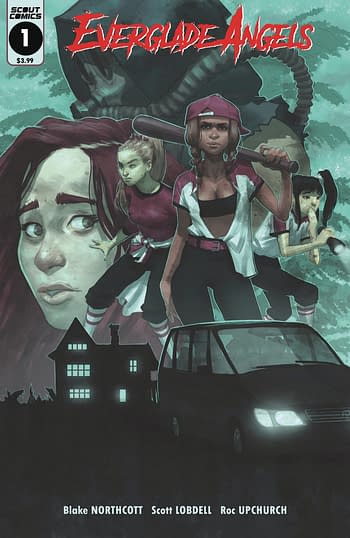 EVERGLADE ANGELS #1
(W) Blake Northcott, Scott Lobdell (A/CA) Roc Upchurch
A wrong turn down a dead end road. A car that won't start. An unspeakable evil emerges from the darkness. No phones. No weapons. No escape. Think you've seen this all before? Think again. When a girls softball team takes a shortcut through the Florida Everglades, they veer off the path towards a night they'll never forget – drinking, dancing – one last hurrah before college starts and they go their separate ways. When they stumble into a trap set by a murderous cult, the stage is set for a night of blood-soaked carnage, but the cult has never dealt with victims who are ready to fight back.In Shops: Apr 15, 2020
SRP: $3.99
And now, launching in April 2020 from Mythos Comics, is Deep Blue, a series written by Bragi Schut, with art credited to John Upchurch – which was originally published as a digital comic book back in 2014. But now, with Upchurch returning to Image Comics, this seems like the opportune time for them to put it into print. Though originally credited to 'Roc' and with Lewis Fentson as a co-writer.
DEEP BLUE #1
(W) Bragi Schut (A) John Upchurch
Dobbs is the lone human survivor of an artificial intelligence apocalypse. Tortured and interrogated by "mechs" who believe he is their creator, his only desire is to be freed from his torment… until he makes a shocking discovery that changes everything.
In Shops: Apr 22, 2020
SRP: $3.99
It looks like, one way or another, there's going to be more Upchurch on the stands than ever.