Kieron Gillen and Dan Mora's Once & Future #1 Over 31,000 Copies Ordered – No Variants
In February, Boom! Studios announced Once & Future, a new creator-owned series by Kieron Gillen and Dan Mora, would be 100% free of variant covers and offered full returnability on every issue – and collections too, a first from any major publisher. The company asked retailers at ComicsPRO's annual conference to "Buy Into What You Believe" by showing other publishers that a new series could succeed by delivering on everything retailers wanted with none of the gimmicks or conditions they decry. This is something that Image head honcho Eric Stephenson publicly challenged other publishers to do in 2014 and again in 2016, though no one has successfully launched a major series in 2019 without variant covers…until Boom.
Last week we told you that the numbers for Once & Future #1 were tracking in the same ballpark as Image Comics incredibly successful 2018 launch of Die #1, the most recent creator-owned series from Kieron Gillen (and the last before he became a Doctor, presumably also inheriting a Tardis) which did include a variant cover.
And then eBay blew up with anticipation for a special advance edition of Once & Future #1 that retailers and a few lucky fans received at SDCC.
I can confirm that Once & Future #1 is now over 31,000 units ordered at FOC with just one main cover, making it the most successful creator-owned series launch in 2019 based on single cover sales – and the biggest since Robert Kirkman's Oblivion Song #1 in 2018.
That eclipses Boom!'s success earlier this year when they put themselves in Mark Millar sales territory with the sales of Brian Azzarello & Maria Llovett's Faithless #1, though that book definitely did have some…specific variants.
But if Once & Future #1 follows the trend of Die #1, expect the book to sell out the first day it hits stores (if not earlier at the distributor level) and to be heavily sought after by those same collectors who've made every Kieron Gillen #1 a sure thing on the secondary market.
Of course, what Die has done has been to put on sales with subsequent issues. Will Once & Future be able to claim the same?
Regardless, it's win-win for everyone when Image and Boom! Studios are battling over who can sell more Kieron Gillen books to a rabid audience who wants their fix as The Wicked + The Divine comes to an end in September and prefer to support new, original comic book series.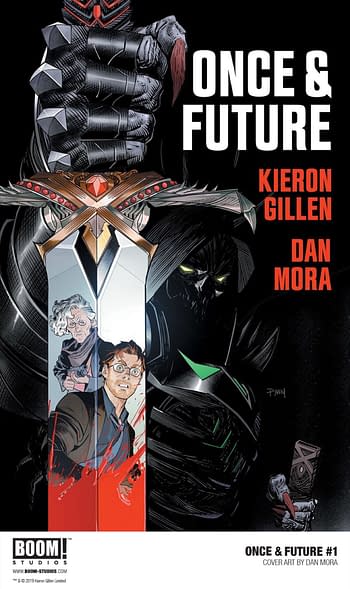 ONCE & FUTURE #1 (OF 6)
(W) Kieron Gillen (A/CA) Dan Mora
* When a group of Nationalists use an ancient artifact to bring a villain from Arthurian myth back from the dead to gain power, ex-monster hunter Bridgette McGuire escapes her retirement home and pulls her unsuspecting grandson Duncan, a museum curator, into a world of magic and mysticism to defeat a legendary threat.
* Bestselling writer Kieron Gillen (The Wicked + The Divine, Star Wars) and Russ Manning Award-winning artist Dan Mora (Buffy The Vampire Slayer, Klaus) explore the mysteries of the past, the complicated truths of our history and the power of family to save the day – especially if that family has secret bunkers of ancient weapons and decades of experience hunting the greatest monsters in Britain 's history!In Shops: Aug 14, 2019
Final Orders Due: Jul 22, 2019 SRP: $3.99

DIE #7 CVR A HANS (MR)
(W) Kieron Gillen (A/CA) Stephanie Hans
"SPLIT THE PARTY," Part Two
The rest of our heroes have to march the survivors of Glass Town across the featureless Expanse, led by contrite Isabelle and never-contrite-in-his-whole-life Chuck. But is there more than meets the eye here? Like a secret door? Or a soul?
In Shops: Sep 04, 2019
SRP: $3.99