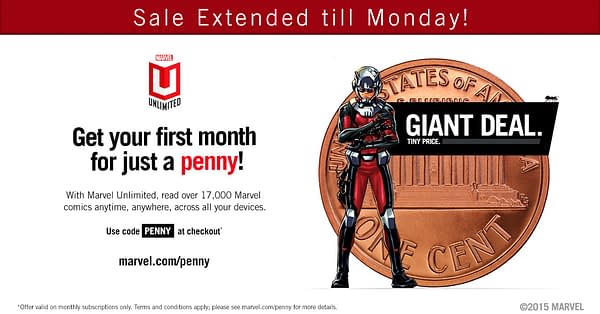 Marvel are continuing their first month deal for their all-you-can-eat digoal comics subscription package for one cent, untl Monday.
It is a pretty good deal for any digital reader. And it looks to hook folk before ComiXology get round to announcing whatever their competitive package will be…
Marvel has extended its current popular Marvel Unlimited sale and is inviting fans to experience over 75 years of Marvel Comics through for a penny! For only 1¢ for the first month of a Marvel Unlimited monthly subscription, new subscribers will be able to experience the greatest Marvel fan experience – access to over 17,000 digital Marvel comics!*

Unlock the Marvel Universe for only a penny through Marvel Unlimited by using the Promo Code PENNY at Marvel Unlimited checkout and prepare yourself for some of the greatest Marvel Comics featuring The Avengers, Guardians of the Galaxy, Ant-Man, Daredevil, Spider-Man and many more! This amazing gift is accessible through Marvel Unlimited on the web and through the Marvel Unlimited app on iPhone®, iPad® and Android™ devices.
Enjoyed this article? Share it!