Yesterday, Bleeding Cool ran the news that ex-Robin Dick Grayson, Nightwing, is about to undergo a name change. It was first proposed for the New 52 relaunch of the DC Universe, with Dick being referred to as Richard a number of times, but it didn't stick. Dick did.
But now, with Grayson undergoing serious head trauma, all sorts of things are going to change. So much so that the writer has left the book. So is it a mere coincidence that in today's Titans #25 by Dan Abnett, Brandon Peterson, Guillem March, Denis Medri, and Ivan Plascencia, a Miss Martian and Nightwing get sucked into a fictional world within a fictional world as the Source Wall breaks down the barriers of reality and…
Okay, well Dick is no longer on the table.
Rick it is, or…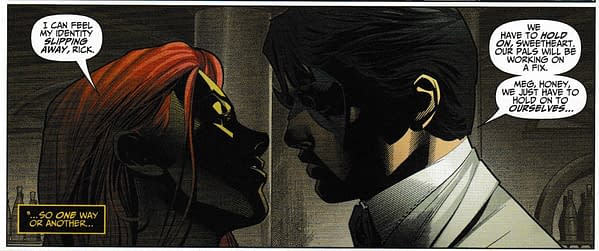 Even Richard…
Is this a little foreshadowing of things to come? I blame a more elderly Martian to be fair…

The solicitation doesn't give anything away… but at least we have told you who else is drawing the comic book.
TITANS #25
(W) Dan Abnett (A) Others (A/CA) Brandon Peterson
The Titans split into three separate squads to combat the growing Source Wall Event threat in this anniversary issue! As Raven, Steel and Beast Boy contain an alien-robot outbreak, and Donna Troy tracks down the Blood Cult, who claim to have knowledge of why the Source Wall cracked, Nightwing and Miss Martian are fighting each other while also fighting for survival against a new metahuman threat with a penchant for creating pocket dimensions. Can Dick and M'gann put aside their differences, or will her terrible secret derail the whole thing before they resolve anything? In Shops: Sep 12, 2018 SRP: $4.99
'Others', I ask you…
Enjoyed this article? Share it!