Free Comic Book Day this year on May 2nd sees Udon Studios publish their hundredth Street Fighter comic, if you add all the series up. And so, naturally, it will be dubbed Street Fighter #100. And be totally free.
What better way to usher in UDON Entertainment's 20th Anniversary than with the release of our 100th Street Fighter comic? Get ready for a total knockout on Free Comic Book Day with STREET FIGHTER #100! Between them, Ryu and Chun-Li have faced every relentless rival, villainous despot, and monstrous creature in the Street Fighter universe. Now, for the first time, these two martial arts masters square off in the ultimate, fan-service fueled fight!

UDON's 100th Street Fighter comic is a celebration filled with clashes, cameos, and conflict! Long time Street Fighter writer Ken Siu-Chong and artist Panzer (Street Fighter: Wrestlepalooza) create a winning combo that Street Fighter fans will not want to miss! STREET FIGHTER #100 will be available on May 2, 2020 for Free Comic Book Day. Comics shops need to order by January 23, 2020 to ensure that this title will be in stock for the big day! UDON is thrilled to be a Silver Sponsor for 2020's Free Comic Book Day and can't wait for fans to choose their fighter. Who will be victorious, Ryu or Chun-Li? Find out this May!
Udon says that the deadline to order this through comic book stores in January 23rd but it's not. it's actually the 3rd of February, but they clearly want to get people asking their store in time. Because it is a Silver Sponsor comic book, not all stores will stock this, as they must do with the Gold Sponsor stores. So it might be worth checking in the next week or so.
Here's a preview…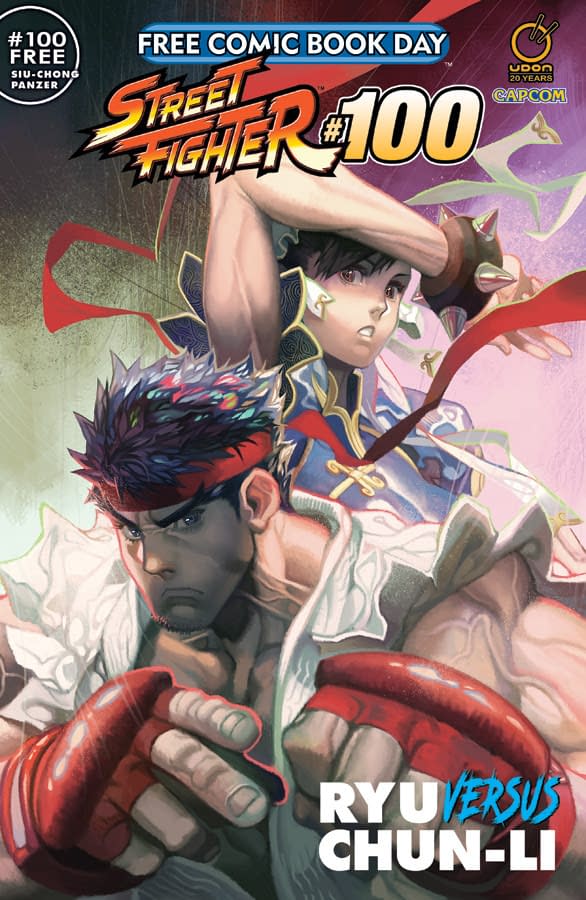 Enjoyed this article? Share it!