John Steel was a fictitious British special agent comic book character active during World War II. He first appeared in Super Detective Picture Library #157 in September 1959, but also appeared in Thriller Picture Library from November 1960's #343, a line of 64-page digest-sized black and white comic books that ran serialized stories, usually consisting of two comic panels per page. Steel's exploits helped make Thriller Picture Library one of the best-selling titles on the newsstand and it featured a variety of war, spy, and detective heroes such as 'Battler Britton', 'Spy 13', and 'Dogfight Dixon'.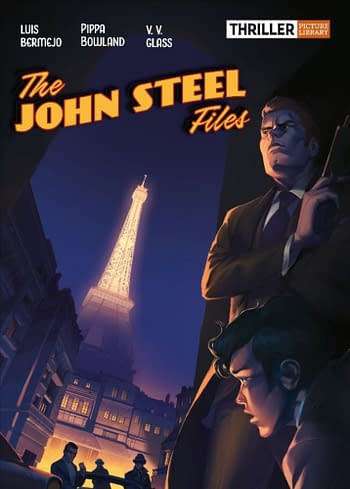 Creator Luis Bermejo Royo took over the series in 1960 and may have influenced the decision in early 1961 to transplant Steel from World War Two into the Jazz Age. Gone were his spying exploits in favour of life as a private detective, including hunting down escaped Nazi war criminals. Influenced by the contemporary sophistication of the early James Bond novels, Steel found himself in a world of jazz cafes and shady deals. The original creator of the character is unknown.
Rebellion, publisher of 2000AD who bought up the IPC assets a few years ago, is now returning John Steel to print, part of their The Treasury of British Comics line, collecting never-before-reprinted stories by Bermejo in a new special edition. This collection will feature the classics 'Play it Cool' and 'Bullets in the Sun'.
Sharper than Bond, cooler than The Saint – the indefatigable British spy John Steel is back!

Rebellion is calling this classic character from the golden age of spy fiction back into action for a comic book special in November 2020.

The John Steel Files will collect two Steel stories featuring stunning art from legendary artist Luis Bermejo (Creepy, Vampirella)!

Re-presented for a modern audience, these never-before-reprinted comics have been coloured by breakout colourist Pippa Bowland (2000 AD) and will feature a brand new cover by V. V. Glass (The Last Witch).

The 128-page comic book special lands on 11 November, priced at £7.99, and will be available from comic book stores, the Treasury of British Comics webshop, and the 2000 AD apps.
Luis Bermejo Royo's diverse career spanned Spanish, British, and American comic book industries and, credits or not, his style is recognisable on series such as Adventures of the FBI, Apache, Tarzan, John Steel, Johnny Future, Vampirella, Captain Thunder, and his adaptations of Lord of the Rings and books by Isaac Asimov and Raymond Chandler. He passed away on 12th December, 2015.
The Treasury of British Comics states that is dedicated to bringing back into print the best from more than a century of comics and breathing new life into this internationally important repository of classic characters.
Enjoyed this article? Share it!