Conference Center Told "Build On By 2011 – Or We're Off!"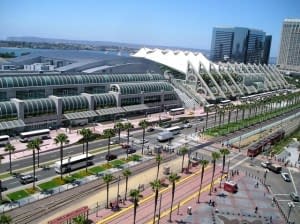 I understand from close sources that the San Diego Conference Center has been told by the San Diego Comic Con organisers that they must significantly increase the size of the building and available facilities by 2011, or Comic Con International will move locations….
There has been much rumour concerning the move of the convention and many considered it a negotiation tactic. But the demand is now on the table.
While the Con has continued to grow in size, it has had to restrict ticket sales well below the amount it could sell, due to space restrictions. And while it is but one week a year for the Center, it's a very profitable week indeed.
There is a design in the works to expand the Center, but it's dependent on finance that might be tricky to get in the current climate.
What if everyone promised to breathe in? Would that work?