Creator-Owned Books Top Advance Reorders, Kill Or Be Killed, Walking Dead, Skybourne, Eclipse And Paper Girls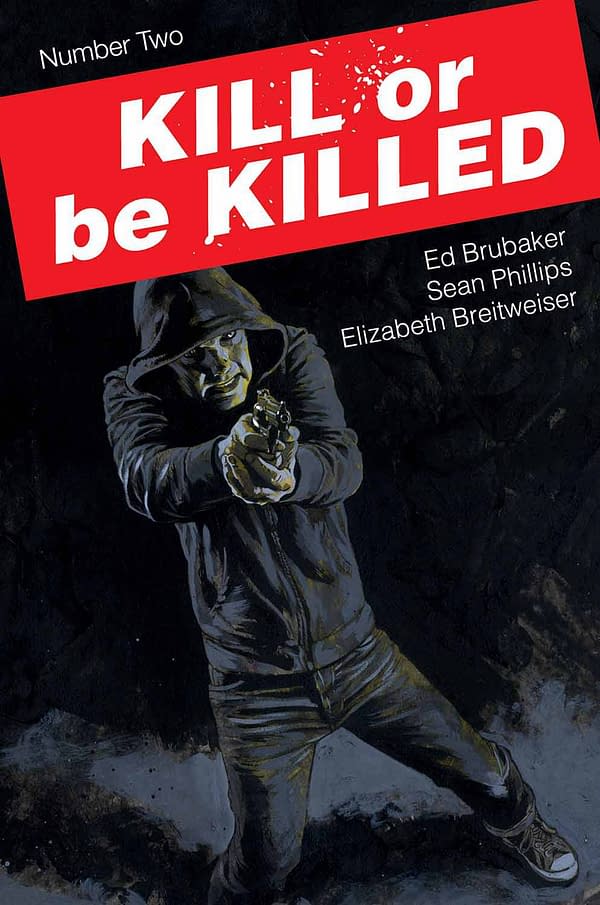 Greetings from the coal face of the direct comics market. Where retailers try to increase their orders of certain comics ahead of sale. Where supply and demand and most accurately reflected, where you can see which books are hot, where new orders are coming in and how retailers are reacting to new, unanticipated desire! As supplied to retailers on Diamond Daily.
DC are suffering in the advance reorder lists, as no retailers seems to feel the need to up their DC orders much at Final Order Cut-Off date. But it's not that much to Marvel's gain. The success of the first issue of Brubaker and Phillips' Kill Or Be Killed has seen numbers racked up for the second issue. The connecting covers for Walking Dead has seen the second one get a bump. A preview released for Skybourne saw a lot of retailers notice the book for the first time and get Frank Cho's new comic onto their ordering list. There's much anticipation for the release of Eclipse as well, and Paper Girls continues to be the comic that surprises retailers how well it does month in and month out.
As for collection, retailers just keep on upping their numbers on Killing Joke…
TOP 25 ADVANCE REORDER COMICS/GRAPHIC NOVELS/TPs
| | | |
| --- | --- | --- |
| Description | SRP | Vendor |
| KILL OR BE KILLED #2 (MR) | $3.99 | IMA |
| WALKING DEAD #158 CONNECTING CVR PART 2 (MR) | $2.99 | IMA |
| SKYBOURNE #1 | $3.99 | BOO |
| STAR WARS POE DAMERON #6 | $3.99 | MAR |
| ECLIPSE #1 | $3.99 | IMA |
| PAPER GIRLS #9 | $2.99 | IMA |
| ANIMOSITY #1 2ND PTG | $3.99 | AFT |
| DOCTOR STRANGE #11 | $3.99 | MAR |
| ARCHIE 75TH ANNIV DIGEST #1 | $6.99 | ARC |
| COLOR YOUR OWN STAR WARS TP | $9.99 | MAR |
| SPIDER-MAN DEADPOOL #9 | $3.99 | MAR |
| MOON KNIGHT #6 | $3.99 | MAR |
| STAR WARS HAN SOLO #4 (OF 5) | $3.99 | MAR |
| POWER MAN AND IRON FIST EPIC COLLECTION TP REVENGE | $39.99 | MAR |
| STAR WARS FORCE AWAKENS ADAPTATION #4 (OF 6) | $3.99 | MAR |
| INVINCIBLE IRON MAN #13 PRSTE CNCR AWARE VAR | $3.99 | MAR |
| SUPERGIRL #1 VAR ED | $2.99 | DC |
| INVINCIBLE IRON MAN #13 CW2 | $3.99 | MAR |
| ROM #1 2ND PTG | $4.99 | IDW |
| GLITTERBOMB #1 CVR A MORISSETTE-PHAN (MR) | $3.99 | IMA |
| UNCANNY X-MEN #12 | $3.99 | MAR |
| ELSEWORLDS BATMAN TP VOL 02 | $24.99 | DC |
| SUPERGIRL #1 BLANK VAR ED | $2.99 | DC |
| WALKING DEAD #158 CVR A ADLARD & STEWART (MR) | $2.99 | IMA |
| GLITTERBOMB #1 CVR B CUMMINGS & MORISSETTE-PHAN (MR) | $3.99 | IMA |
TOP 25 REORDER COMICS/GRAPHIC NOVELS/TPs (RETAIL)
| | | |
| --- | --- | --- |
| Description | Price | Vendor |
| BATMAN THE KILLING JOKE SPECIAL ED HC | $17.99 | DC |
| SAGA TP VOL 06 (MR) | $14.99 | IMA |
| HARLEY QUINN #1 | $2.99 | DC |
| SUICIDE SQUAD TP VOL 01 KICKED IN THE TEETH (N52) | $14.99 | DC |
| PREACHER TP BOOK 01 (MR) | $19.99 | DC |
| WALKING DEAD #157 CVR B ADAMS (MR) | $2.99 | IMA |
| JUSTICE LEAGUE #2 | $2.99 | DC |
| AVENGERS BY BUSIEK AND PEREZ OMNIBUS HC VOL 02 | $125.00 | MAR |
| SUICIDE SQUAD REBIRTH #1 | $2.99 | DC |
| NEW SUICIDE SQUAD TP VOL 01 PURE INSANITY | $16.99 | DC |
| MONSTRESS TP VOL 01 (MR) | $9.99 | IMA |
| SAGA TP VOL 05 (MR) | $14.99 | IMA |
| SAGA TP VOL 01 (MR) | $9.99 | IMA |
| BATMAN HUSH COMPLETE TP | $24.99 | DC |
| PAPER GIRLS TP VOL 01 | $9.99 | IMA |
| WOLVERINE OLD MAN LOGAN TP | $29.99 | MAR |
| SAGA TP VOL 02 (MR) | $14.99 | IMA |
| BATMAN #4 | $2.99 | DC |
| CIVIL WAR TP | $24.99 | MAR |
| SAGA TP VOL 04 (MR) | $14.99 | IMA |
| GREEN ARROW #4 | $2.99 | DC |
| FLASHPOINT TP | $16.99 | DC |
| PREACHER TP BOOK 02 (MR) | $19.99 | DC |
| DOOM PATROL TP BOOK 01 (MR) | $29.99 | DC |
| CIVIL WAR II #4 (OF 7) | $4.99 | MAR |